Intel SSD 750 NVMe PCIe SSD Review
By
Intel SSD 750 Series Final Thoughts and Conclusions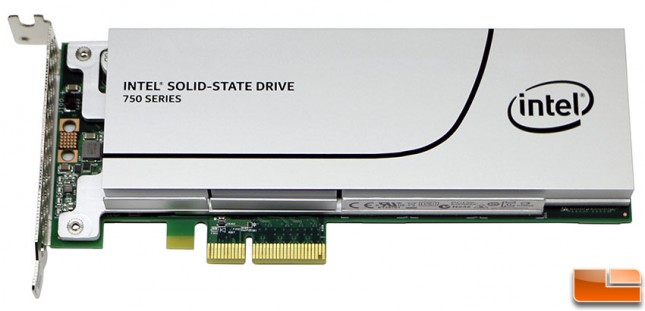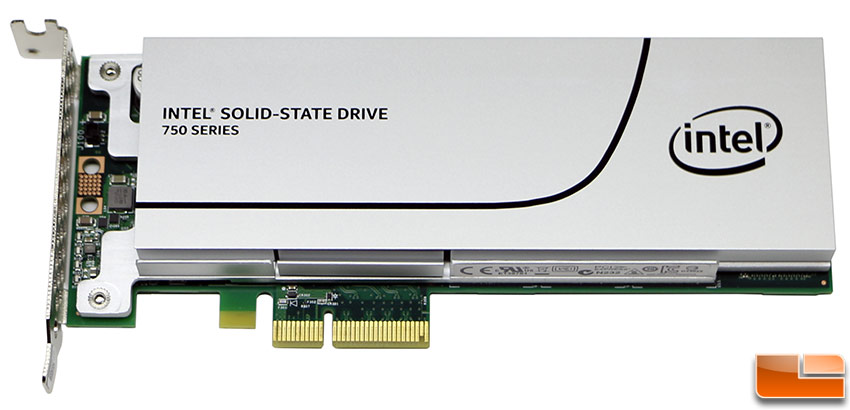 The Intel X25-M 80GB SSD came out in 2008 and Legit Reviews had the privilege of looking at that drive and discovering first hand that SSDs were going to be the next big thing. We knew Intel had something special when it came to SSDs as even way then they were one of the only players on the market that could make their own controllers, NAND Flash, firmware and circuit board designs. The Intel SSD 750 Series feels like it is another one of those innovative products that will be looked at years later for changing the game. The Intel SSD 750 Series brings performance to the table that we could only dream about just a few years ago and that is awesome. We are just entering the era of NVMe, so get ready to say goodbye to AHCI and get ready to embrace NVMe!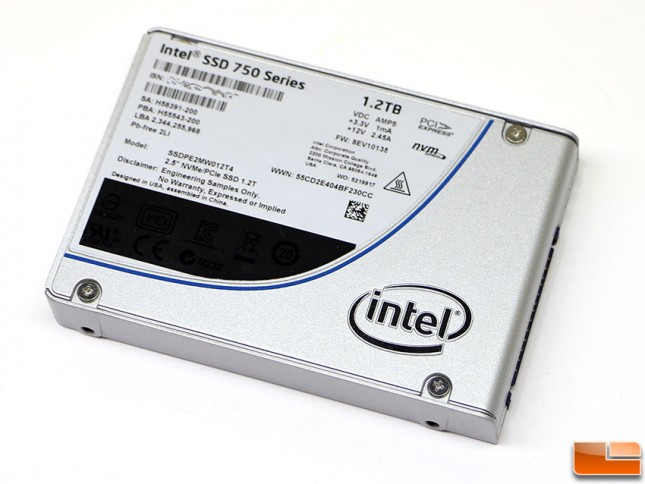 Overall performance on the Intel SSD 750 was we were able to hit 2,6845 MB/s read and 1,326 MB/s write in ATTO and 2,727 MB/s read and 1,271 MB/s write in IOMeter when it came to sequential write performance. We easily able to exceed the Intel SSD 750 Series 1.2TB drives rated speeds of 2400MB/s read and 1200MB/s write, so Intel is being fairly conservative with the sequential performance ratings on this drive. When it comes to the the peak 4K random Read/Write IOPS it looks like the like the 440k/290k is not so conservative as we hit 465,400 IOPS Read and 296,800 IOPS Write in our testing on IOMeter!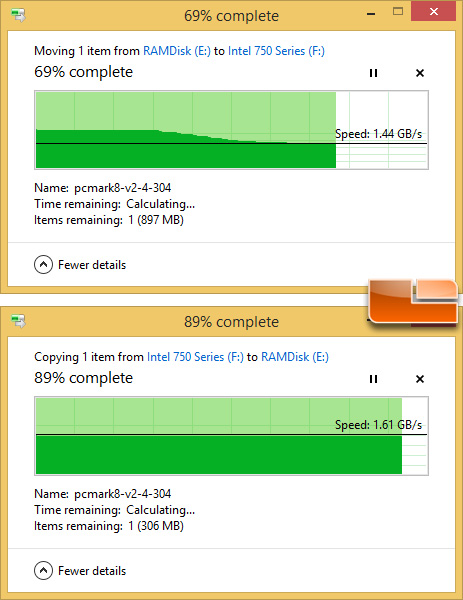 Many of our readers want to see real world transfer speeds, so we ended up purchasing RAMDisk and using the program to make part of our system memory a disk drive. On our Intel X99 platform with Crucial DDR4 memory running at 2666MHz this means that we have a drive that is capable of 6000 MB/s sequential write speeds and 8500 MB/s write speeds (benchmark result)! We then moved our PCMark8 installation directory that is 2.90GB file from the RAMDisk to the Intel SSD 750 and and back in under three seconds each way! When moving the folder to the NVMe SSD we were hitting 2GB/s for the first split second and then slowed down to about 1.45GB/s for the remainder of the file transfer. When moving the file back off the NVMe SSD to the RAMDisk we were able to sustain just over 1.6GB/s.
Intel 750 Series NVMe PCIe SSD Drives
Intel Part Number
Capacity and Features
Sequential (R/W)
Max 4K IOPS (R/W)
Price
SSDPEDMW400G4R5
400GB – HHHL PCIe
2200/900 MB/s
430k/230k IOPS
$409.99
SSDPEDMW012T4R5
1.2TB – HHHL PCIe
2400/1200 MB/s
440k/290K IOPS
$1099.99
When it comes to pricing only the Intel SSD 750 Series PCIe Add-In cards are available right now and you are looking at $409.99 for the 400GB drive and 1099.99 for the larger 1.2TB model. This means you are paying $1.03 per GB on the 400GB model and about $0.92 per GB for the 1.2TB model. Not bad considering in 2008 the Intel X25-M 80GB would have set you back $585 or $7.31 per GB! The Intel SSD 750 series is priced more than double what you can a budget SATA AHCI SSD, but you are buying arguably the fastest SSD ever made using the latest technology available on the market and there is always going to be a premium on that.
If you are looking to run an SSD with NVMe today the Intel SSD 750 Series was first to market and it looks like a winner. Other brands have NVMe drives in the works though and we know that the Samsung SM951 has an NVMe version that is headed to market. In fact, we happen to have one of those drives and will be reviewing it next!
The Intel SSD 750 series easily gets out innovation award as Intel helped lay the initial groundwork to get NVMe going and it looks great so far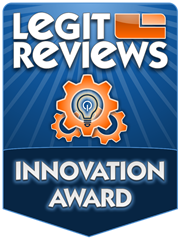 Legit Bottom Line: The Intel SSD 750 Series is the first consumer desktop storage drive to support NVMe and it looks like it will be a game changer!