Intel SSD 750 NVMe PCIe SSD Review
By
ATTO & CrystalDiskMark Benchmarks
ATTO v2.47
ATTO is one of the oldest drive benchmarks still being used today and is still very relevant in the SSD world. ATTO measures transfers across a specific volume length. It measures raw transfer rates for both reads and writes and places the data into graphs that can be very easily interpreted. The test was run with the default runs of 0.5KB through 8192KB transfer sizes with the total length being 256MB.
Intel SSD 750 1.2TB NVMe SSD: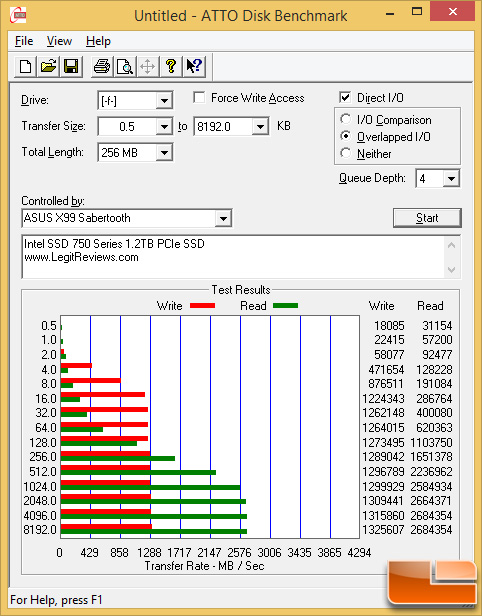 Samsung SM951 512GB: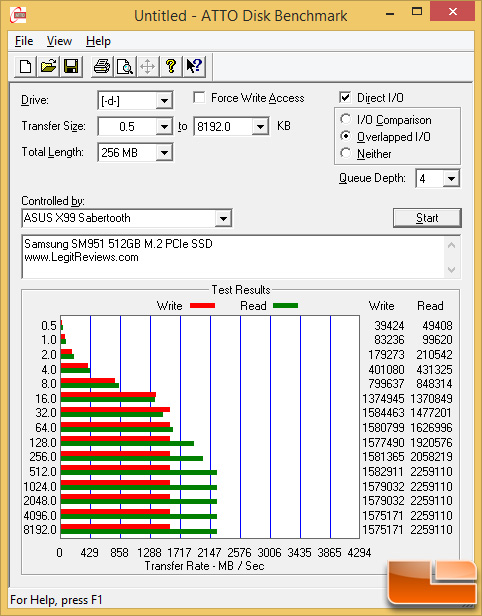 Benchmark Results: ATTO showed the Intel SSD 750 1.2TB drive hitting 2684 MB/s read and 1326 MB/s write! For comparison sake we'll be comparing the Intel 750 SSD 1.2TB drive to the Samsung SM951 512GB drive running in AHCI mode. The Samsung SM951 512GB m.2 PCIe SSD hit 2259 MB/s read and 1583 MB/s write in the standard overlapped I/O benchmark with a queue depth of 4. When it comes to sequential performance it looks like the Intel SSD 750 1.2TB drive is easily going to when the read battle, but has its work cut out for it on the writes.
CrystalDiskMark
CrystalDiskMark 4 Beta1 x64 – Intel X99 Platform
CrystalDiskMark is a small benchmark utility for drives and enables rapid measurement of sequential and random read/write speeds. We are using CDM 4 Beta 1 that supports Native Command Queuing (NCQ) and an adjustable queue depth, but we left the queue depth at 32 so you can compare your drive at home without having to make advanced setting changes.
Intel SSD 750 1.2TB NVMe SSD: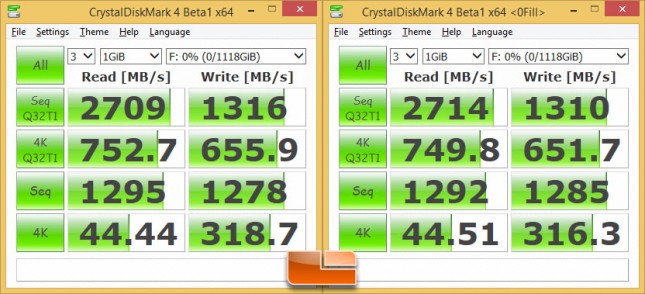 Samsung SM951 512GB: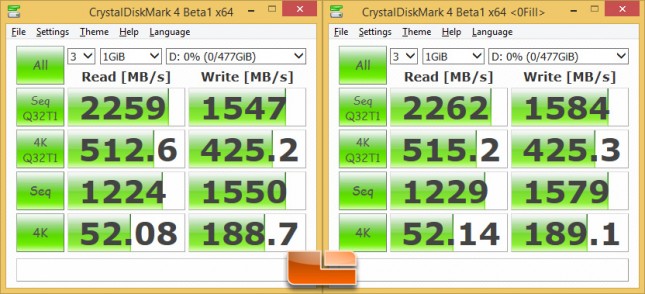 Benchmark Results: The Intel SSD 750 1.2TB SSD topped out at 2709MB/s read and 1316MB/s right whereas the Samsung SM951 512GB M.2 PCIe SSD topped out at 2259MB/s read and 1547MB/s write in the sequential benchmarks. When it comes to 4KB scores the Samsung SM951 performed better on the reads, but was about half as fast on the write speeds on the original test. On the new Queue Depth 32 test the Intel SSD 750 with the NVMe standard blows away the SM951 drive using the AHCI standard.