Intel SSD 750 NVMe PCIe SSD Review
By
Intel SSD 750 Series – NVMe Arrives For Desktop Enthusiasts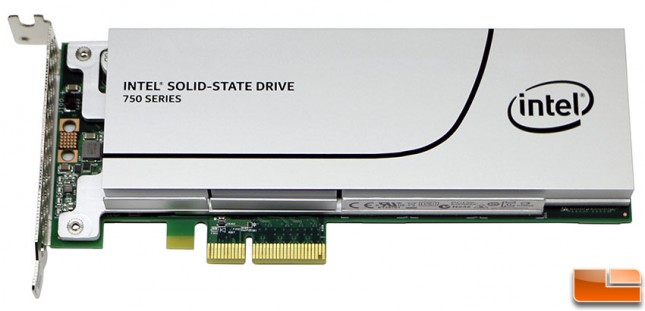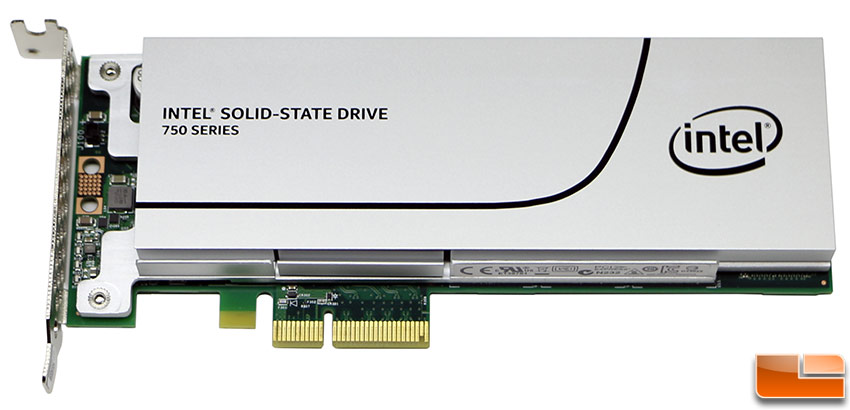 Intel recently launched the SSD 750 series, which is first set of SSDs that support NVM Express (NVMe) or Non-Volatile Memory Host Controller Interface Specification (NVMHCI) technology. NVMe is set to replace the AHCI (Advanced Host Controller Interface) technology that came out in 2004 when the PC market was still dominated by hard drives. AHCI has served us all well over the past decade, but the NVMe specification was build specifically for Solid-State Drives (SSDs) that are attached through the PCI Express (PCIe) bus.
AHCI
NVMe
Maximum Queue Depth
1 Command Queue;
32 Commands Per Queue
65536 (64K) Queues
65536 Commands Per Queue
Uncacheable Register Accesses
2000 Cycles Earch
6 Per Non-Queued Command
9 Per Queued Command
2 Per Command
MSI-X and Interrupt Steering
Single Interrupt: No Steering
2048 MSI-X Interrupts
Parallelism & Multiple Threads
Requires Synchronization Lock
To Issue Command
No Locking
Efficiency For 4 KB Commands
1 Command Queue;
32 Commands Per Queue
65536 Queues
65536 Commands Per Queue
Latency
6.0 s
2.8 s
The table above highlights some of the differences between AHCI and NVMe and while not everyone will understand what is in the chart, the key take home message is that NVMe reduces latency and supports multiple queues at higher queue depths. NVMe products have been in the enterprise market for some time and the reason is that NVMe technology really excelled there due to the heavier workloads used in that market would really bog down SATA/AHCI based drives. By moving over to new PCIe/NVMe drive combination many in the enterprise market found they found much improved performance on many workstation workloads where the queue depth is often larger that what is seen by desktop users. NVMe allows multiple CPU queues with deep queue depths (up to 64K outstanding IOs). The enterprise space has enjoyed NVMe technology for over a year, but sadly no consumer oriented PCIe SSDs with support for NVMe has made it to the market.
Intel changed all that this month by releasing the Intel Solid-State Drive (SSD) 750 Series, its highest performing SSD for use in client PC storage devices and workstations. Intel claims that the Intel SSD 750 series delivers greater than four times the performance of SATA-based SSDs by utilizing four lanes of PCIe 3.0 and of course the NVM Express (NVMe) standard that we have already gone over. Finally, desktop users can now embrace the latest host controller interface and everything is in place for it to work!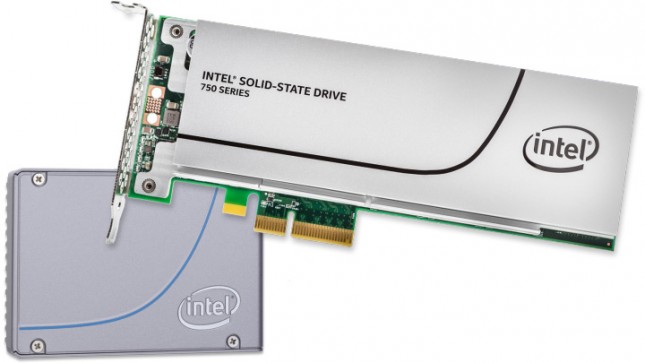 Intel is offering SSD 750 Series drives in two form factors this time around. You have an Half-height half-length (HHHL) add-in card for systems with an accessible PCIe 3.0 x4 slot or as a traditional 2.5-inch form factor with a thickness of 15mm. The Intel SSD 750 series is not aimed a mobile users, so for this first generation of client NVMe drives it will be the desktop users getting to have all the fun! Only two sizes will be made available initially so you'll need to figure out if you want to go with a 400GB model or one with 1.2TB of storage space. If you are having a tough time deciding let it be known that the street pricing on these drives right now is $409.99 shipped for the 400GB model and $1099.99 shipped for the larger 1.2TB drive. Oddly enough there is no 800GB model to fill out the massive gap in pricing in this product series, so you are either looking at $400 or $1100.
| | | |
| --- | --- | --- |
| Intel SSD 750 Series | 400GB | 1.2TB |
| Sequential R/W | 2200/900 MB/s | 2400/1200 MB/s |
| 4K Random R/W | 430k/230k IOPS | 440k/290K IOPS |
| Avg Sequential Latency | 20 s | 20 s |
| Idle Power | 4W | 4W |
| Active Read Power | 9W | 10W |
| Active Write Power | 12W | 22W |
| Operating Temp | 0-70C | 0-70C |
| MTBF | 1.2 million hours | 1.2 million hours |
| Endurance | 70GB Writes per Day | 70GB Writes per Day |
| Warranty | 5-Years | 5-Years |
| Pricing | $409.99 | $1099.99 |
The Intel SSD 750 Series uses Intel's latest 18-channel 3rd Generation Flash Controller tuned for the NVMe standard paired with 20nm MLC ONFi NAND Flash memory by IMFT. Thanks to the low-overhead of the NVMe standard and bandwidth on the PCIe 3 x 4 bus this combination is poised to deliver sequential read performance of up to 2400 MB/s and up to 1200 MB/s sequential write speeds on the 1.2TB drive. The smaller 400GB model has lower performance due to the MLC NAND Flash lanes available to the controller and has slightly lower sequential speed ratings of 2200 MB/s read and 1200 MB/s write.
Things get really interesting when you look at the 4KB random read and write performance as this NVMe drive has performance ratings that one could only dream about years ago. We are talking about up to 440,000 IOPS on the 4KB random read performance on the 1.2TB drive and 430,000 IOPS on the 400GB drive. That is nearly half a million IOPS from a single drive! The 4KB random write IOPS top out at 290,000 IOPS on the 1.2TB drive and 230,000 IOPS on the 400GB drive. These are impressive numbers!
Let's take a closer look at the Intel SSD 750 Series drives and get on to the performance tests!