The Intel X25-M 80GB Solid State Drive Review
By
The Intel X25-M 80GB Solid State Drive Arrives
Solid State Drives (SSD) have been around for over 25 years, but only recently have SSDs started to prove ready for the mainstream computing market now that performance is getting better and the price is coming down. As many of our readers know, there are over a dozen companies that currently have solid state drives on the market today, but the performance reliability on many of the drives are unpredictable. It's been no secret that Intel has been working on a SSD for some time now and whenever Intel does something you know they pumped a ton of cash into the project and had some of the brightest minds in the industry making a product that would blow the others away. When I was at the Intel Developer Forum last month I got a chance to see these drives at work and even saw the insides of one. The take home message from the show was that Intel had developed a new series of Solid State Drives that would own anything on the market as Intel developed their own controller and it was no joke.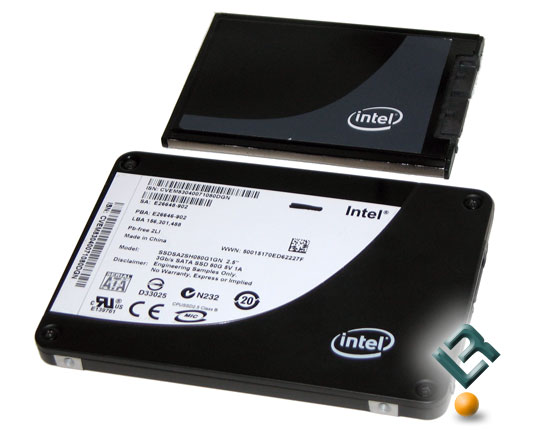 Today, Intel is launching two MLC-based Solid State Disks, the X18-M and X25-M. For this article we will be looking at the Intel X25-M drive, which is a 2.5″ form-factor drive that is 80GB. Intel has a 160GB version of this drive as well as 1.8″ versions in both 80GB and 160GB capacities. Both the Intel X25-M and X18-M are pictured above to give you an idea of the size difference between the two new drives. When it comes to performance the specifications are very impressive with a maximum read bandwidth of 250MB/sec and write bandwidth of up to 70MB/sec. If these specifications fail to impress you then you'll be happy to know that Intel will have an SLC NAND solid state drive under the eXtreme series that will be coming out in 2009. The Intel X25-E SSD will be available in 32GB and 64GB capacities, which may seem small, but they were designed to replace drives that enterprise customers are currently using. Intel believes that many of their customers are still using 32GB and 64GB drives in enterprise applications and that the eXtreme series will replace those and offer a significant speed boost. What kind of speed boost are we talking about? How about a write speed of 170 MB/s instead of the 70 MB/s found on the mainstream models!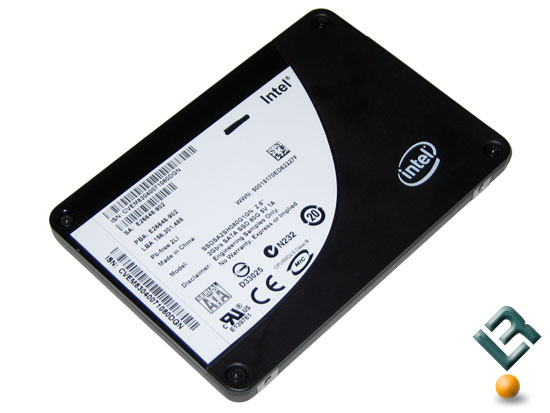 The drive that we have in-house for testing is the Intel X25-M pictured above. The form factor is that of a normal 2.5″ hard drive, so if you want to mount it in a desktop 3.5″ drive bay you will have to use an adapter. During IDF we noticed that many of the systems had SSDs that were double sided taped to the bottom or top of the chassis, which bring up the point that these drives can be mounted virtually anywhere. If you are already wondering about pricing the 80GB MLC version is priced at $595 for quantities up to 1,000 and is shipping to OEM and Channel customers this week. The SSD will then begin shipping from these customers in their PC solutions or as a stand alone drive.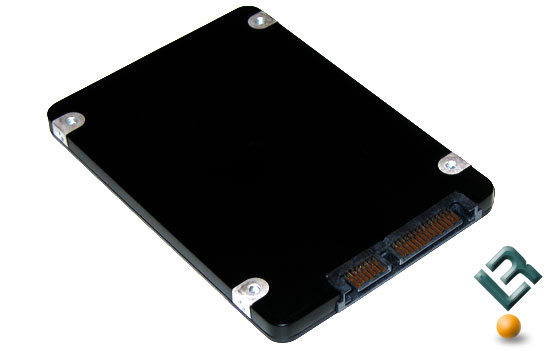 The connections are located on the side of the drive and are just your standard SATA data and power connectors. This means that there is no need for any adapters! The drive does have four screw holes in order to mount it in drive trays or anything else you can put a screw through.