Intel Pentium G4400 Processor Review – Budget Skylake
By
Intel Z170 Test System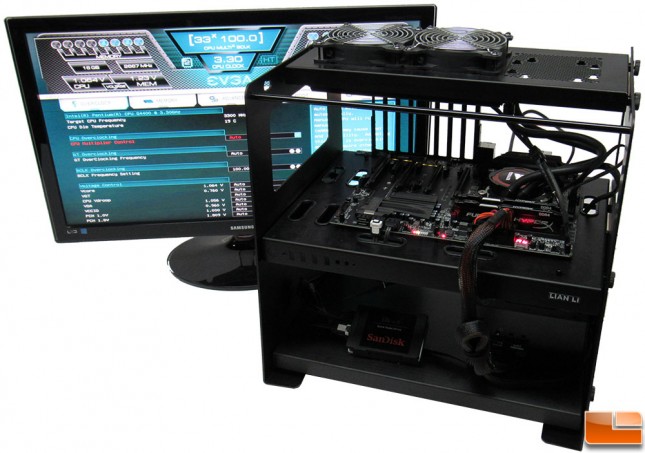 Here is a quick look at the individual components used in the test system:
Intel Pentium G4400 Test Platform
Component
Brand/Model
Live Pricing
Processor
Intel Pentium G4400
Click Here
Memory
Kingston 16GB DDR4 2666MHz
Click Here
CPU Cooler
Corsair H105
Click Here
Hard Drive
Intel Pro 2500 180GB SSD
Click Here
Hard Drive 2
Sandisk Ultra II 480GB SSD
Click Here
Power Supply
Corsair CX750M
Click Here
Video Card
eVGA GTX 970 SC
Click Here
Operating System
Windows 10 Pro 64-bit
Click Here
As you can see, even though the Intel Pentium G4400 is a low cost processor, we have opted to use better than average components to build the rest of the test system. If you were to purchase the Intel Pentium G4400, you could reduce the price of the other components by purchasing other models. Such as the dual SSD, you might opt to go with a lower cost SSD, and a standard hard drive.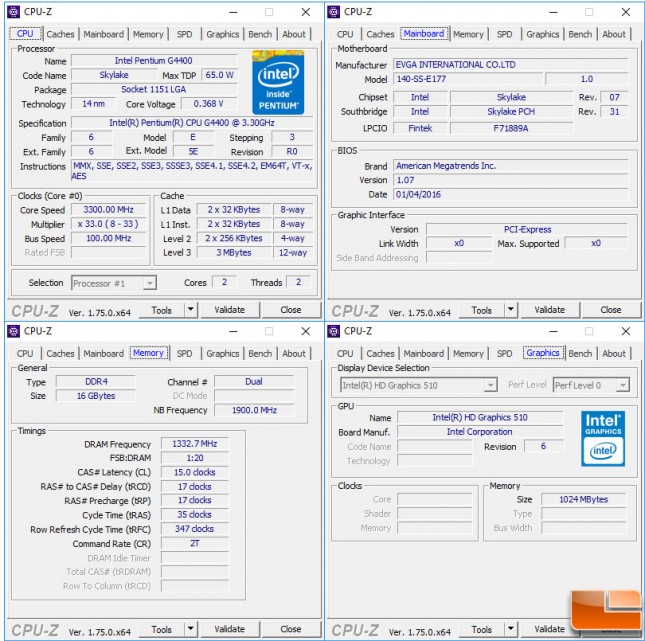 CPU-Z shows the Intel Pentium G4400 is running at 3300MHz on the EVGA Z170 FTW motherboard, which is running the latest BIOS 1.07. The HyperX Fury 16GB is running at the rated speed of 2666MHz with 15-17-17-35 2T timings.
Testing Process
The above listed components will be installed on an open air test bed. Windows 10 Pro 64-bit will be a fresh install with all the latest patches, drivers and firmware available at the time we begin the testing. The integrated Intel HD Graphics 510 will be tested along with a NVIDIA GeForce GTX 970 for the gaming performance tests.
In addition to the Intel Pentium G4400 processor, we will also install an Intel i5-6600K onto the test bed for something to compare it to. Unfortunately, an i3 processor was unavailable to be included in the testing. The Intel i5-6600K will not be overclocked for this testing, so be more in line with a lower cost i5 processor.
All testing will be done in a temperature controlled room that maintains a 72F (22.2C). A 24-hour burn in is done to allow the thermal paste time to cure before doing any thermal testing.
Where possible, we will use integrated benchmarks, and run them three times averaging the results. In situations where there are no integrated benchmarks, we will use FRAPS to an analyze the performance, doing the same game run three times before averaging the FRAPS results.