Intel NUC DN2820FYKH Bay Trail System Review
By
General NUC DN2820FYKH Performance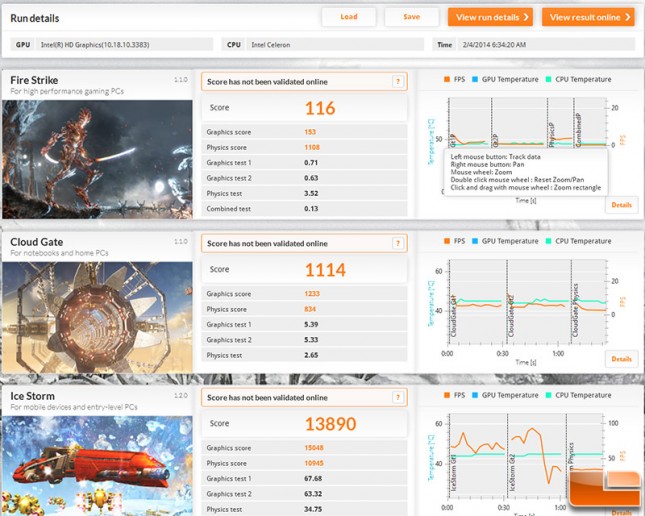 In the latest build of 3DMark we found scores of 13,890 in Ice Storm, 1,114 in Cloud Gate and 116 in Fire Strike.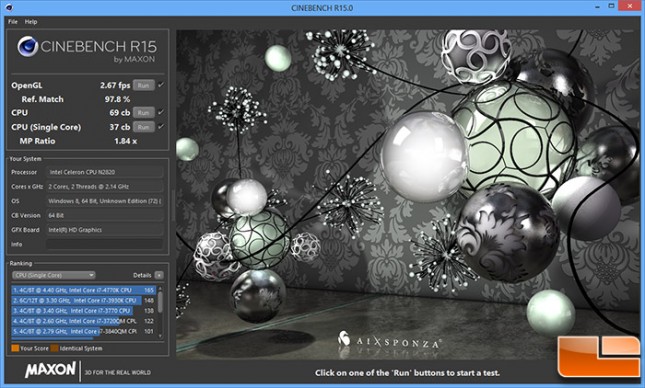 Moving along to Cinebench R15 we found the Intel NUC with the Intel Celeron 2820 processor scored 2.67 FPS on the OpenGL benchmark and then 69 points on the multi-core CPU test and 37pts on the single CPU test.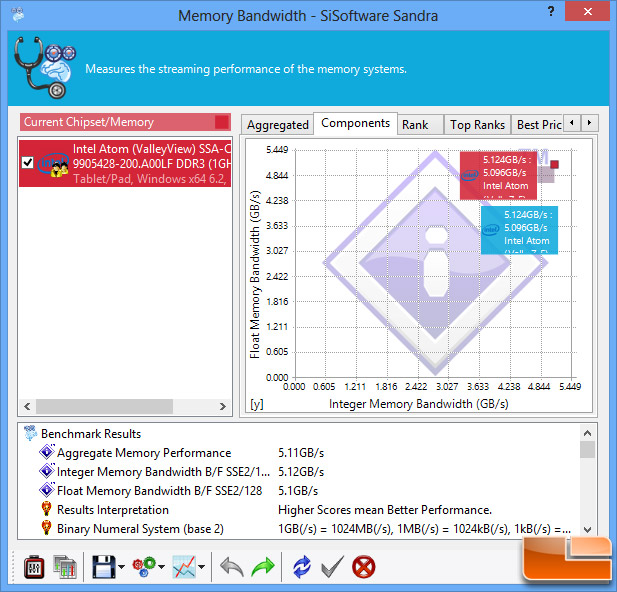 A quick look at the memory performance showed just shy of 5.1 GB/s of bandwidth. This sounds about right for a single channel memory kit running at 1033MHz with 7-7-7-19 1T memory timings.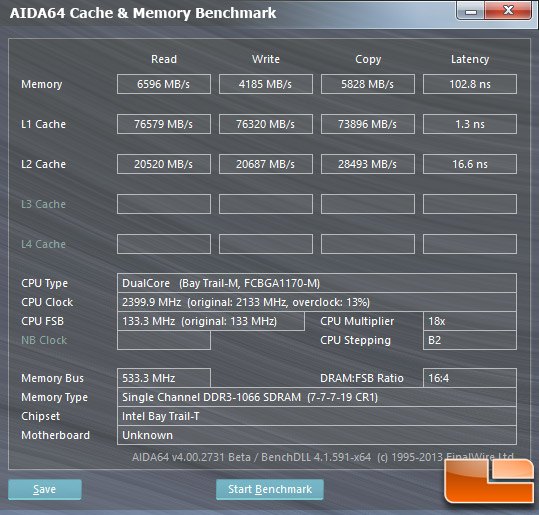 AIDA64 v4.00.2731 Beta showed memory read speeds of ~6,600 MB/s and write speeds of ~4,200 MB/s with a memory latency of 102.8ns.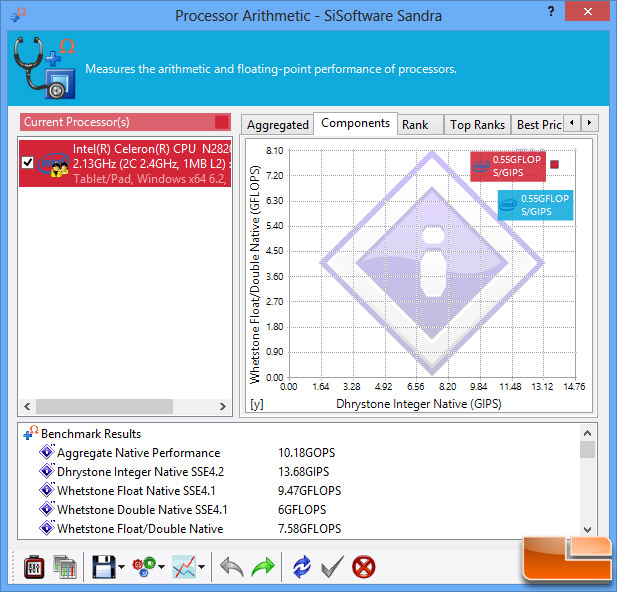 In Sandra Processor Arithmetic the aggregate native performance score 10.18 was 28 GOPS.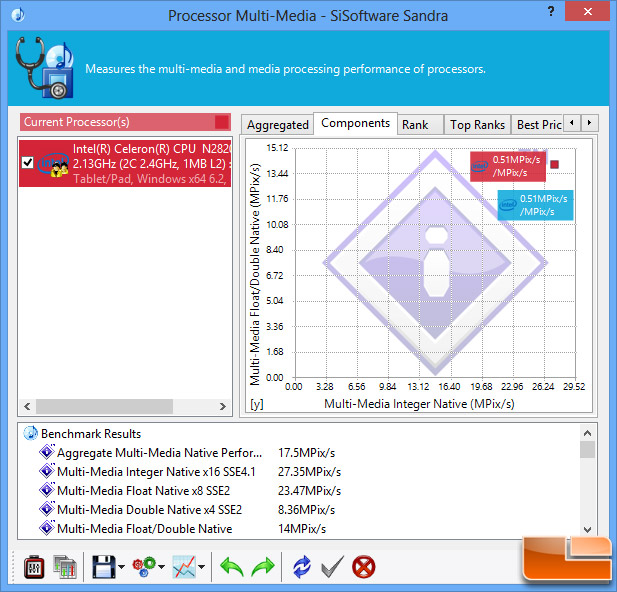 The Sandra Processor Multi-Media aggregate performance score was 17.5 MPix/s.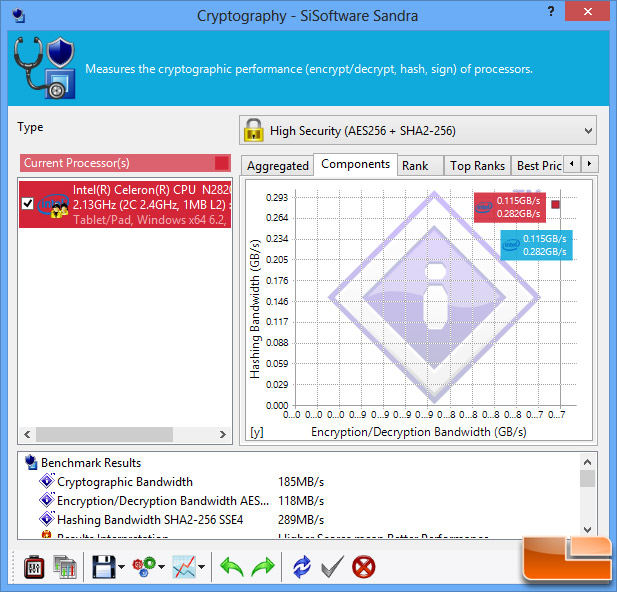 The Sandra processor Cryptographic score was 185 MB/s.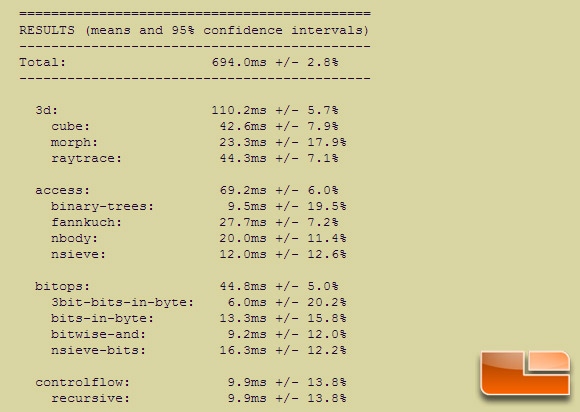 We ran the SunSpider 1.0.2 JavaScript Benchmark on Google Chrome 33 and received a score of 694.0ms.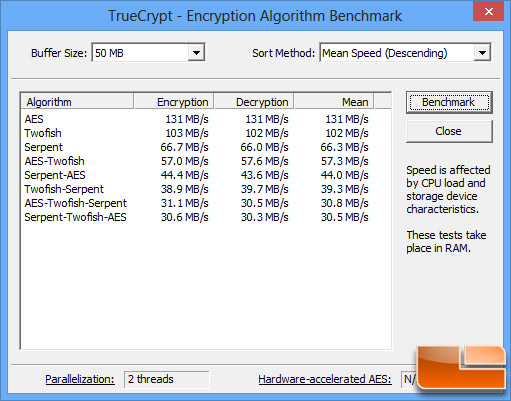 In the Encryption Algorithm Benchmark that comes inside TrueCrypt we found an AES mean score of 131 MB/s.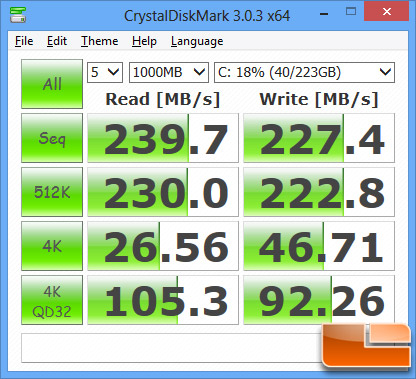 A quick run of CrystalDiskMark v3.0.3a showed the sequential read speed at 239.7 MB/s and the write speed at 227.4 MB/s! The Random 4K read speed was 26.6MB/s and the 4K random write speed was 46.7MB/s. Not bad scores, but we are clearly limited by the SATA II 3Gbps drive interface.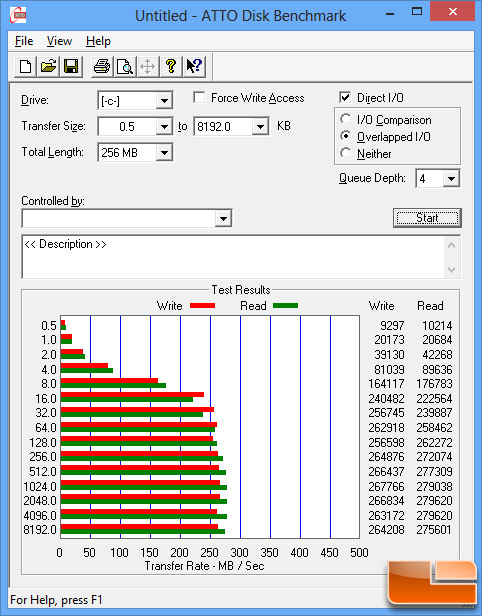 Taking a look at another storage benchmark called ATTO, we find that the SSD reaching speeds of up to 280MB/s read and 268 MB/s write. Not bad speeds, but we are clearly SATA II limited as this SSD has the ability to run much faster.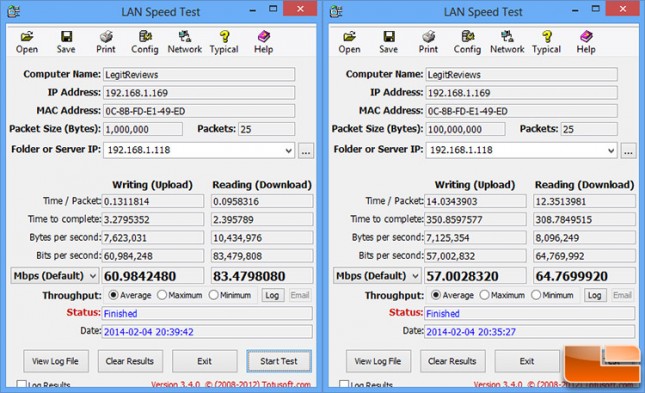 When it comes to wireless performance the we used LAN Speed Test to check the performance of the included the included Intel 7260BN 802.11n Wireless Card. This is an entry level 2×2 wireless card (TX/RX Streams) that runs on the 2.4GHz band with a theoretical peak speed rating of 300 Mbps. This card won't be breaking any speed records, but it is a budget card in a budget machine.
We used a desktop with Gigabit Ethernet to run LAN Speed Server that was hard connected to the ASUS RT-AC66U 802.11AC wireless router on the 2.4GHz band and moved it 15-feet away from the NUC test machine to check out performance with both 1MB and 100MB packets. We ran LAN Speed Test on the NUC with the wireless card to test the throughput and found roughly 60Mbps (7MB/s) average write speeds and 65-85Mbps (8-10MB/s) average read speeds.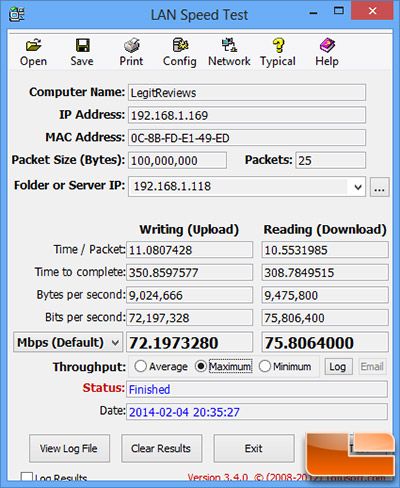 On the 100MB packet size test we hit a maximum throughput of about 75 Mbps read and write. Respectable scores for a single-band 802.11n WiFi card.
2/10/14 UPDATE: Would you like to know how the Intel Dual Band Wireless-AC 7260HMW card performs in this system versus the Intel Wireless-N 7260BN WiFi card the 802.11AC? You can read that article here.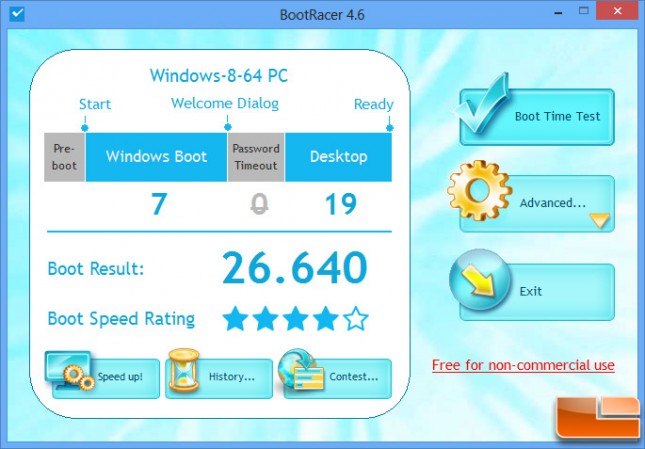 The last performance test that we wanted to run was Bootracer 4.6 to see how fast the system is able to boot Windows 8 64-bit. We were happy it takes just 7 seconds to get to the logon screen and in just 26-27 seconds everything was up and running on the desktop!