Intel NUC DN2820FYKH Bay Trail System Review
By
OpenELEC, XBMC and Video Playback
The Intel NUC DN2820FYKH could be an attractive HTPC since it is small, energy efficient and very affordable. If you wanted to build a sub $300 system and run Openelec or XBMC and Linux, this could be the platform to do it with. If you wanted to run OpenELEC off a USB drive you can build a nice little HTPC with this NUC for well under $200.
The Intel NUC DN2820FYKH has Intel HD Graphics, but it should be noted that this graphics solution does not support Intel QuickSync (hardware accelerated decode and encode) or Intel Clear Video HD (hardware accelerated decode). We were worried that this might cripple this platform, but there is only one way to find out.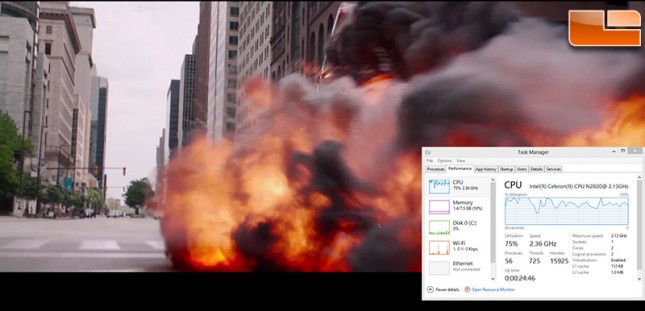 On Windows 8 we tried out Windows Media Center (WMC) on the Bay Trail NUC DN2820FYKH and so far it has performed very well. The Electronic Program Guide (EPG guide) loads in a couple seconds and navigation feels pretty good. In the screenshot above we played a 1080P movie trailer on YouTube and found that we were using up about 75% of the available processing power. It played well once loaded and if you were not doing anything else. At one point we noticed that we were having some audio issues, but found that a background update was taking place. The Intel Celeron N2820 processor has the ability to playback HD video, but multi-tasking or doing something in the background at the same time will noticeably impact the video playback performance. Our Kill-A-Watt power meter showed we were using around 8-10 Watts of power to play 1080p video content.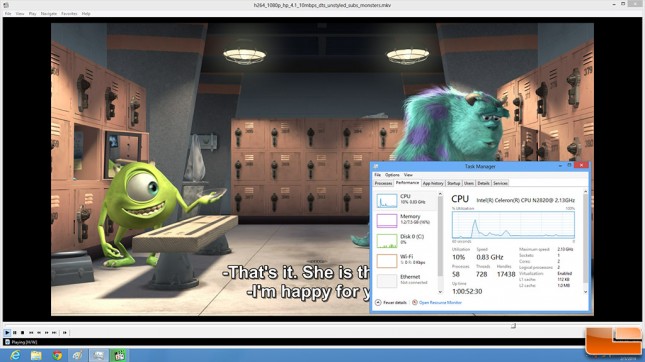 We also downloaded Media Player Classic – Home Cinema along with two 1080P H.264 MKV video clips (one at 10Mbps and the other at 40Mbps) to see how how the DN2820FYKH would perform. Both played back the clip just fine and looked to be around 7-11% CPU usage. It looks like the Bay Trail NUC has hardware decoding here since the CPU usage is so low. In the Intel External Design Specifications Document for the DN2820FYKH what the hardware acceleration is for decode and encode for various containers. Here is what the official list includes when it comes to Encode and Decode.
Full HW acceleration for decode of H.264, MPEG2, MVC, VC-1, VP8, MJPEG
Full HW acceleration for encode of H.264, MPEG2, MVC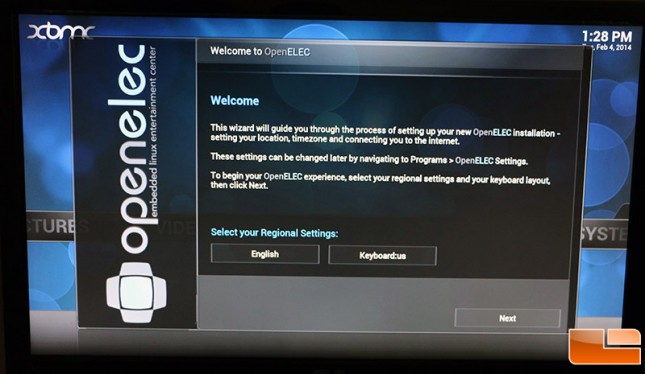 We have heard that many are interested in running OpenELEC on the NUC, so we downloaded the latest build (r17626) to give it a shot. We installed the latest BIOS (version 0024) with the default settings and then changed the boot order to boot off a USB drive first. Once you do that you can install OpenELEC like normal. The Intel Wireless-N 7260BN wireless card was detected and we were able to connect to our wireless network without any issues. It should also be noted that the built-in infrared (IR) worked great and we were able to get our media center remote to work great. It even went back to the main XBMC screen when the Windows button was pressed!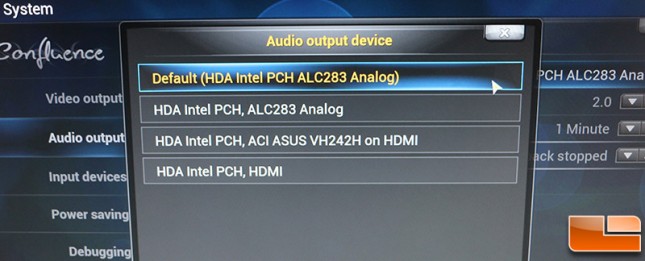 Once everything is installed you have to go into the XBMC settings and change the audio output so it will work through HDMI. The Bluetooth 4.0 adapter that is built-in the Intel 802.11n wireless card was not recognized by Openelec. We were able to stream 720p and 1080P content flawlessly for the most part. Our mkv 720p/1080p and mkv 1080p dts-hd files played without stutters or any audio issues, so we were pretty happy. If you have a bunch of 1080P content ~20Mbps DTS, but it does struggle with 1080p Hi10P w/ FLAC audio, which is sort of the 800 pound gorilla in the room in terms of newer standards that are pushing the limits of hardware requirements.