Intel NUC DN2820FYKH Bay Trail System Review
By
Updating The BIOS, Intel Visual BIOS and Windows 8 Setup
Once you get all the hardware installed now is a great time to make sure you have the latest BIOS installed on the NUC. Our NUC shipped with the initial BIOS version 0015, but there was a newer version available online that could be downloaded and updated of a USB Flash drive. The BIOS update process was very simple and is something you should do to ensure you are getting a trouble free experience when you install the operating system of choice.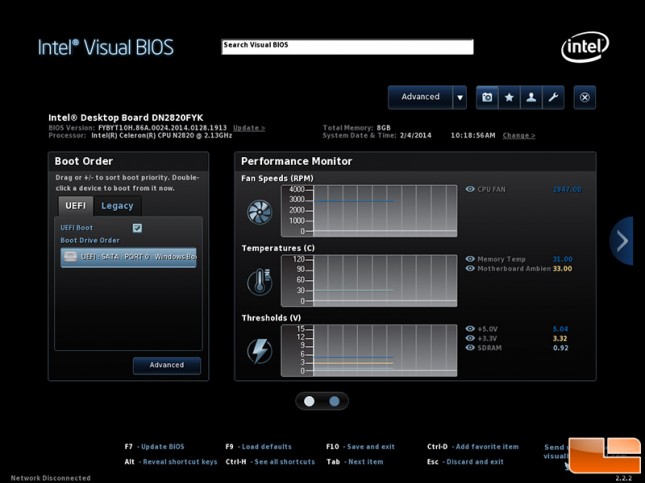 Once the BIOS update has completed the system can be restarted and you can enter the BIOS by hitting F2 when the system posts and make any changes that you deem necessary. The image above shows the home screen for the Intel Visual BIOS that comes on the Intel Desktop Board DN2820FYK. We are using BIOS version 0024, which isn't yet public, but the most recent we could get our hands on. Notice that the CPU temperature isn't shown, but the memory is running at 31C and the motherboard ambient temp is listed at 33C.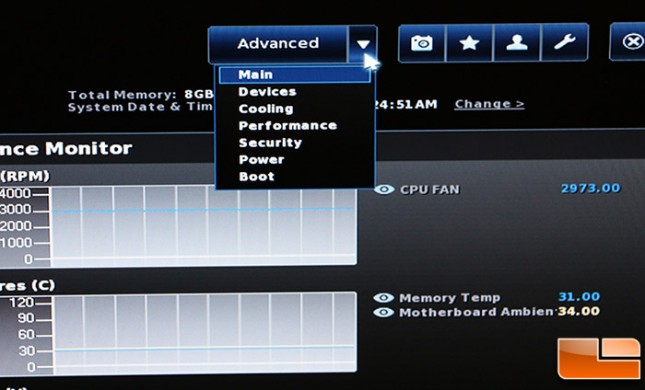 From the home menu we went to the drop down menu and were amazed to see a performance menu listed, but when we clicked on it we were shown the cooling menu. It looks like Intel is re-using the Intel Visual BIOS from the other higher-end NUCs and modifying it.
The Intel Visual BIOS was easy to use as there really aren't too many things you can change. You can't adjust any clock frequencies, memory timings or anything like that. Most users won't ever have to go into the BIOS unless they need to change the boot order for something.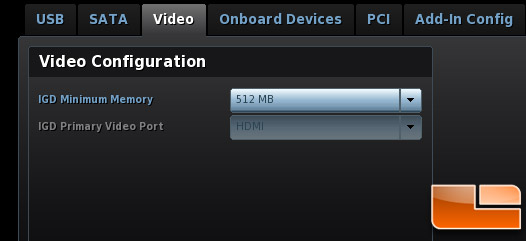 The one setting that we changed was the IGD minimum memory, which we increased to the maximum capacity of 512MB. There is a drop down menu for selection of the primary video port, so maybe the internal VGA header that was removed was at one time functional.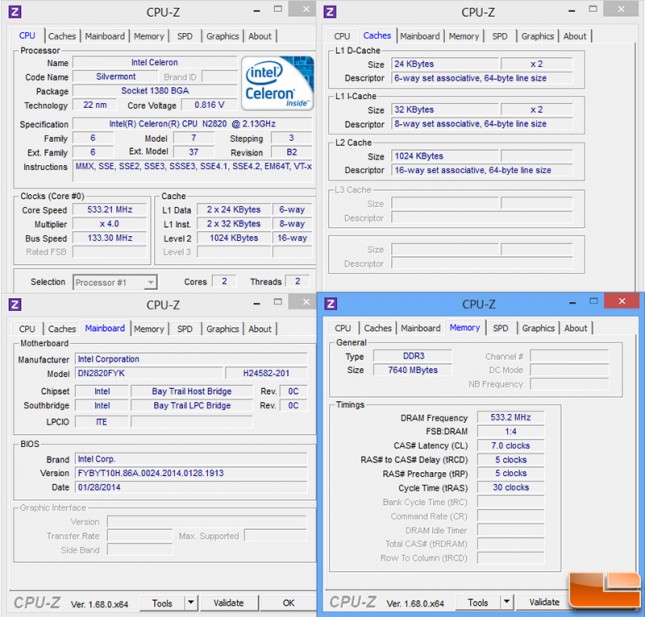 The latest build of CPU-Z doesn't properly read everything on the NUC DN2820FYKH, but it shows some of correctly and we included that screen shot above.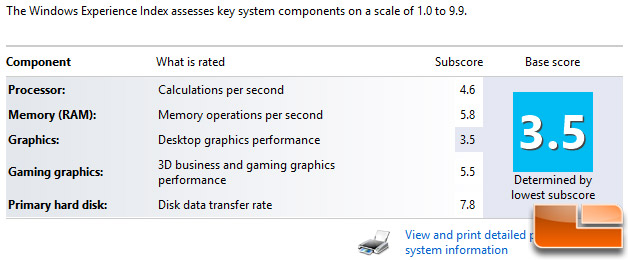 The Windows Experience Index score on our Windows 8 64-bit build came in with a base score of 3.5 and the Intel HD Graphics was the lowest scoring component of the system.