Intel Core i7-980X Six-Core Processor Extreme Edition Review
By
Sony Vegas 9.0C Pro
The Vegas Pro 9 collection integrates two powerful applications that work seamlessly together to provide an efficient and intuitive environment for video and broadcast professionals. This comprehensive suite offers the most robust and progressive platform available for content creation and production. With broad format support, superior effects processing, unparalleled audio support, and a full complement of editorial tools, the Vegas Pro 9 collection streamlines your workflow. From acquisition to delivery, from camera to Blu-ray Disc, the Vegas Pro 9 collection delivers exactly what you need to produce outstanding results. Vegas Pro software also supports 24p, HD and HDV editing, which is what we are going to look at in this benchmark.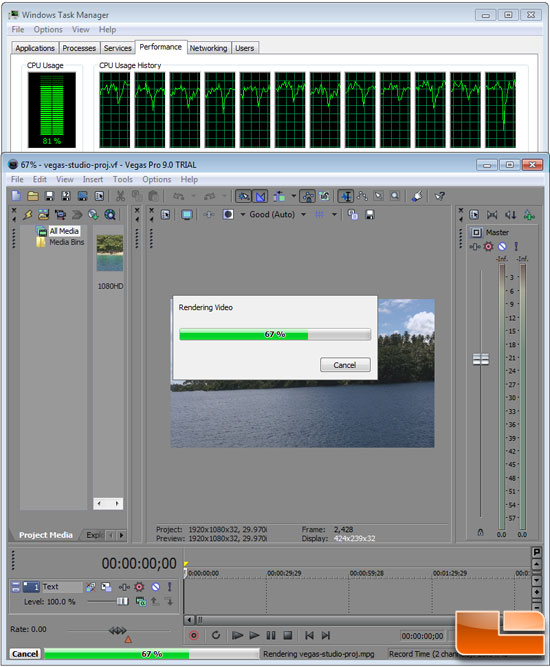 The Sony Vegas 9.0c workload that we are using takes an input file that is a ~1min59sec, ~370MB 1440×1080 HD video imported from an HD camcorder using Sony Vegas. We then take that file and output it as a Blu-ray disc using Sony Vegas 9.0c. The output is a 1920×1080 60i Blu-ray Disc ISO image.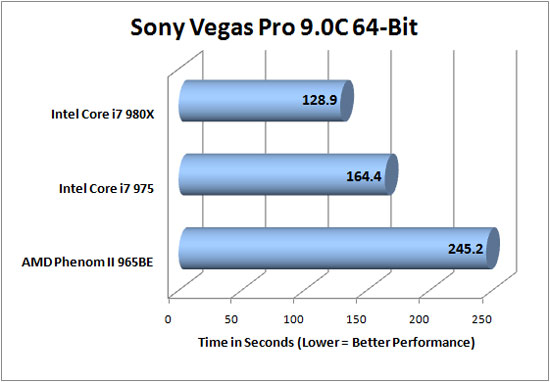 Benchmark Results: Running the Sony
Vegas 9.0c benchmark shows just how important a CPU is when it comes to
creating video content. Sony
Vegas 9.0c was only running at 80% load across all 12 threads, but that was enough to give us a 22% performance boost over the Intel Core i7 975 processor and nearly twice the performance of the AMD Phenom II 965BE!