Intel Core i7-980X Six-Core Processor Extreme Edition Review
By
Core i7 980X CPU-Z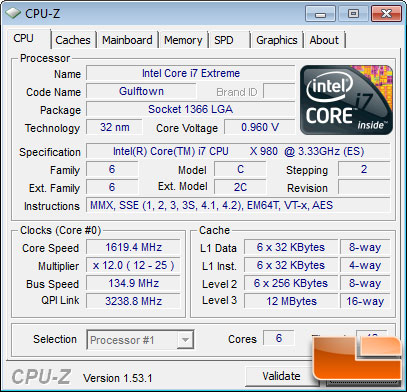 CPU-Z 1.53.1 shows that the Intel Core i7-980X processor has 256K L2 cache per core and 12MB shared L3 cache. It also shows that the processor has the AES-NI instruction set. The Intel Core i7-980X processor has an 25x multiplier with a 133MHz
reference clock, but features low power states and turbo mode. This
means that the core clock frequency and base clock will rise up and
down all by itself, depending on the workload. The Intel 32nm processors are said
to be the most dynamic processors to date for Intel and this is the key
to its low power consumption at idle. The screen shot above shows the
Core i7-980X at an idle state. You can see the multiplier
dropped down to 12x and the core speed or overall clock frequency is just
1.6GHz.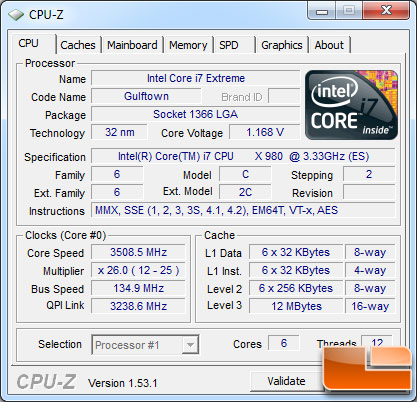 When the Intel Core i7-980X processor was running at full load the multiplier jumped up to 26 and the overall clock frequency is now 3.51GHz, as you can see from the screen shot above.