Intel Core i7-980X Six-Core Processor Extreme Edition Review
By
SiSoftware Sandra 2010c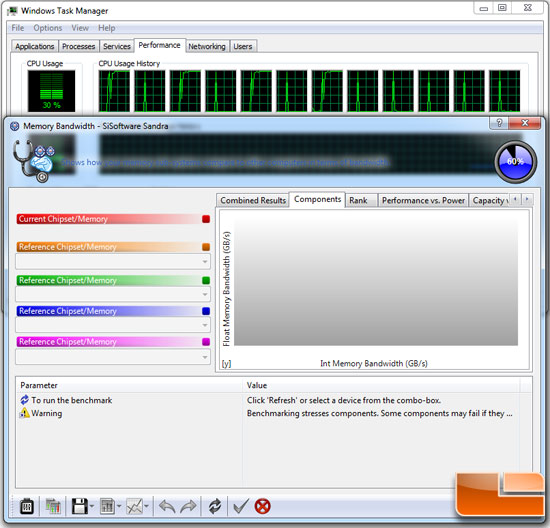 The Sisoft Sandra 2010c benchmark utility just came out a few weeks ago and we have started to include it in our benchmarking. Sandra 2010 now comes with support for Virtualisation (Virtual PC/Server, Hyper-V, VMware) and GPGPU (OpenCL, DirectX 11 DirectCompute, but today we will be using the program to look at memory and CPU performance!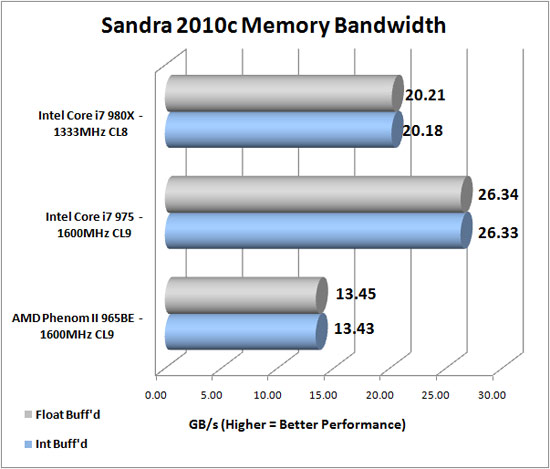 Results: Sandra 2010c showed that the Intel Core i7 975 system with the memory running at 1600MHz CL9 timings was the memory to beat with nearly 26GB/s throughput. The Intel Core i7 980X we had for testing on the Gigabyte X58A-UD5 motherboard with BIOS F4 started out running 1600MHz with CL11 timings, but after a reboot we were never able to reach 1600MHz again no matter what we did. At 1600MHz with CL11 timings we were getting 20.7GB/s on the 980X, but due to stability issues on our platform we had to back it down to 1333MHz with CL8 timings. Even with the DDR3 triple-channel kit running at 1333MHz with CL8 timings we were able to get a throughput of 20.2GB/s, which was still higher than the AMD Phenom II 965 Black Edition platform that got just 13.44GB/s at 1600MHz CL9 timings.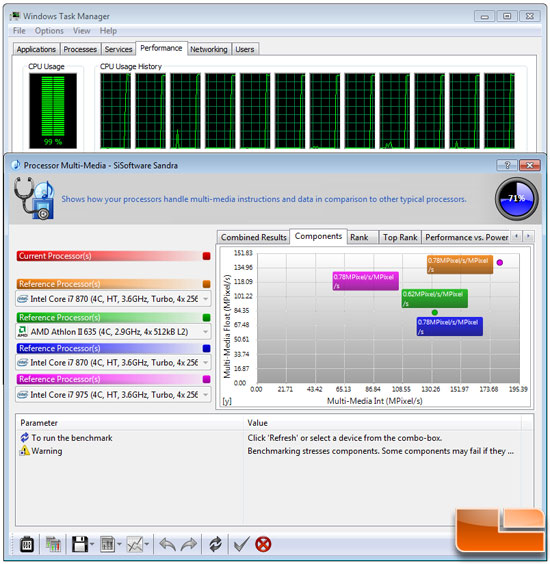 The Sandra Processor Multi-Media benchmark has been a long time favorite of ours to look at floating point performance on processors, so let's see how Intel's latest 32nm mobile processor does!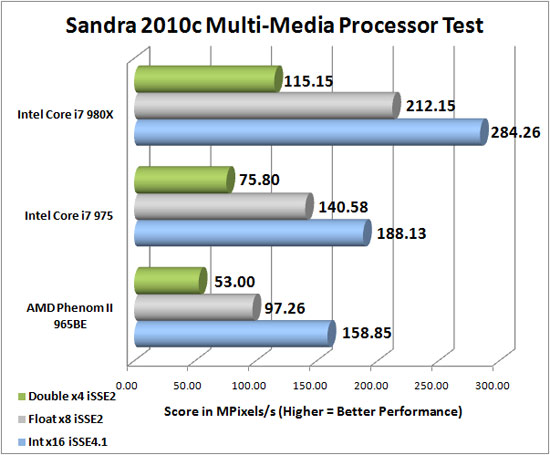 Results: Once again the Intel Core i7 980X Extreme Edition 32nm processor outperformed the other two flagship processors significantly.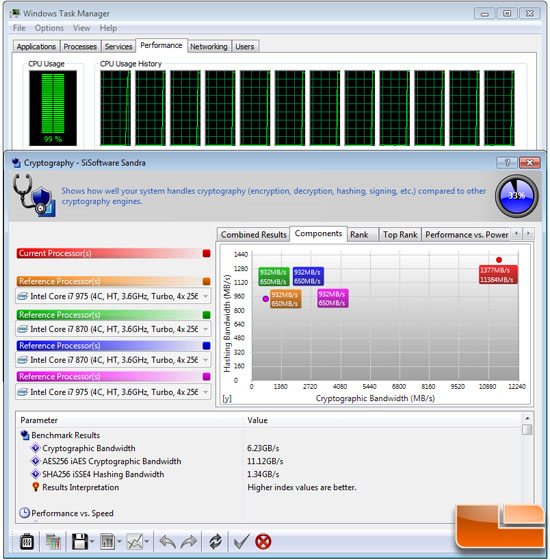 Cryptography has become an important part of our digital life: it
allows us to conduct safe transactions online, certify programs and
services, keep our data secure and much more. Sandra 2010c has a dedicated benchmark built-in that measures cryptographic performance, which is important on the new Intel 32nm processors like the Core i7 980X that we are benchmarking today. It includes features like AES-NI! Intel AES-NI is a new set of Single Instruction Multiple Data (SIMD) instructions that are going to be introduced in the next generation of Intel processors, as of 2009. These instructions enable fast and secure data encryption and decryption, using the Advanced Encryption Standard (AES), defined by FIPS Publication number 197. The architecture introduces six instructions that offer full hardware support for AES. Four of them support high performance data encryption and decryption, and the other two instructions support the AES key expansion procedure. Let's take a look at how this feature impacts Cryptography performance.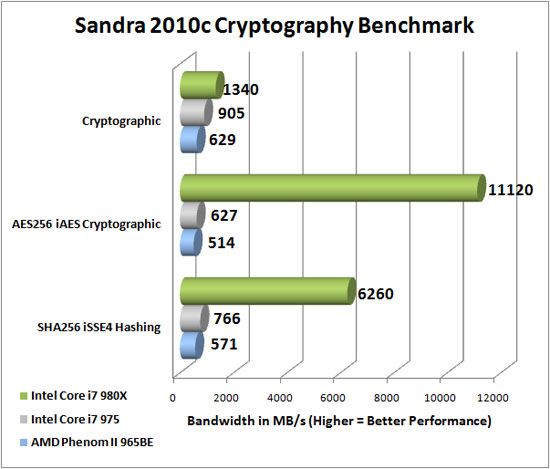 Results: The Intel Core i7 980X Processor with AES-NI has significantly more Cryptographic Bandwidth than the previous generation Intel Core i7 975 processor. It looks like the Intel Core i7 980X Processor is off to a great start!