Intel Core i7-5775C Broadwell Processor Review
By
Intel Core i7-5775C – Broadwell Gives 9 Series Boards Last Shot At Glory
Earlier this month Intel launched their 5th Generation Core 'Broadwell' processors for both desktop and laptop solutions. This processor series is the first to be built on the 14nm manufacturing process and is a 'tick' in Intel's tick-tock cadence that they have been doing for many years. Broadwell was supposed to launch last year with the Intel 9 series of chipsets, but for reasons unknown to us, Intel delayed the launch of Broadwell. Intel came out with the Haswell refresh along with the Intel 9 series boards in 2014, but we all knew that Broadwell was supposed to be launching then. After much delay, Intel finally announced Broadwell processors on June 2nd with the announcement of ten Broadwell processors all at once. The only problem is that nearly three weeks later the processors still haven't made it to the channel in any significant volume.
Since Intel delayed Broadwell by nearly a year, Broadwell processors are coming out just a couple months ahead of Intel's upcoming Skylake processors that are 'tock' in the launch cycle. This means that the manufacturing process will remain at 14nm, but there were major architecture change. Rumor has it that Intel will be launching Skylake in August at Gamescom. Intel Skylake processors will be launched in conjunction with the Intel 100 series of chipsets that feature new LGA1151 sockets and support for DDR4 dual-channel memory among other things.
This creates an interesting situation as Intel will have two different mainstream platforms to pick from summer if you are building a brand new system. You'll be able to pick between using Broadwell with an Intel 9 series chipset board or you can go with Skylake with an Intel 100 series chipset board. The obvious choice for enthusiasts would be to go Skylake, but keep in mind that Skylake will likely be using DDR4 memory and that will drive the cost of a platform up. If you already have an Intel 8 series board and have been waiting on Broadwell to come out to upgrade your current platform, we might have some bad news for you. Most all of the board manufacturers that we talked to will not be updating their Intel 8 series boards UEFI/BIOS to support Broadwell. To be honest, even the latest Intel 9 series boards have really sketchy UEFI/BIOS revisions this very second and is likely one of the reasons now that Intel hasn't opened the flood gates and let Broadwell out into the wild. The problem is that the board makers have moved on to develop the next-generation boards for that impending launch and are struggling to go back and update all the old boards. Broadwell has had an extremely rough time getting to market, but it is coming.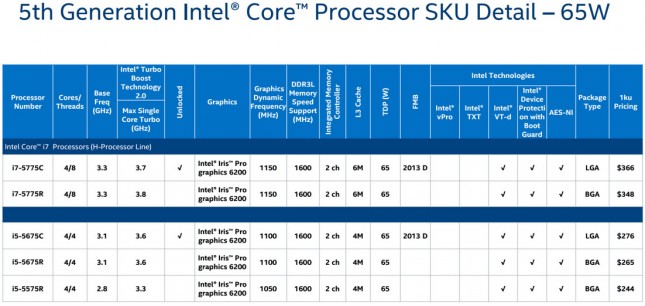 Intel announced ten Broadwell processors earlier this month and while that sounds like a ton of processors, only two are socketed LGA1150 Broadwell. The two Broadwell LGA desktop processors are the Intel Core i7-5775C and the Core i5-5675C. Both parts are unlocked like the 'K' processors have been in the past. Intel never told us why they changed from 'K' to 'C' for these processors, but it's likely because the Iris Pro Graphics 6200 solution was codename Crystal Well internally. Those processors were announced over two weeks ago, but they won't be readily available in the channel until July. Since they are only now starting to become available for purchase and the reviews on those processors are few and far between.
Intel Core i7-5775C $366 4 physical cores with 8 total threads, a base clock speed of 3.3GHz and 3.7GHz Turbo, 6MB of L3 cache, and Iris Pro 6200 graphics
Intel Core i5-5675C $276 4 physical cores with 4 total threads, a base clock speed of 3.1GHz and 3.6GHz Turbo, 6MB of L3 cache, and Iris Pro 6200 graphics
Intels flagship 5th generation desktop processor is the Core i7-5775C. The Intel Core i7-5775C processor (Intel ARK) is an unlocked Quad-Core, 3.3GHz processor with 6MB of L3 cache and 128MB of eDRAM. These clock speeds are lower than Intels highest-end unlocked Haswell parts, so if you are looking for raw CPU performance the Haswell processors are still the best choice. The Intel Core i7-4790K Devils Canyon Haswell processor has a base clock of 4.0 GHz with a max turbo frequency of 4.4GHz for example.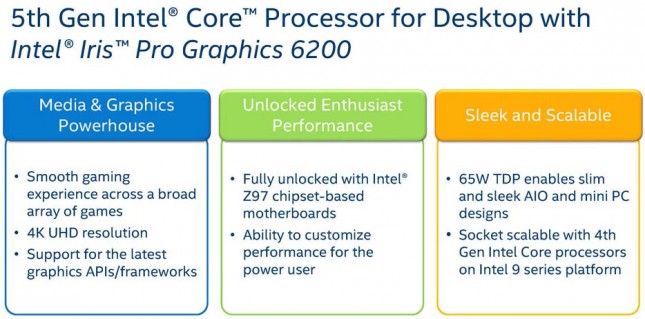 Both the Core i7-4774C and Core i5-5675 feature Intel Iris Pro Graphics 6200 with 48 execution units and 128 MB of eDRAM (L4 Cache) running at 1800 MHz, so integrated graphics performance should be greatly improved. The old Haswell processors had just 20 Execution units and no eDRAM, so there should be a night and day difference between Haswell and Broadwell with respect to integrated graphics performance.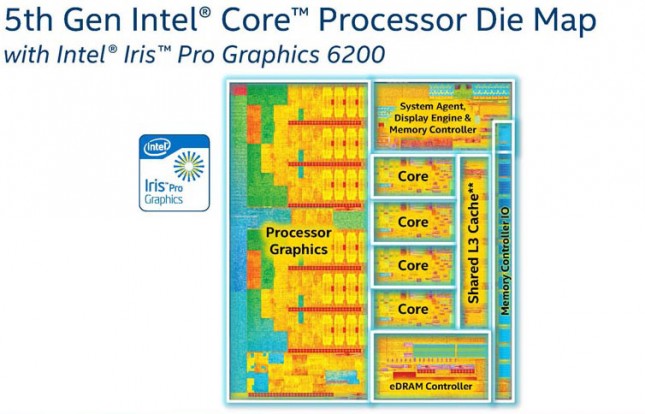 Intel Iris Pro 6200 graphics makes up over half of the processor die area it you add up the space of the processor graphics and the eDRAM controller. Intel says that Intel Iris Pro Graphics 6200 on Broadwell will give you the best gaming and video encoding ever seen on a socketed processor. If you are using discrete graphics the processor and graphics must share the eDRAM, but if you use discrete graphics all 128MB can be allocated for use by the four CPU cores.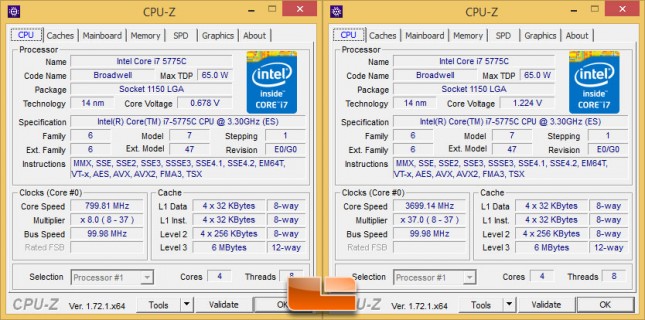 We managed to get our hands on an Intel Core i7-5775C processor and have spent the past week using and benchmarking the newest desktop processor from Intel. This processor idles at 800 MHz when your system is not being used and then can run at up to 3700 MHz depending on the workload you are doing. The Intel Core i7-5775C is just a 65W TDP processor thanks to having mobile roots. This is a far cry from the 84W TDP seen on the Intel Core i7-4790K processor, but keep in mind it tops out at 3700MHz and not 4400MHz!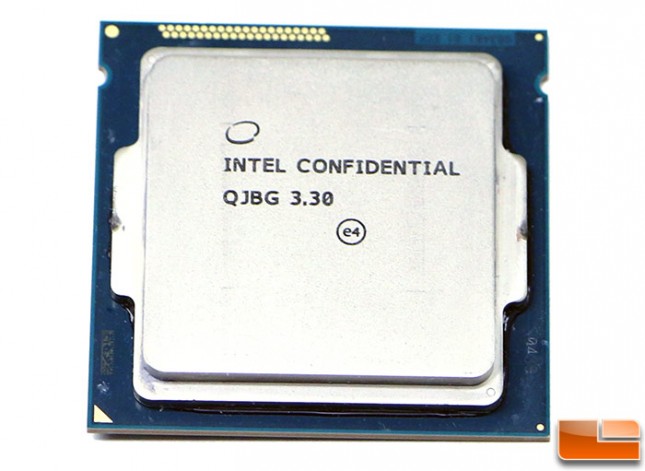 Here is a look at the Intel Core i7-5775C processor and on the Integrated Heat Spreader (IHS) it has the clock speed shown on it without much else.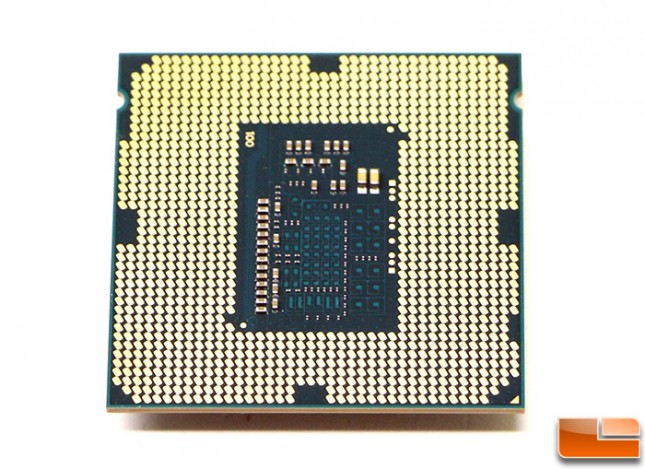 Flipping the processors over you can see that the Intel Core i7-5775C has the usual capacitors that reside in the middle around the pins needed to operate in an LGA1150 socket.
Let's take a look at how the Intel Core i7-5775C performs in our Intel Z97 test platform!