Intel Core i7-5775C Broadwell Processor Review
By
Cinebench R15
MAXON; CINEBENCH R15:
MAXON CINEBENCH Release 15 is an advanced hardware testing suite that assesses a computer's performance capabilities. CINEBENCH is based on the same powerful technology as MAXON's award-winning animation software CINEMA 4D, which is used extensively by studios and production houses worldwide for 3D content creation. MAXON software has been used in blockbuster movies such as Iron Man 3, Oblivion, Life of Pi or Prometheus and many more.
The new version of CINEBENCH includes the ability to more accurately test the industrys latest hardware, including systems with up to 64 processor threads, and the testing environment better reflects the expectations of todays production demands. A more streamlined interface makes testing systems and reading results incredibly straightforward. Again, higher Frames/Second and point score equal better performance.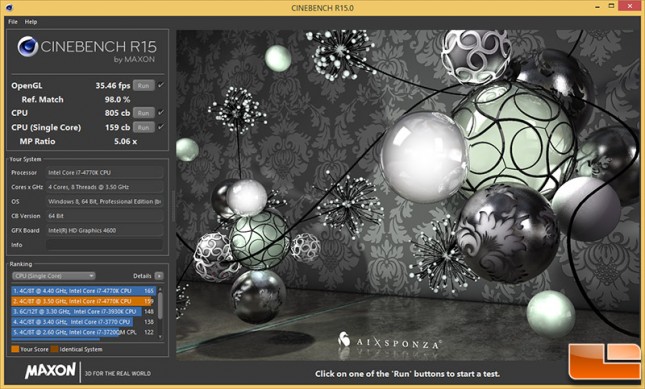 Cinebench R15 was able to put a 100% load across all the cores on all of the processors, which makes this a great benchmark to look at multi-core platforms.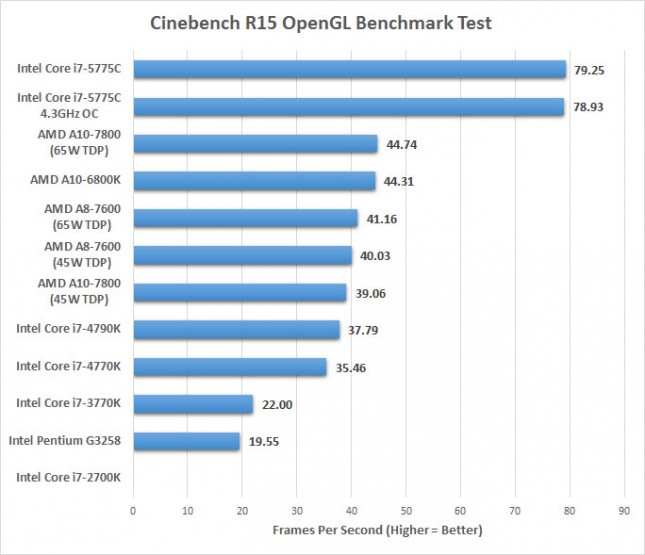 Benchmark Results: When it comes to OpenGL graphics performance the Intel Core i7-5775C Broadwell processor with Intel Iris Pro Graphics 6200 dominated the other processors in the OpenGL Benchmark by a mile. The new graphics solution with 128MB of eDRAM finally put Intel ahead of Intel with regards to integrated graphics performance for the first time since Legit Reviews started in-depth hardware reviews way back in 2002. For those that are wondering why we don't have Intel Core i7 2700K results, it is because the Intel HD 3000 graphics on that processor are not supported by the OpenGL benchmark.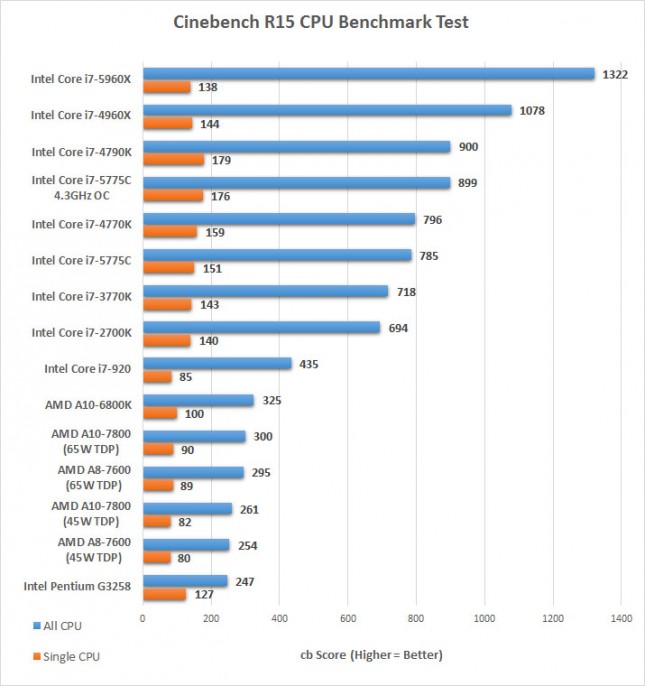 Benchmark Results: The fifth generation Intel Core i7-5775C processor scored 785 points when using all of the available cores and had a score of 151 on just one. With the Intel Core i7-5775C Broadwell processor overclocked the multi processor test score went up to 899 and the single processor score jumped up to 176! This put the performance of the 5775K right next to that of the 4790K!