GIGABYTE Z87X-UD5 TH Intel Z87 Thunderbolt Motherboard Review
By
GIGABYTE Z87X-UD5 TH Retail Packaging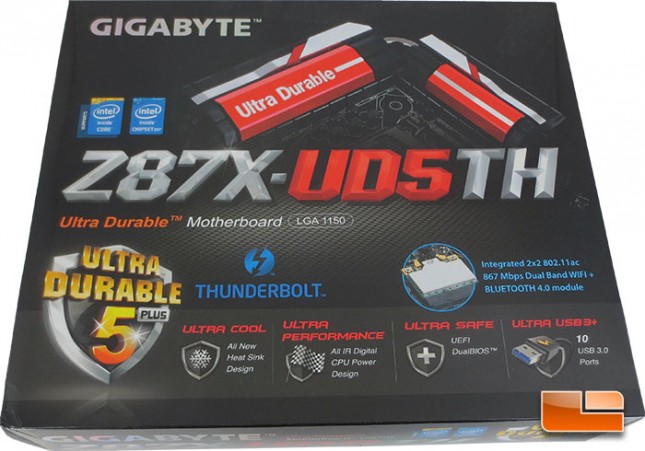 The retail packaging for the GIGABYTE Z87X-UD5 TH isn't overly flashy but it's eye-catching and to the point. Along the bottom edge of the box GIGABYTE boasts about their Ultra Durable 5plus. The advantages to the Ultra Durable 5plus include Ultra Cool, Ultra Performance, Ultra Safe, and Ultra USB 3+. The top half of the Z87X-UD5 TH box shows off the all new heat sink design and the name of the board. Below the Z87X-UD5 TH we have the Thunderbolt logo and an image of the included 802.11ac Dual Band WiFi + Bluetooth 4.0 module.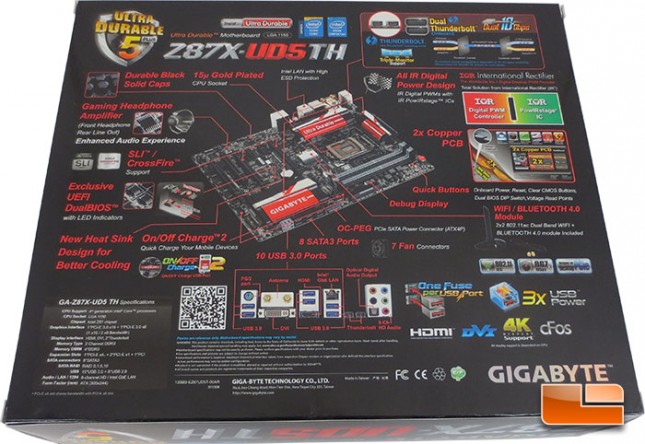 The back of the retail packaging has an image of the GIGABYTE Z87X-UD5 TH and no shortage of features being pointed out.
Tucked securely under the GIGABYTE Z87X-UD5 TH is the bundle. The components of the bundle are neatly packed in their own little sections. This serves a dual purpose, first it makes sure everything is nicely organized when the end user gets their board, and second it provides support under the Z87X-UD5 TH during the hazards of shipping.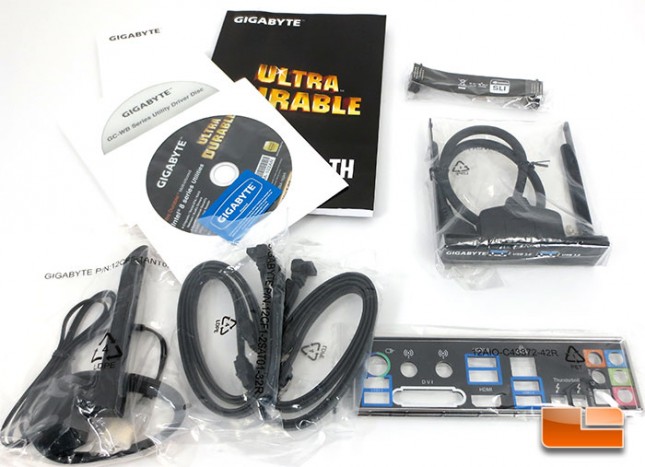 The GIGABYTE Z87X-UD5 TH doesn't have the largest bundle to ever come across my bench, but it has more than enough to get the job done. The bundle includes the manuals, driver disc, utility disc, Wi-Fi antenna, four SATA cables, I/O shield, SLI Bridge, and a 3.5″ front panel USB 3.0 adapter.