GIGABYTE Z87X-UD5 TH Intel Z87 Thunderbolt Motherboard Review
By
Intel Z87 SATA III 6Gbps Performance Testing
CrystalDiskMark is a small benchmark utility for drives and enables rapid measurement of sequential and random read/write speeds. Note that CDM only supports Native Command Queuing (NCQ) with a queue depth of 32 (as noted) for the last listed benchmark score. This can skew some results in favor of controllers that also do not support NCQ.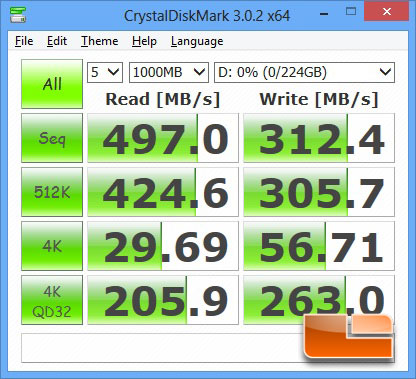 The SATA III 6Gbps performance testing was completed using a Corsair Force GT 240Gb SATA III 6Gbps SSD.

Benchmark Results: The GIGABYTE Z87X-UD5 TH isn't the fastest board in CrystalDiskMark, but a sequential read of 503.0MB/s and a sequential write of 438.4MB/s is still a solid performance and nothing to shake a stick at.

HD Tune Pro 4.01 is an extended version of HD Tune which includes many new features such as write benchmark, secure erasing, AAM setting, folder usage view, disk monitor, command line parameters and file benchmark.
Intel Z87 HD Tune Pro 5.50 Write Benchmark Results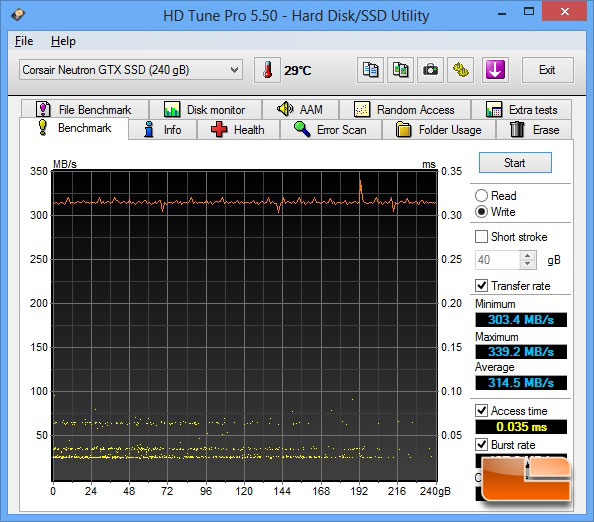 Intel Z87 HD Tune Pro 5.50 Read Benchmark Results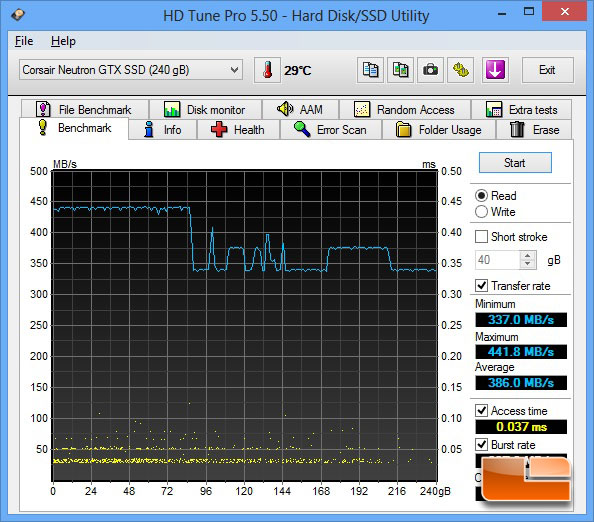 Benchmark Results: In HD Tune 5.5 the GIGABYTE Z87X-UD5 TH was able to hit an average read of 386.0MB/s and an average write of 314.5MB/s, not our best performer but still a solid performance.