GIGABYTE Z87X-UD5 TH Intel Z87 Thunderbolt Motherboard Review
By
GIGABYTE Z87X-UD5 TH Intel Z87 Motherboard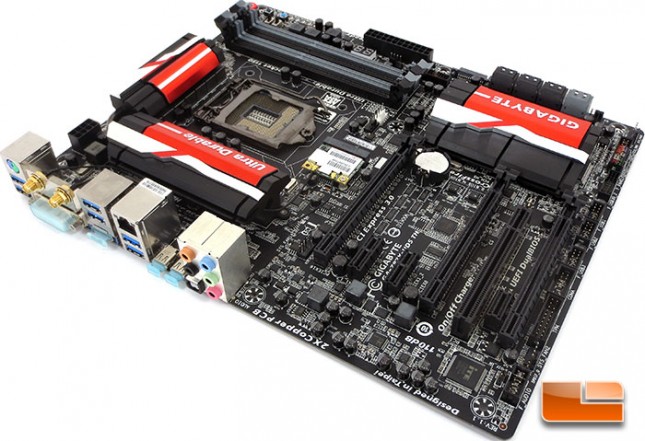 GIGABYTE recently sent out one of their latest boards for me to play with, the GIGABYTE Z87X-UD5 TH. The Z87X-UD5 TH is is an Intel based motherboard with an Intel Z87 chipset at its heart. Having the Intel Z87 chipset at its core means that it supports the latest and greatest Intel 4th Generation Core i-series processor like the Core i7-4770K 'Haswell' CPU that I will be using for testing. If you're already sold on the GIGABYTE Z87X-UD5 TH, you can pick it up from Amazon for only $254.99 shipped, if not keep reading and you may be by the end of the day!
As mentioned, the GIGABYTE Z87X-UD5 TH is an Intel board with the Z87 chipset, if you've been around the block a time or two with GIGABYTE you were likely able to figure that out from the name. What you may not have realized from the name though, is that the Z87X-UD5 TH supports dual Thunderbolt ports! That's what the TH at the end of the name tells us. GIGABYTE has the first motherboards to be certified by Intel with dual onboard Thunderbolt ports. Having the dual Thunderbolt ports will allow you to daisy chain up to 12 devices and three digital displays at the same time!

Thunderbolt technology offers an immense amount of bandwidth, double that of the more popular SuperSpeed USB 3.0. Each of the Thunderbolt ports features simultaneous bi-directional data transfer, meaning upload and download at speeds up to 10Gbps! Have the need to transfer a 1080P movie, 30 seconds and you're done with that. Have more data? With the Z87X-UD5 TH Thunderbolt ports you can transfer as much as 1TB of data in only five minutes!
Thunderbolt may be one of the key selling points of the GIGABYTE Z87X-UD5 TH, by no means is it the only point of the board. In current times everything is about speed and being connected. One way that GIGABYTE helps with both of those is with the built in WiFi module. GIGABYTE has included a dual band 802.11ac WiFi module that is also capable of Bluetooth 4.0! 802.11ac is currently the fastest available WiFi technology available and at 867Mbps is damn near as fast as a wired gigabit (1000Mbps) connection! As I said this is a dual band module that operates at both 2.4GHz and 5GHz and with the included 2T2R antenna you'll have plenty of coverage.
If you're anything like me, durability (along with performance) is one of the most important factors about motherboards that I look at. The GIGABYTE Z87X-UD5 TH Intel Z87 motherboard is part of the Ultra Durable 5 Plus series of motherboards. There are several areas that make up the Ultra Durable 5 Plus, Ultra Cool, Ultra Performance, Ultra Safe, Ultra USB3+. The idea behind the Ultra Durable 5 Plus is to build a board that runs cooler and more efficient each of the 'Ultra' areas mentioned are responsible for at least one aspect of that. This in turn will extend the life of the motherboard by causing less wear and tear over the same amount of time as a competitors motherboard. To keep the Z87X-UD5 TH running nice and cool, GIGABYTE has implemented an all new heat sink design that improves the cooling on key areas of the board. Areas like the PWM (Pulse Width Modulation) and the Intel Z87 chipset are crucial to the life span of the board, the cooler GIGABYTE keeps them the longer the board will last. This is the idea behind the 'Ultra Cool'.

Over the last few generations of motherboards GIGABYTE has been implementing an IR Digital CPU Power Design. The IR Digital CPU Power Design is a combination of digital PWM controllers and PowIRstage ICs. One of the advantages to an all digital CPU delivery method like this is that it offers an insane amount of precision and control when supplying power to the Intel Haswell processors. The precise control that is offered by the Digital CPU power design on the Z87X-UD5 TH can help dial in some extreme overclocks, hence why this is part of the 'Ultra Performance'. Each of the GIGABYTE motherboards in the Ultra Durable 5 Plus have the 'Ultra Safe' as well. Ultra safe means that the Z87X-UD5 TH has dual BIOS chips. There is a main BIOS chip, and a backup BIOS chip. You can opt to run off of either one, but if the main BIOS chip becomes corrupted, the system will restore the main chip from the backup chip! The Ultra USB3+ on the GIGABYTE Z87X-UD5 TH offers more USB 3.0 connectivity than ever before. If you were to use both of the internal SuperSpeed USB 3.0 headers on the Z87X-UD5 TH you could take advantage of 10 SS USB 3.0 ports. To add to that, each of the SuperSpeed USB 3.0 ports has an individual fuse, so rather than losing the entire stack of ports, you will only lose the individual port!
There's so much technology in this board it's hard to cover all of it, but it includes tech like Durable Black Solid Caps that offer up to 10k hours instead of the 2k hours of the standard capacitors. High ESD protection for USB 3.0 and LAN, gold plated LGA 1150 socket, 2x Copper PCB, front headphone amplifier for your gaming headphones, GIGABYTE On/Off Charge 2, Intel Gigabit LAN, cFos network traffic management, seven fan headers, GIGABYTE OPT fan support, Multi GPU (2Way NVIDIA SLI/2Way AMD CrossFireX), Sound blaster X-Fi MB3 Software Suite, 4K support, HDMI 1.4a, DVI, GIGABYTE App Center and all of the associated apps. The list is extensive, but not exhaustive as there is quite a bit more to the Z87X-UD5 TH that listed here. Let's take a quick look at the specifications below
GIGABYTE Z87X-UD5 TH Specifications
CPU

Support for Intel Core i7 processors/Intel Core i5 processors/Intel Core i3 processors/Intel Pentium processors/Intel Celeron processors in the LGA1150 package
L3 cache varies with CPU

Chipset

Intel Z87 Express Chipset

Memory

4 x 1.5V DDR3 DIMM sockets supporting up to 32 GB of system memory
Dual channel memory architecture
Support for DDR3 3000(O.C.) / 2933(O.C.) / 2800(O.C.) / 2666(O.C.) / 2600(O.C.) / 2500(O.C.) / 2400(O.C.) / 2200(O.C.) / 2133(O.C.) / 2000(O.C.) / 1866(O.C.) / 1800(O.C.) / 1600 / 1333 MHz memory modules
Support for non-ECC memory modules
Support for Extreme Memory Profile (XMP) memory modules

Onboard Graphics

Integrated Graphics Processor:

1 x DVI-I port, supporting a maximum resolution of 1920×1200
1 x HDMI port, supporting a maximum resolution of 4096 x 2160 @ 24 Hz / 2560 x 1600 @ 60 Hz

2 Thunderbolt ports (MDP1/MDP2) support for Mini-DisplayPort and Thunderbolt monitor(s), and supporting a maximum resolution of 2560×1600.

Audio

Realtek ALC898 codec
Support for X-Fi Xtreme Fidelity and EAX Advanced HD 5.0 technologies
High Definition Audio
2/4/5.1/7.1-channel
Support for S/PDIF In/Out

LAN

Intel GbE LAN chip (10/100/1000 Mbit)

Wireless Communication module

Wi-Fi 802.11 a/b/g/n/ac, supporting 2.4/5 GHz Dual-Band
Bluetooth 4.0, 3.0+HS, 2.1+EDR
Support for 11ac wireless standard and up to 867 Mbps data rate.

Expansion Slots

1 x PCI Express x16 slot, running at x16 (PCIEX16)
1 x PCI Express x16 slot, running at x8 (PCIEX8)
1 x PCI Express x16 slot, running at x4 (PCIEX4)
2 x PCI Express x1 slots
1 x PCI slot
1 x mini-PCI Express slot for the wireless communication module

Multi-Graphics Technology

Support for 2-Way AMD CrossFire/2-Way NVIDIA SLI technology

Storage Interface

6 x SATA 6Gb/s connectors (SATA3 0~5)
Support for RAID 0, RAID 1, RAID 5, and RAID 10

2 x SATA 6Gb/s connectors (GSATA3 6~7)
Support for RAID 0 and RAID 1

USB

2 x USB 3.0/2.0 ports (available through the internal USB header)
6 x USB 2.0/1.1 ports (available through the internal USB headers)

Chipset + 2 Renesas uPD720210 USB 3.0 Hubs:

8 x USB 3.0/2.0 ports (6 ports on the back panel, 2 ports available through the internal USB header)

Internal I/O Connectors

1 x 24-pin ATX main power connector
1 x 8-pin ATX 12V power connector
1 x PCIe power connector
8 x SATA 6Gb/s connectors
1 x CPU fan header
1 x water cooling fan header (CPU_OPT)
5 x system fan headers
1 x front panel header
1 x front panel audio header
1 x S/PDIF In header
1 x S/PDIF Out header
2 x USB 3.0/2.0 headers
3 x USB 2.0/1.1 headers
1 x serial port header
1 x Clear CMOS jumper
1 x Trusted Platform Module (TPM) header
1 x power button 1 x reset button
1 x Clear CMOS button
2 x BIOS switches Voltage measurement points

Back Panel Connectors

1 x PS/2 keyboard/mouse port
1 x DVI-I port
1 x HDMI port
2 x antenna connectors
2 x Thunderbolt ports
1 x optical S/PDIF Out connector
6 x USB 3.0/2.0 ports
1 x RJ-45 port
5 x audio jacks (Center/Subwoofer Speaker Out, Rear Speaker Out, Line In, Line Out, Mic In)

I/O Controller
H/W Monitoring

System voltage detection
CPU/System/Chipset temperature detection
CPU/CPU OPT/System fan speed detection
CPU/System overheating warning
CPU/CPU OPT/System fan fail warning
CPU/CPU OPT/System fan speed control

BIOS

2 x 128 Mbit flash
Use of licensed AMI EFI BIOS
Support for DualBIOS
PnP 1.0a, DMI 2.0, SM BIOS 2.6, ACPI 2.0a

Unique Features

Support for Q-Flash
Support for Xpress Install
Support for APP Center

@BIOS
EasyTune
EZ Setup
ON/OFF Charge2
USB Blocker
Smart TimeLock
Smart Recovery 2

Bundle Software

Norton Internet Security (OEM version)
Intel Rapid Start Technology
Intel Smart Connect Technology
Intel Smart Response Technology
Intel Wireless Display
cFosSpeed

Operating System
Form Factor

ATX Form Factor; 30.5cm x 24.4cm
Now I'm sure you have all of the GIGABYTE Z87X-UD5 TH specifications memorized now, right? Good because there will be a test at the end to make sure you are paying attention. Until that point though, join me on the next page and we will take a look at the retail packaging and the bundle that comes with the Z87X-UD5 TH!