GIGABYTE Z87X-OC Force Overclocking Motherboard Review
By
GIGABYTE Z87X-OC Force Retail Packaging & Bundle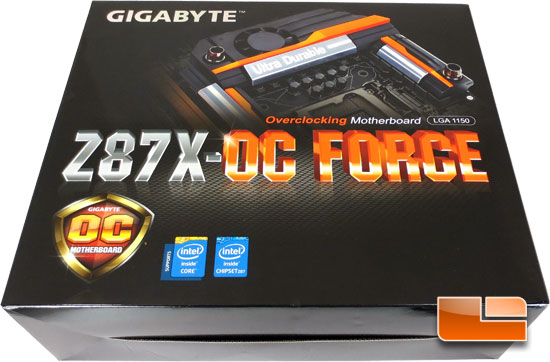 I like the fact that many companies are leaving the front of retail packaging relatively low-key. The GIGABYTE Z87X-OC Force doesn't have much in the way of marketing text or an overabundance of logos on the front. GIGABYTE simply put the product name, picture of the heatsinks that feature built in water cooling, and a couple of the Intel Logos. It may be a simplistic approach, but it's certainly eye-catching.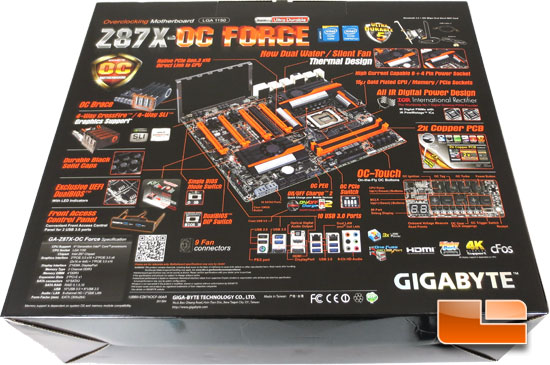 The back of the retail packaging is a different story, there is no shortage of marketing text and information here. Just about everything about the GIGABYTE Z87X-OC Force can be found back here. Information on everything from the OC-Touch, OC Brace, I/O Panel layout, and digital power design is detailed here.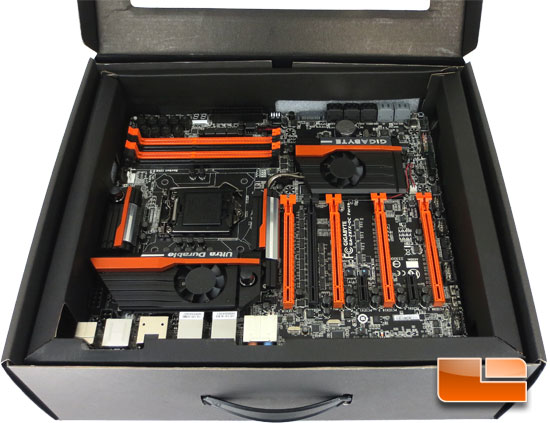 Opening up the retail packaging we can catch our first glimpse of the GIGABYTE Z87X-OC Force motherboard in all its glory. There's no doubt that this board is well packed and secured in place for the dangerous road to your doorstep.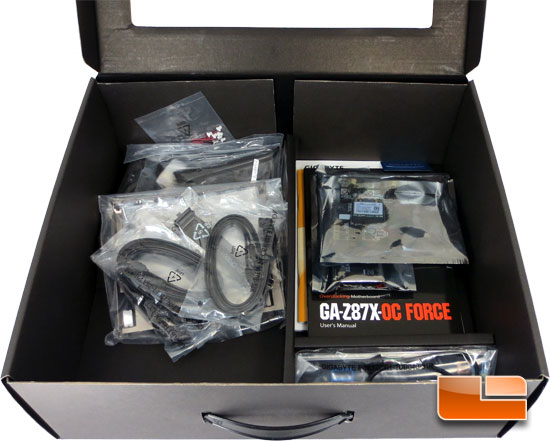 The GIGABYTE Z87X-OC Force is secured in a separate box that can be removed to reveal the accessory bundle underneath. Not surprising, the bundle is well secured with the more fragile items like the Bluetooth 4.0 + 300 Mbps Dual Band Wi-Fi card separated from the more robust items like SATA cables.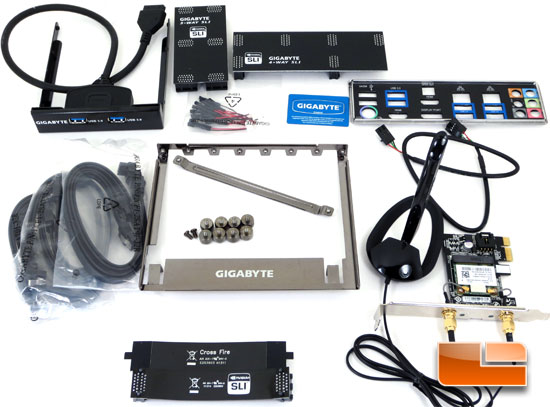 The bundle that comes with the GIGABYTE Z87X-OC Force is nothing short of impressive. There are three key items that separate this bundle from the others that I have seen in the past. The first, and we've seen it before is the 3.5″ front panel USB 3.0 adapter. A number of cases today come with front panel USB 3.0, but the GIGABYTE Z87X-OC Force has two internal headers, so this will certainly aid in taking advantage of the full capabilities of the Z87X-OC Force. Second is the OC Brace. Lot's of overclockers will run their systems outside of a case, and there's always the risk of knocking the PCIe expansion cards loose, the OC Brace can help support them and prevent that from happening. The third item from the GIGABYTE Z87X-OC Bundle is the Wi-Fi Card. The included Wi-Fi card supports IEEE 802.11 a/b/g/n and Bluetooth 4.0! It's the little things like a solid bundle that can separate the men from the boys. In addition we have the wires for the voltage check points, three pairs of SATA 6Gbps cables, a CrossFire bridge, 2-way, 3-way, and Quad SLI Bridges, I/O shield, GIGABYTE case badge, and of course the user manuals and driver/utility discs.