GIGABYTE Z87X-OC Force Overclocking Motherboard Review
By
Intel Z87 SATA III 6Gbps Performance Testing
CrystalDiskMark is a small benchmark utility for drives and enables rapid measurement of sequential and random read/write speeds. Note that CDM only supports Native Command Queuing (NCQ) with a queue depth of 32 (as noted) for the last listed benchmark score. This can skew some results in favor of controllers that also do not support NCQ.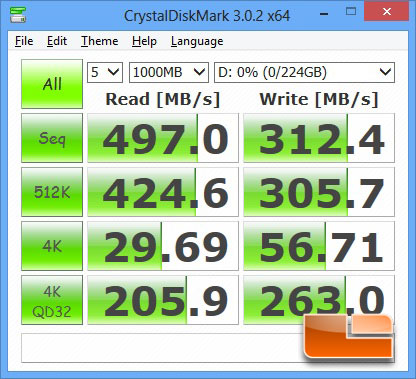 The SATA III 6Gbps performance testing was completed using a Corsair Force GT 240Gb SATA III 6Gbps SSD.
Benchmark Results: Since we started testing the latest Intel Z87 chipset the ASUS ROG Maximus VI Hero has been the top dog across the charts. The GIGABYTE Z87X-OC Force was able to put a dent in the Hero's record by taking the top spot for the sequential read speed. The GIGABYTE Z87X-OC Force was able to average 514.5MB/s which is 3.1MB/s faster than the Hero's performance. While the remainder of the GIGABYTE Z87X-OC Force scores were rock solid they weren't enough to top the Hero in CrystalDiskMark.

HD Tune Pro 4.01 is an extended version of HD Tune which includes many new features such as write benchmark, secure erasing, AAM setting, folder usage view, disk monitor, command line parameters and file benchmark.
Intel Z87 HD Tune Pro 5.50 Write Benchmark Results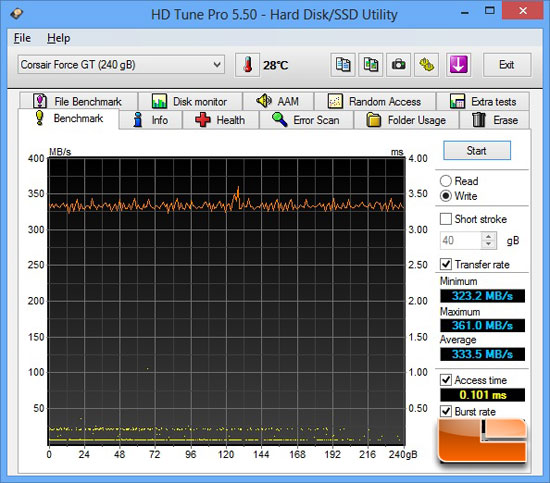 Intel Z87 HD Tune Pro 5.50 Read Benchmark Results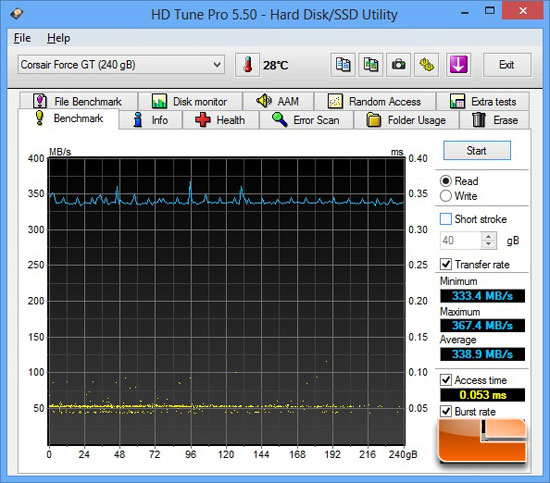 Benchmark Results: Once again the GIGABYTE Z87X-OC Force was able to topple the record of the ASUS Maximus VI Hero, at least with the Average read performance of 380.9MB/s, granted it's only .7MB/s faster than the Hero. The average write of 316..8 was solid but not enough to knock down the Hero in that department who hit 326.5MB/s