EVGA X99 Classified Motherboard Review
By
EVGA X99 Classified Intel X99 Motherboard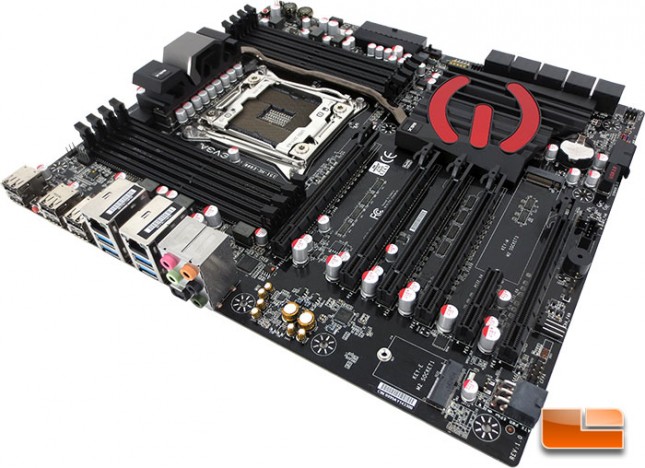 EVGA has been known as some of the best components out there for some time now. Today I have the opportunity to look at the flagship motherboard from their Intel X99 product stack. The EVGA X99 Classified motherboard (151-HE-E999-KR) is hitting the shelves with a retail price of only $399.99! EVGA is also rolling out two other Intel X99 motherboards, the EVGA X99 FTW (For The Win) and the EVGA X99 Micro. The EVGA X99 FTW can be found for as little as $299.99 shipped while the EVGA X99 Micro is available for only $249.99. The features of the boards will be a little different between them, but all three of the EVGA X99 Motherboards have the Intel X99 chipset at their heart and all of them support the latest Intel Haswell-E processors!
The EVGA X99 Classified isn't geared for the casual overclockers, it's built for those that want to push the Intel core i7-5960X to the extreme speeds using liquid nitrogen and other sub-ambient cooling methods. The EVGA X99 Classified features a pair of 8-Pin CPU power plugs that are capable of pushing up to 600 Watts of power to the Intel Extreme processor. Between the pair of 8-pin plugs and the processor is a digital VRM system that features a highly efficient 10-phase design. In order to facilitate as much power being transferred to the CPU as possible with as little resistance as possible, EVGA filled the LGA2011-3 socket with 1.5 times the amount of gold.
In addition to the features mentioned above, the EVGA X99 Classified is using an 8 layer PCB to improve the system stability while overclocking and improve the PCB cooling. EVGA has revamped their UEFI BIOS and given them a new look an focused on the functionality of them. The features don't stop there, and we will be looking at many of them as we go through the review today, so without further ado let's take a look at the EVGA X99 Classified specifications and then we can move on to the good stuff!
EVGA X99 Classified Intel X99 Motherboard Specifications

Chipset Intel X99 Express
SLI Up to 4-Way SLI
SATA 10 Native SATA 6.0Gb/s Ports
USB 6 Native USB 3.0 / 8 USB 2.0
Memory 8 DIMM Quad-Channel DDR4 3000MHz+* (OC) (Up to 128GB)
Capacitors 100% Solid State
Form Factor EATX
Ethernet 2x Intel Gigabit NIC
Audio Creative Sound Core3D Quad-Core Audio Processor
M.2 Socket Slot E and Slot M
PCB 8 Layers
Part Number – 151-HE-E999-KR
EVGA X99 Classified Intel X99 Motherboard Features

Highly Efficient 10-phase Digital VRM
Onboard Power, Reset and Clear CMOS
PCI-E Disable Switches
EVGA E-LEET X Tuning Utility
Triple BIOS Support
Onboard CPU Temp Monitor
150% Increased Gold Content
EZ Voltage Read Points
8+8 PIN CPU Power Input Dedicated 600W
EVGA X99 Classified Intel X99 Motherboard External I/O

6x USB 2.0
4x USB 3.0
2x Gigabyte LAN
Creative Sound Core3D Quad-Core Audio Processor
EVGA X99 Classified Intel X99 Motherboard Internal I/O

1x USB 2.0 Header (2 Ports)
1x USB 3.0 Header (2 Ports)
10x SATA3/6G Ports