EVGA GeForce GTX 970 Hybrid Gaming Video Card Review
By
EVGA GeForce GTX 970 Hybrid Gaming 4GB – 04G-P4-1976
It's hard to believe that the NVIDIA GeForce GTX 970 is still a viable cutting edge graphics card today as it first debuted along with the GeForce GTX 980 in September 2014! Over the past 1.5 years the GeForce GTX 970 has become a very popular card for 1080P gaming as it features a competitive price point and you can more times than not get 60 FPS on average with the image quality cranked up in game titles. The add-in board (AIB) partners have continued to release new GeForce GTX 970 video cards over the years and just before 2015 ended our friends over at EVGA announced that the EVGA HYBRID line was being expanded to include GeForce GTX 970. This is great news for those that are concerned about GPU temperatures as you can now buy purchase a GTX 970 that features a maintenance free closed loop 'all in one' water cooling solution that significantly lowers the GPU operating temperature.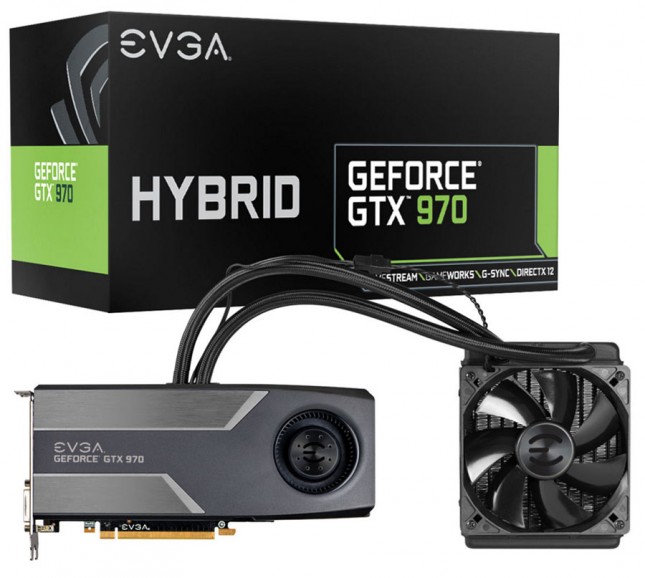 The GeForce GTX 970 is powered by NVIDIA's GM204 'Maxwell' GPU that features 13 Streaming Multiprocessors (SMMs) that have a combined 1664 CUDA cores, 104 Texture Units and 56 ROPs. The NVIDIA GeForce GTX 970 reference card was released with a 1050 MHz base and 1178 MHz typical GPU Boost rate. Since the EVGA GeForce GTX 970 Hybrid Gaming graphics card features a self-contained cooling solution with a 120mm radiator and fan it means they can really ratchet up the clock speeds on this particular card. How does a 1140 MHz clock and 1279 MHz typical boost clock sound? This factory overclock is 8.6% higher than the reference clock speed and that should translate to better gaming performance. The cards 4GB of Elpida GDDR5 memory is clocked at 7010 MHz, which is not overclocked. The GeForce GTX 970 is a little different than the GeForce GTX 980 due how NVIDIA had to disable some things on the GM204 GPU. For example the GTX 970 has 1.75MB of L2 cache instead of 2MB on the GTX 980 and the GTX 970's memory is segmented into 3.5GB and 500MB partitions instead of having a solid single 4GB partition. This means that the cards memory runs at different speeds due to the way the memory is allocated. The 3.5GB chunk of memory runs up to 196 GB/s and then the small 500MB chunk runs up to 28 GB/s. In GPU-Z on this card you'll discover that it shows the card having 224.3 GB/s of memory bandwidth, but there is a bit more to it than that. We've covered the GeForce GTX 970 memory snafu in greater detail over a year ago, so be sure to read up on it if you like. Despite the rough start that the GeForce GTX 970 had, it has proven to be a solid performing card that continues to sell well.
As we mentioned in the introduction, the main selling point of the EVGA GeForce GTX 970 Hybrid is the Asetek closed-loop cooling solution that it features. This is a hybrid cooling solution, so the water cooler takes care of the GM204 Maxwell GPU and the blower fan keeps the VRM power components cool as well as the GDDR5 memory.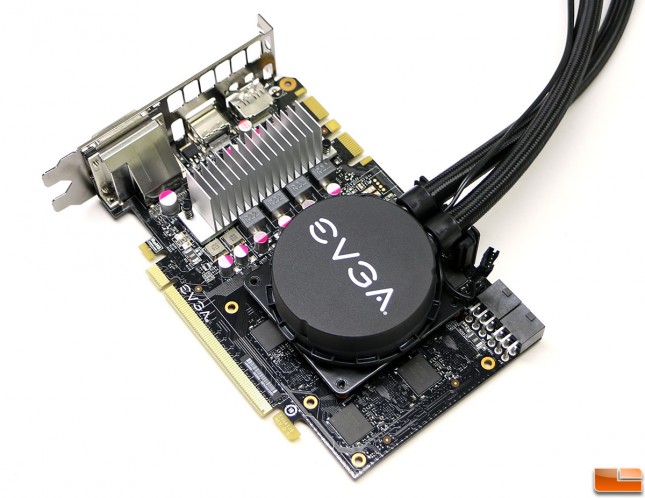 Here is a look at the EVGA GeForce GTX 970 Hybrid Gaming with the fan shroud removed. Taking off the fan shroud assembly is easy as it is held on by just five normal Philips head screws. With the black plastic fan shroud removed the card goes from 10.5-inches to just 6.75-inches in length. If a case had really good airflow you might be able to run this card without a fan shroud!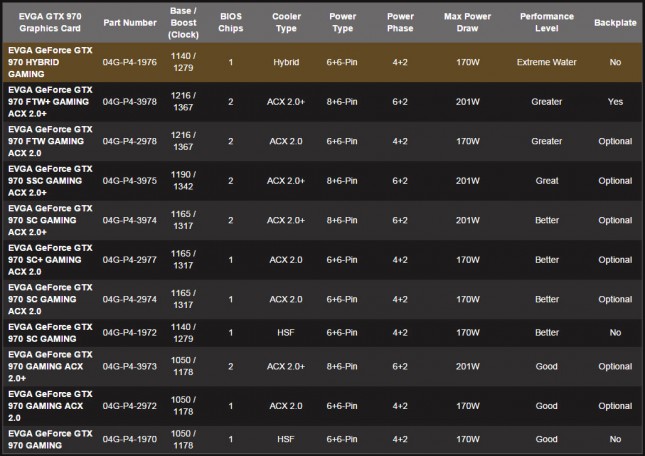 EVGA has released 11 different NVIDIA GeForce GTX 970 video cards to the market since the card debuted in 2014, so it can be pretty tough to pick one out. We expected that the EVGA GeFoce GTX 970 Hybrid Gaming with its extreme water cooling solution would have the highest clock speeds of all the models, but it does not. We were shocked to learn that there are a handful of models with even higher clock speeds, so in terms of just clock speeds this card is second from the bottom and three from the top in the EVGA product stack.
| | | | |
| --- | --- | --- | --- |
| EVGA GeForce GTX 970 | GTX 970 SSC Gaming | GTX 970 FTW Gaming | GTX 970 Hybrid Gaming |
| Part Number | 04G-P4-3975-KR | 04G-P4-2978-KR | 04G-P4-1976-KR |
| CUDA Cores | 1664 | 1664 | 1664 |
| GPU boost clock | 1342MHz | 1367MHz | 1279MHz |
| GPU base clock | 1190MHz | 1216MHz | 1140MHz |
| Memory Size | 4 GB GDDR5 | 4 GB GDDR5 | 4 GB GDDR5 |
| Memory clock | 7010MHz | 7010 MHz | 7010 MHz |
| Memory interface | 256-bit | 256-bit | 256-bit |
| GPU Cooler | ACX 2.0+ | ACX 2.0 | Hybrid All-in-One |
| Length | 256.5mm | 241.3mm | 241.3mm |
| Price | $324.99 | $376.93 | $399.99 |
So, the EVGA GeForce GTX 970 Hybrid Gaming is clocked lower than other EVGA cards that cost up to $75 less before rebates. That will make it a tough sell for many, but there are still a number of gamers out there that are looking for a water cooled card that has amazing GPU temperatures. If you want the best bang for the buck the EVGA GeForce GTX 970 SSC Gaming has great clock speeds and the $324.99 price tag is sure hard to complain about! All EVGA GeForce GTX 970 graphics cards are backed by a 3-year warranty.
Let's take a look at the test system and then move along to the performance numbers!