ECS Z77H2-AX 'Golden Board' Intel Z77 Motherboard Review
By
Intel Z77 SATA III 6Gbps Performance Testing
CrystalDiskMark is a small benchmark utility for drives and enables rapid measurement of sequential and random read/write speeds. Note that CDM only supports Native Command Queuing (NCQ) with a queue depth of 32 (as noted) for the last listed benchmark score. This can skew some results in favor of controllers that also do not support NCQ.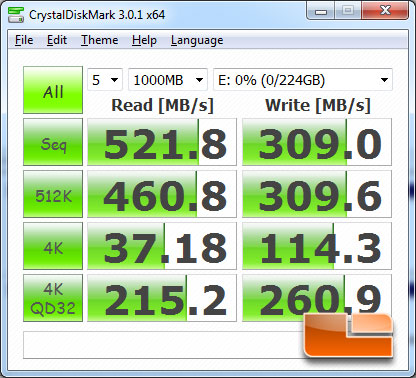 The SATA III 6Gbps performance testing was completed using a Corsair Force GT 240Gb SATA III 6Gbps SSD.

Benchmark Results: Since all of the Intel Z77 motherboards that we have tested are using the Intel Z77 SATA III 6Gbps controller, there is no surprise that there is very little difference. The ECS Z77H2-AX was able to pull out a Sequential Read of 491.0MB/s and a Sequential Write of 305.8MB/s. This is right in line with the performances that we have seen from most of the boards in CrystalDiskMark.

HD Tune Pro 4.01 is an extended version of HD Tune which includes
many new features such as write benchmark, secure erasing, AAM setting,
folder usage view, disk monitor, command line parameters and file
benchmark.
Intel Z77 HD Tune Pro 5.00 Write Benchmark Results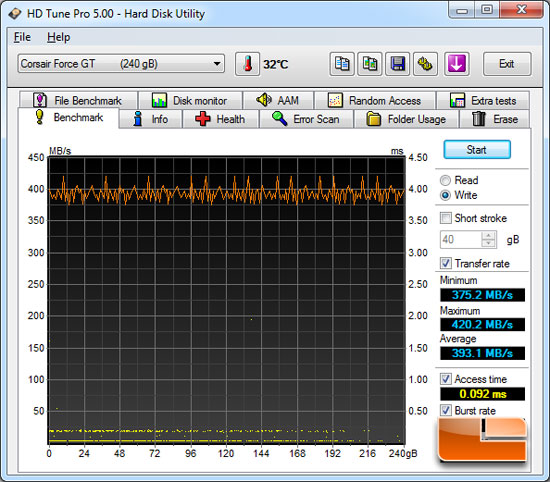 Intel Z77 HD Tune Pro 5.00 Read Benchmark Results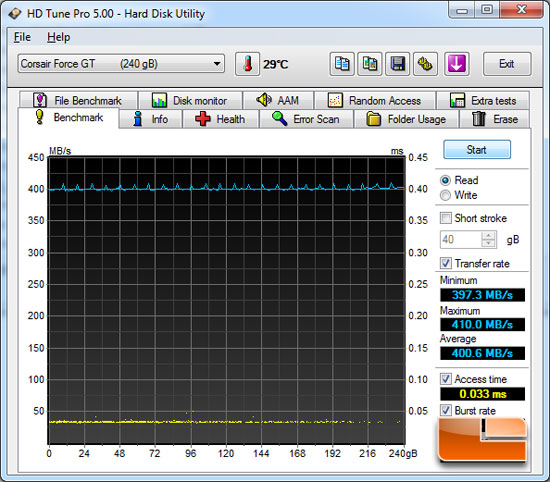 Benchmark Results: In HD Tune the ECS Z77H2-AX was right in line with our other boards. The Z77H2-AX was able to score an Average Read of 372.6MB/s and an Average Write of 362.3MB/s, slower than some and faster than others putting the Z77H2-AX right in the middle of the pack.