ECS Z77H2-AX 'Golden Board' Intel Z77 Motherboard Review
By
ECS Z77H2-AX Golden Intel Z77 Overclocking
Overclocking greatly varies due to what hardware is being used and who is doing the overclocking. Always remember that no two pieces of hardware will perform the same, so our results will differ from what you might be able to get.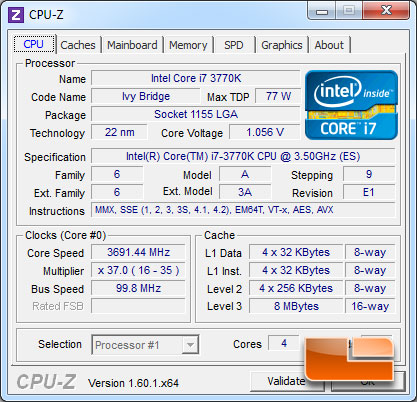 The Intel Core i7 3770K utilizes a Bclk of 100MHz, under full load the Intel Core i7 3770K uses a multiplier of x35 to achieve the final clock speed of 3.5GHz. Since we are using a K series processor which has an unlocked multiplier we will be able to increase the default x35 multiplier to achieve our overclock today. The Intel Core i7 3770K has a turbo multiplier of x39 which will cause the system to run at 3900MHz (100MHz x 39). Interestingly though, the ECS Z77H2-AX Black Extreme will only run our Intel Core i7 3770K at 3.7GHz.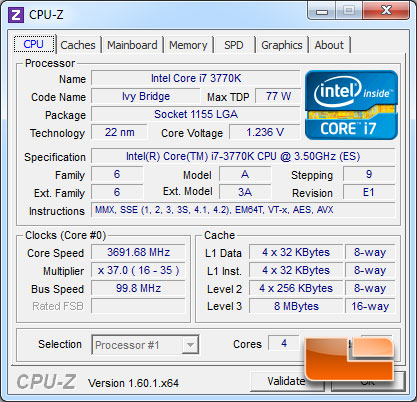 Within the ECS Z77H2-AX UEFI BIOS is an option for a quick OC. So of course we wanted to give this a try, unfortunately this was a bit of an epic fail for the Z77H2-AX. We saw no gains on the processor frequency, so we weren't sure if it was actually doing anything. Upon closer inspection of the CPUz screen shot above, we can see that the ECS quick OC option does in fact enable. If you look at the first screen shot our CPU vCore is reported at 1.056 Volts, once the ECS quick OC was enabled it brought our vCore to 1.236 Volts. We now know that it is in fact being enabled, but having no effect on the multiplier or Bclk. We started out our our testing with a BIOS revision dated 04/24/2012, when we discovered the issue with the quick OC we contacted ECS and they were able to send us out a new BIOS revision. The new BIOS revision is dated 06/19/2012, we installed the new BIOS and gave the Quick OC a go!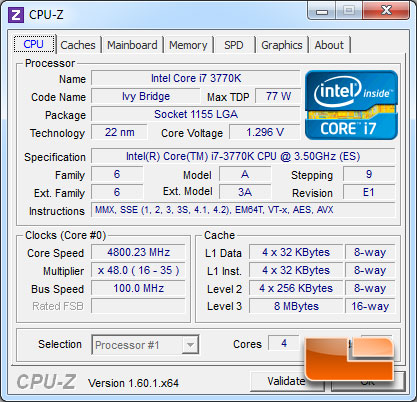 The newer BIOS revision from ECS did in fact overclock our processor. Unfortunately it was a bit to aggressive for our Intel Core i7 3770K. It brought the processor up to 4.8GHz, on some chips that may work without a problem. Our particular sample doesn't have much in the way of stability past 4.7. As an automatic overclocking feature I feel that ECS needs to dial this back to somewhere around 4.2GHz-4.4GHz. I would be willing to bet that just about all of the chips out there can run at that, and that will also keep the temperatures in a much more manageable range for those running less than ideal CPU cooling.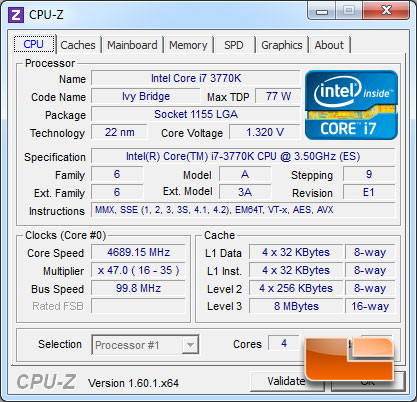 We have consistently been able to bring our Intel Core i7 3770K to 4.7GHz on Intel Z77 motherboards. The ECS Z77H2-AX Black Extreme Golden board turned out to be no different. With a slight voltage bump of .100 Volts we were able to achieve the system stability we were looking for.