ECS Z77H2-AX 'Golden Board' Intel Z77 Motherboard Review
By
ECS Z77H2-AX Black Extreme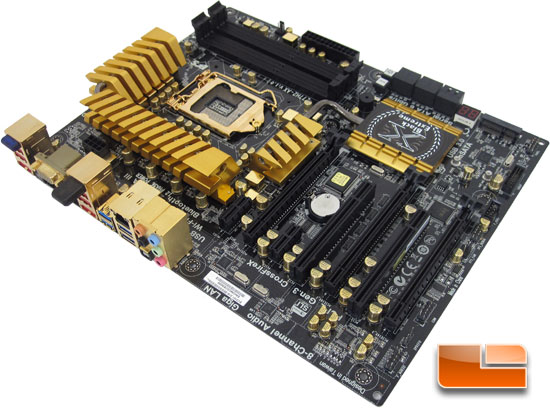 The ECS Z77H2-AX Black Extreme 'Golden Board' ($309.99 Shipped) is the latest entry from ECS for the Intel LGA 1155 (aka: H2) socket. It features the latest Intel Z77 chipset which brought about some new features for Intel motherboards. First and foremost is the addition of SuperSpeed USB 3.0 to the chipset. Over the past few Intel Z77 motherboard reviews we haven't seen much in the way of deviation of performance as we have seen in the past in terms of USB 3.0 performance. A few companies have decided to continue to use third party vendors for USB 3.0 technology in addition to the Intel solution. ECS has done this, though they use the TI TUSB7320 for the internal SuperSpeed USB 3.0 header for the front panel.
If you watched the video above you can see that ECS puts a lot of extra work and pride into the ECS Z77H2-AX Black Extreme 'Golden Board'. Each of the ECS Z77H2-AX Black Extreme 'Golden Boards' are individually tested at ECS headquarters. In a world of mass production this extra step is a nice feature. Before we start our hands on tour of the ECS Z77H2-AX Black Extreme 'Golden Board', let's take a look at some of the technologies that go into the Z77H2-AX Black Extreme 'Golden Board'.
ECS Z77H2-AX Black Extreme 'Golden Board' Technologies
ECS Super Alloy Choke – 1.5X Long-Lasting Stability – Report shows that under unstable current or full loading environment conditions, general choke is more likely to burn out or even result in system shut down. ECS Super Alloy Choke represents the latest innovative technology in sufficient power usage, high temperature tolerance and full current stability. With outstanding capability, ECS Super Alloy Choke offers the most energy-efficient, lowest EMI interference, highest life-span and 150% higher stability than other products.
Most Energy-Efficient

– ECS Super Alloy Choke is capable of working under overclocking conditions, with 30% higher energy saving than the industry standard. ECS guarantees the stability and durability that allows power users to play beyond their limitations.

Highest Life-Span

– The special element of ECS Supper Alloy Choke is adapted to a wide range of temperature from -40oC to 140oC with 33% higher sustainability than general regulation, strengthening its ultra-stability and life-span.

Lowest EMI

– ECE Super Alloy Choke contains new special elements with the features of low thermal consumption and decrease the harmful influence from EMI, which presents a higher efficiency and safer environment to users.(EMI ,Electromagnetic Disturbance)
Nonstop Technology – ECS exclusive long-term stability solution
Nonstop Technology includes 4 main features from best component to protection mechanism for maximum long-term stability of users' personal computers.
Super Marathon 3X Stability

– 72 Hours Stability Test
Super Marathon 3X Stability is certificated by over 30 ECS professional testers. More than 3 times testing cycle and military level environment, runs over 30,000 times quality test within 72 hours. Super Marathon 3X Stability, providing guarantee of stability and durability, makes end-users easy to beyond the limitation.

Sahara Severe Test

– 50 Degree Burn-In Test
Sahara Severe Test is a harsher test standard, with 125% higher than industrial traditional temperature under burn-in test of 50 and ensures quality of components to prove the stability and performance under full loading and high temperature. ECS carefully selects each component of products, breaks self limit, and leads the industrial specification. The best quality is made by severity.

Apache Long-Life CAP

– 100% Solid CAP
Apache Long-Life CAP is developed by more than 40 hardware experts and inspected by 1,400 strictest standards to build up ECS full protection technology. ECS develops advanced Wave multi-layer filter technology supplying pure and stable current. The lifespan of Apache Long-Life CAP is 6 times longer than ordinary capacitor, providing full capability of stabilizing current and standing high temperature. Apache CAP supports solidest protection ever!!

Thor Ultra Protection

– ESD Protection
ECS Thor Ultra Protection, NASA-level anti-static technology is a delicate protection combination which is made of dozens of protection diodes and capacitors. Thor Ultra Protection keeps low clamping voltage to avoid anti-static happen and prevent component damage from potential danger. ECS offers the best protection to your motherboards as ECS Royal Guards.
ECS Golden Edition Motherboard – Gold "4"ever

Spare no expense and based on the insistence of extreme performance and quality, ECS gathers dozens of engineer experts to construct the throne of your honor with delicate handicraft and luxury components. Gold Classic, ECS Classic.
Golden Quality

– With excellent gold plating on CPU pins, memory sockets and PCI Express slots offering ultra system stability and more plug-in opportunity.

Golden Stability

– Golden components provide best anti-oxidation, anti-rust and anti-moisture protection to strengthen prime quality and durability of ECS motherboards.

Golden Cooling

ECS Golden edition motherboard presents ultra-speed thermal dissipation which fully unleashes the advantage of golden plating.

Golden Royalty

– Limited edition, unlimited royalty. ECS Golden Edition motherboard represents your prime status and extraordinary taste
Lucid Virtu Universal MVP – Switchable Graphics
Virtu Universal MVP GPU Virtualization technology from LucidLogix provides dynamic switching between integrated graphics and high-end, 3D performance discrete graphics cards. This is deal for gamers who require high-resolution gaming and want to enjoy amazing built-in media features of 3rd Gen. Intel Core processors.
Motherboard Intelligent BIOS X (M.I.B X – Ultimate BIOS O.C interface)
Providing the most intelligent and convenient way to adjust the clock/ voltage settings of CPU and memory and get the extra performance in advanced.
ECS O.C profile offers 3 sets of O.C values for CPU and DRAM to reach higher performances in a quick, simple and safe way. It keeps users preferable BIOS settings to regain your last successful O.C configuration to create the most convenient O.C experience.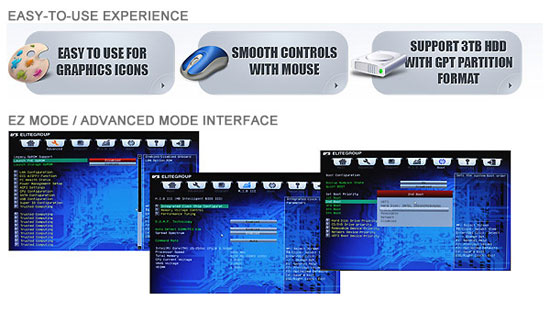 ECS GUI UEFI BIOS
ECS GUI UEFI BIOS is a convenient tool for tweaking BIOS in Graphical interface. Users can select functions in BIOS with mouse and keyboard. The user-friendly interface with ECS designed wallpaper radically brings users convenience and easy-to-use experience
ECS Z77H2-AX Black Extreme 'Golden Board' Specifications
CPU

LGA1155 socket for new 2nd & 3rd Generation Intel Core i7 series/Intel Core i5 series/Intel Core i3 series/Intel Pentium /Intel Celeron Processors
DMI 5.0GT/s

CHIPSET
Intel Z77 Express Chipset
MEMORY

Dual-channel DDR3 memory architecture
4 x 240-pin DDR3 DIMM socket support up to 32 GB
Support DDR3 up to 2800(OC)/2600(OC)/2400(OC)/2133(OC)/1800(OC)/1600 DDR3 SDRAM

EXPANSION SLOT

3 x PCI Express x16 Gen3.0 slots (2X16 1X8, 2X16 support by PLX8747)
2 x PCI Express x1 slots
2 x PCI slots
1 x Mini PCI Express x1 slot
(Supports Mini SATA
Supports Mini PCI Express)

STORAGE
Support by Intel Z77

2 x Serial ATA 3.0Gb/s devices (SATA2 3/4)
2 x Serial ATA 6.0Gb/s devices (SATA3 1/2)
RAID0, RAID1, RAID5, RAID 10 configuration

Support by ASMEDIA ASM1061

2 x Serial ATA 6.0Gb/s devices (SATA3 5/ 6)
2 x eSATA 6.0 Gb/s ports

AUDIO
Realtek ALC892 8-Ch High Definition audio CODEC
Compliant with HD audio specification
LAN
RealTek RTL 8111E Gigabit Lan
REAR PANEL I/O
4 x USB 3.0 ports
4 x USB 2.0 Ports
1 x D-sub(VGA)
1 x HDMI Port
1 x RJ45 LAN connector
1 x Audio port (1x Line in, 4x Line out, 1x Optical SPDIF Out)
1 x Clear_CMOS button
1 x wifi connector
1 x Bluetooth
2 x eSATA 6.0Gb/s ports
1 x HDMI
INTERNAL I/O CONNECTORS & HEADERS
1 x 24-pin ATX Power Supply connector
1 x 8-pin ATX Power Supply Connector
1 x 4-pin CPU_FAN connector
1 x 3-pin SYS_FAN connector
1 x 3-pin PWR_FAN connector
1 x USB 2.0 header support additional 2 USB ports with EZ charger technology
1 x USB 3.0 header supports additional 2 USB 3.0 Ports (support by TI TUSB7320)
2 x SATA 3Gb/s connectors
4 x SATA 6Gb/s connectors
1 x COM header
1 x Case Open header
1 x SPDIF out header
1 x Front panel switch/LED header
1 x Front panel audio header
1 x debug post LED
1 x Power on button
1 x Reset button
1 x mSATA
SYSTEM BIOS
AMI BIOS with 64Mb SPI Flash ROM
Support ECS M.I.B X Utility
Support eBLU
Support eOC
Support eDLU
Support eSF
FORM FACTOR
ATX Size, 305mm*244mm
Now that we have a good feel for what makes up the ECS Z77H2-AX Black Extreme 'Golden Board' we can get on with our hands on tour. Let's head to the next page where we will take a look at the retail packaging and bundle!