ECS Z77H2-AX 'Golden Board' Intel Z77 Motherboard Review
By
Final Thoughts and Conclusion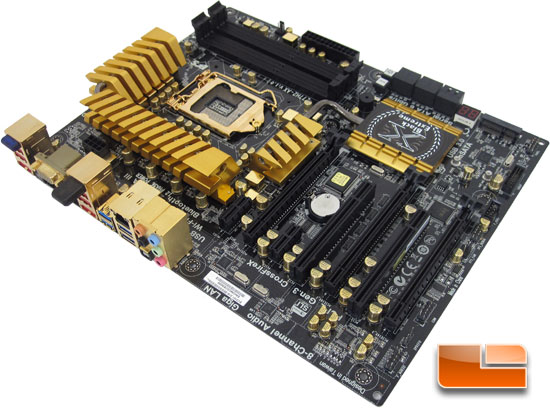 The ECS Z77H2-AX Black Extreme 'Golden Board' is without a doubt a very unique looking motherboard. It doesn't have the weapon type theme that we have seen on several other unique boards in recent history, but the gold on black color scheme did grow on me. I wasn't wild about it at first, but as I used the Z77H2-AX over the past few weeks and had it sitting on my test bench, I really began to like the look of it. Though unfortunately looks won't carry a board, it also has to have the performance. The ECS Z77H2-AX Black Extreme retails for $309.99, with a price tag at that level, it darn well better have performance to spare!
The ECS Z77H2-AX Black Extreme certainly isn't lacking in features. If you need it on a motherboard, the Z77H2-AX has it within reason of course. There isn't anything crazy like SAS ports, though you should be covered for just about everything else. The ECS Z77H2-AX has Bluetooth and wireless N WiFi built right into the I/O panel so you wont have to worry about using an expansion slot or USB dongle for each. There is a grand total of six SATA ports (four SATA III, two SATA II), mSATA, a pair of eSATA III ports, four SuperSpeed USB 3.0 ports on the back panel and two at the front panel. There is definitely no shortage of connectivity here! The only feature that I felt was left off, was a DVI port. If you are taking advantage of the Intel HD graphics on either Intel's Sandy Bridge or Ivy Bridge you will need to make sure that your monitor has a VGA D-Sub connector or at least have an adapter handy. The ECS Z77H2-AX Black Extreme 'Golden Board' only features the 15pin D-Sub, which seems odd on a $300+ dollar board.
Overall I would have to say that the performance of the ECS Z77H2-AX Black Extreme Golden board was rather average. The Z77H2-AX never really stood out from the pack and I was always looking for more from a motherboard that retails for $309.99. While the performance was average, I can live with that. The little bit of difference between the boards isn't going to be noticed in day to day usage. T
The most disappointing aspect of the ECS Z77H2-AX Black Extreme 'Golden Board' was discovered when I started overclocking the Intel Core i7-3770K Ivy Bridge Processor with the ECS automatic overclocking utility. It just didn't work! We tried enabling it and found that the CPU vCore went up, but the clock frequency of the CPU stayed the same as the base clock and multiplier weren't being changed. This board was first shown in January 2012 and for some reason all the review sites that have reviewed this board failed to try it out or noted it and did nothing about getting it fixed. Our catching it six months after the board was being shown is a shock to us as you would think someone at ECS would have noticed that they feature doesn't work.
We contacted ECS and they confirmed that it wasn't working and started working on a new BIOS that corrected the feature. A few days later we were sent a BETA BIOS from ECS that was supposed to fix the Quick OC feature. It worked, but it was very aggressive! It increased the multiplier to x48 which brings our Intel Core i7 3770K to 4.8GHz (48x100MHz Bclk), but our particular 3770K CPU is only stable up to 4.7GHz. This means we ended up having nothing more than the infamous BSOD when we tried the auto overclock feature. We told ECS about our new issue and that they made it too aggressive and they are looking into it. It has been another week and as of yesterday, they have nothing new to report back and have not released any new BIOS for the public. If ECS dials the Quick OC feature back to somewhere around 4.2GHz to 4.4GHz they would have much better luck and stability. In addition to the added stability of a lower automatic OC, the temperatures of the processor will also run considerably cooler as people with a stock Intel cooler won't be able to run 4.8GHz unless they want to cook their CPU.
It's all going to boil down to how you want to use the ECS Z77H2-AX Black Extreme 'Golden Board'. If you are looking to run at the Intel specifications or are planning on manually overclocking the CPU, the ECS Z77H2-AX will do the job. Since we made ECS aware of the issues we encountered with the Quick OC feature, they were able to send us the new BIOS which got the feature working, just maybe to well for our processor. At least they are aware of the issue and will hopefully have a new BIOS available for everyone soon. ECS has told us for years that they are going to improve overclocking, but we still haven't seen them honor that statement. Having a $300+ motherboard with broken overclocking features doesn't impress us and we expect more from ECS. Either release a product with fully functioning features or don't bother including those features.
This is ECS Elitegroups flagship Intel Z77 based motherboard and it will set you back $309.99 plus shipping. The entry level Intel Z77 board that uses the standard ATX form factor from ECS is the Z77H2-A3 at $109.99 plus shipping. At nearly triple the price of the entry we expected to see above normal performance and some features that would blow us away on the ECS Z77H2-AX Black Extreme 'Golden Board'. Instead we discovered a board that has the same basic features due to the use of the same chipset and even found that it uses the same exact audio chipset (Realtek ALC892) and LAN Chipset (Realtek 8111E) of the board that costs $200 less. The ECS Z77H2-AX Black Extreme 'Golden Board' basically is triple the price as it offers more expansion options, improved CPU power management and and a unique heatpipe cooling solution. If you plan on running NVIDIA SLI or AMD CrossFire you should look at the ECS Z77H2-AX Black Edition as you need the additional PCI Express slots and the extra power phases won't hurt, but everyone else needs to look at the features and get the board that is best suited for them.
ECS brand Motherboards are backed by a warranty that lasts 36 months for parts and 24 months for part and labor. Since the ECS Z77H2-AX Black Extreme 'Golden Board' is part of the Black Extreme series, it qualifies for the 99-Hour Replacement Service program!
Legit Bottom Line: The ECS Z77H2-AX Black Extreme 'Golden Board' comes with a lot of features, average performance, and no automatic overclocking ability (that we could get to work). Carrying a retail price of $309.99 I honestly expected more from the ECS Z77H2-AX Black Extreme 'Golden Board'.