Cyberpower Fangbook X7-200 Gaming Notebook Review
By
Inside the CyberPower PC Fangbook X7-200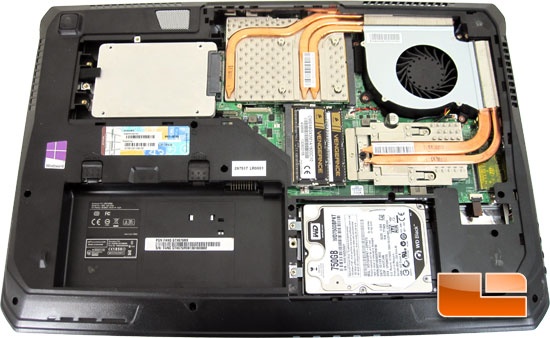 In order to gain access to the components within the Cyberpower Fangbook X7-200 we simply have to remove several of the screws holding an access panel on. We didn't need to remove the entire back cover to see what makes this beast up.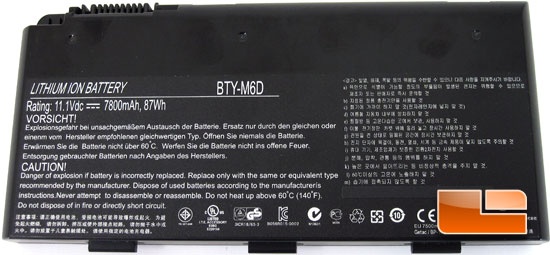 The battery is removable without taking the panel off, it simply pops out by releasing a couple of tabs that hold it in place. The Battery in the Fangbook X7-200 is a Lithium Ion battery that is rated for 11.1Vdc and 7800mAH, 87Wh. After a quick google search the BTY-M6D battery is a 9 Cell battery and is readily available on the open market for right around a hundred bucks, shouldn't need one anytime soon though.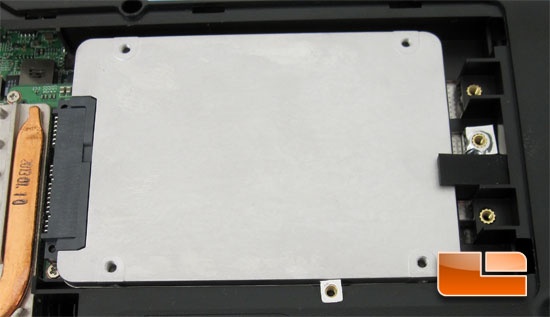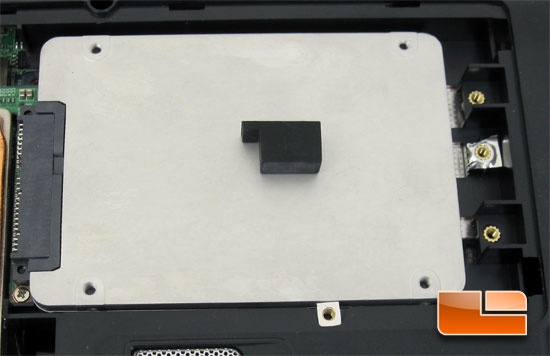 The primary drive, an SSD is held in place by a simple piece of rubber that slips between the chassis and the drive. Sometimes it's best to use the K.I.S.S. (Keep It Simple Stupid) method rather than over thinking it.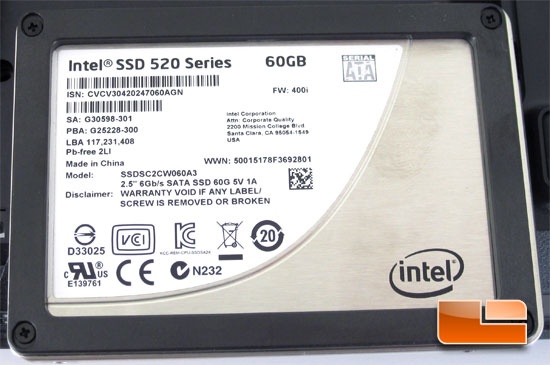 One we remove the SSD, we can see that it is an Intel 520 Series SSD, in our case it's the 60GB version. The Intel 520 Series is also available in 120GB, 180GB, 240GB, and 480GB sizes in addition to the 60GB we have. The 60GB version that we have is rated for 550MB/s Read and up to 475MB/s write.

The 60GB Intel 520 series SSD features the slim 7mm Z height, the black piece on the top does come from Intel though it could be removed to use the slimmer size if needed. If you were planning on upgrading the SSD, a standard Z height SSD will fit without an issue.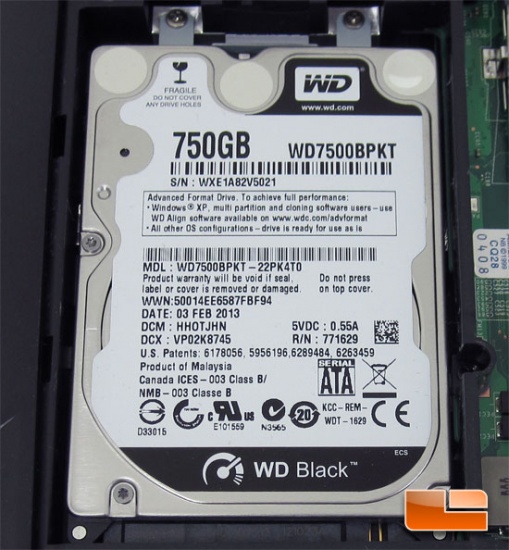 The secondary storage drive is a Western Digital Scorpio Black 750GB 2.5″ (WD7500BPKT) hard drive.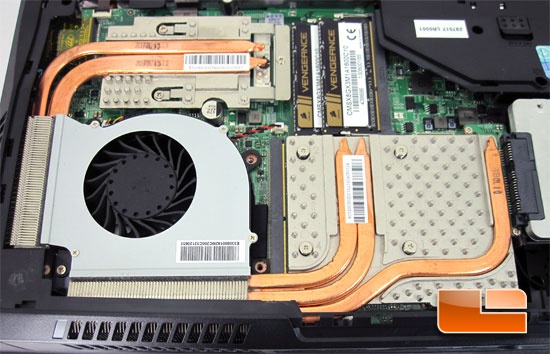 The cooling system for the Intel Core i7 3630QM and the NVIDIA GeForce GTX 675MX features multiple heatpipes to keep all the temperatures under control.
The memory inside the Cyberpower Fangbook X7-200 is a pair of two Corsair Vengeance memory (CMSX8GX3M1A1600C10) that features a CAS10 latency.