Cyberpower Fangbook X7-200 Gaming Notebook Review
By
Cyberpower PC Fangbook X7-200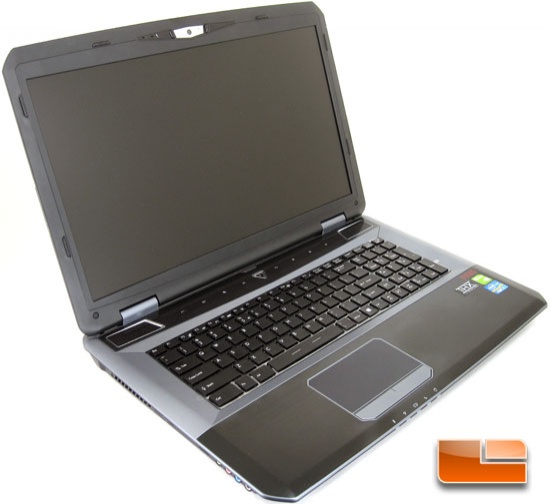 The fine folks at Cyberpower PC have sent us over one of their latest creations, and truth be told, I'm looking forward to this one! What we have today is the Cyberpower Fangbook X7-200 gaming notebook. The entire Fangbook series features a massive 17.3″ screen (1920×1080 HD LED-Backlit), Intel Core i7-3630QM quad-core processors (to start), and NVIDIA GeForce GTX 675MX and GTX 680M graphics. To say that these things are beasts doesn't do them justice. The Fangbook has the different versions to it, each with slightly different specifications and price points. The Fangbook X7-200 that we have in our hands today starts out at $1549.
The X7-100 and X7-200 each feature the NVIDIA GeForce GTX 675MX while the X7-300 features the GTX 680M. The X7-100 features a single 500GB hard drive while the X7-200 and X7-300 each utilize a primary SSD and a secondary storage hard drive. Depending on what your budget is and what you're looking for there is a Fangbook for you.
The Cyberpower Fangbook X7-200 I have on hand features the NVIDIA GeForce GTX 675MX graphics card in addition to the Intel Graphics HD 4000 on the Intel Core i7-3630QM. Right now Cyberpower is running a post Easter Mega sale which allowed us to take advantage of a free upgrade to a pair of Corsair Vengeance 1600MHz C10 8GB modules from a set of 1333MHz Corsair of major brand.
CyberPower PC Fangbook Gaming Notebook Specifications
CPU

Intel Core i7-3940XM Mobile Processor 3.00 GHz 8M Smart Cache, Max Turbo Freq. 3.90 GHz
Intel Core i7-3840QM Mobile Processor 2.80 GHz 8M Smart Cache, Max Turbo Freq. 3.80 GHz
Intel Core i7-3740QM Mobile Processor 2.70 GHz 6M Smart Cache, Max Turbo Freq. 3.70 GHz
Intel Core i7-3630QM Mobile Processor 2.40 GHz 6M Smart Cache, Max Turbo Freq. 3.40 GHz

Core Logic

Intel HM77 Express Chipset Mainboard

Display

17.3″ 43.94cm Anti-Glare Full HD (1920×1080) 16:9 Display

Memory

Dual channels DDR3
Four 204pins SODIMM sockets, support for DDR3 1333/1600 MHz
Expandable memory up to 32GB, depends on 1GB/2GB/4GB/8GB SODIMM module

Video Controller

NVIDIA GeForce GTX 675MX 4GB DDR5 VRAM Video

OR

NVIDIA GeForce GTX 680M 4GB DDR5 VRAM Video

Storage

Two changeable 2.5″ 9.5mm(H)HDD, SATA interface (RAID support)
One changeable Optical Drive Bay, SATA Interface, Interchangeable with DVD±R/RW Combo

Keyboard

Red Backlite Chiclet 102 Keys w/ Gaming Icons

Sound System

High Definition Audio – Realtek ALC892-GR Built-in two speakers Built-in one sub woofer

I/O Ports

3x USB 3.0 ports
2x USB 2.0 ports
1x HDMI output port
1x VGA port
1x e-SATA port
1x S/PDIF output jack
1x Headphone jack
1x Microphone jack
1x Line-in jack
1x RJ-45 LAN port
1x DC-in jack

Card Reader
Communication

Killer LAN E2200 Network Interface
High Definition type (30fps @ 720p) Webcam
Intel N2230 (WLAN802.11b/g/n + Bluetooth4.0) Wireless Combo Card Module

Power

Full Range AC adapter 180W, AC in 100~240V ~ 2.5A 50~60Hz, DC output 19.5V, 9.5A
Removable 9-Cells Lithium-Ion battery pack 11.1Vdc 7800mAh 87Wh
Battery life: 120 minutes

Operating System

Supporting Windows 7 / Windows 8

Dimension

16.85″ x 11.34″ x 2.17″ (W x D x H)
7.9 Lbs. (13.85 Lbs. with Battery)
Let's move along and take a closer look at our review unit!