Crucial MX500 500GB and 1TB SATA SSD Reviews
By
Crucial MX500 Arrives With 64-Layer 3D TLC NAND
When the Crucial MX300 series came out back in June 2016 it was a big deal as it was their first drive with Micron 3D TLC NAND Flash memory. We reviewed the 750GB and 1TB capacities last year and found them to be pretty solid drives. Crucial has since released the successor to that series with the new MX500 SSD lineup. The Crucial MX500 series is the first mainstream consumer product to use Micron's latest 64-layer 3D TLC NAND. This drive series is offered in both 2.5-inch and M.2 SATA form factors in capacities ranging from 250GB to 2TB.
When it comes to performance, this series offers sequential reads and writes of up to 560 MB/s and 510 MB/s with Random reads and writes of up to 95,000 IOPS and 90,000 IOPS. Like the other MX series drives before, the MX500 offers hardware-based encryption and integrated power loss prevention for when the power goes out unexpectedly. The 3D TLD NAND on the MX500 series is based on Micron's 2nd generation of 3D NAND technology. Micron is using a stackable 64-layer, 256 gigabit die on this series to come up with a 64GB part that is said to offer good density and solid performance with exceptional longevity.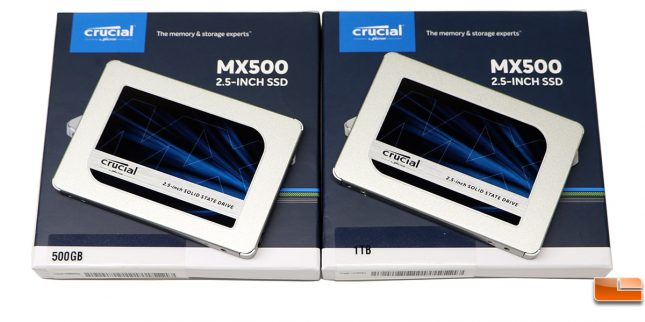 The drives that we will be taking a look at today are the Crucial MX500 500GB that is sold under part number CT500MX500SSD1 for $134.95 shipped ($0.27 per GB) and the Crucial MX500 1TB that is available under part number CT1000MX500SSD1 for $259.99 shipped ($0.26 per GB). Both of these drives should be the most appealing to our readers due to their price points and capacities. The 500GB model with its 180 TBW rating can handle 99.6GB of drive writes per day over the 5-year warranty period whereas the 1TB model can handle 197.3GB of drive writes per day. Any of these drives will likely last longer than that as the average consumer isn't writing that much data to the NAND Flash every single day.
Crucial MX500 SATA SSD Series Specifications:
Controller: Silicon Motion SM2258
3D NAND: Micron 3D TLC NAND – 256Gb 64-layer
Interface: SATA III 6Gbps
Form Factors: 2.5-inch internal 7mm and M.2 2280
Capacities (unformatted): 250GB, 500GB, 1TB, 2TB
DDR3 DRAM Cache:

250GB – 250MB
500GB – 512MB
1TB – 1GB
2TB – 2GB

Data Protection: Hardware-based AES-256 encryption engine
Sequential R/W (MB/s): 560/510 (all capacities)
Random R/W (IOPS): 95K / 90K (all capacities)
DevSleep Power: 2 mW (250GB/500GB), 4 mW (1TB), 25 mW (2TB)
Idle Average Power: 55 mW (250GB/500GB), 65 mW (1TB), 110 mW (2TB)
Active Average Power: 70 mW (250GB/500GB), 75 mW (1TB), 150 mW (2TB)
Max Write Power: 3 W (250GB), 4 W (500GB), 5 W (1TB), 6 W (2TB)
Life Expectancy: 1.8 million hours MTTF
Endurance:

250GB – 100 TBW
500GB – 180 TBW
1TB – 360 TBW
2TB – 700 TBW

Warranty: 5-year, limited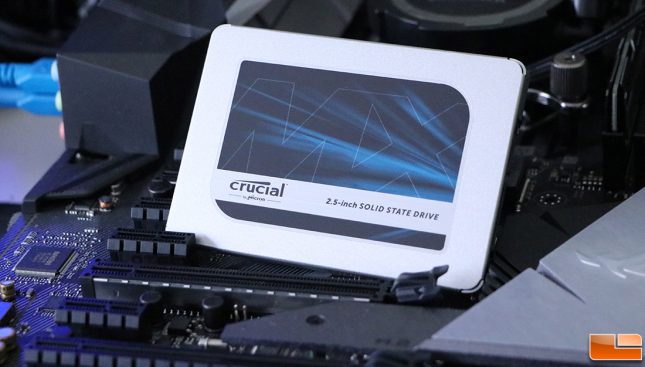 From the outside the Crucial MX500 series looks pretty much like any other Crucial MX series drive as the front label hasn't changed in years. The back of this 2.5″ 7mm z-height drive has the usual label, so nothing new to report here. If you want to open this drive there are four Philips screws on the side that can be removed.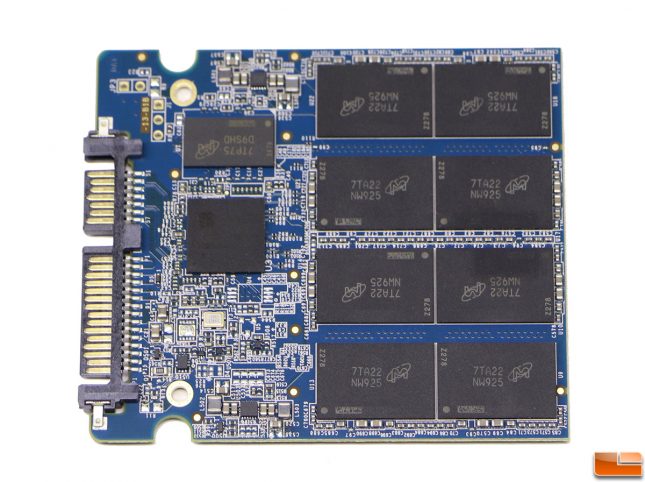 Inside we see start to see some of the changes that Crucial made with this drive series. For the first time on the MX series we see that Crucial went with a Silicon Motion SM2258 controller, which just happens to be the same one used on the Crucial BX series with its 3D MLC NAND. Notice that the row of capacitors that Crucial usually has on the PCB for power loss protection is no longer present. This is because Crucial has replaced their usual power loss protection feature with something called power loss immunity. The new Micron 64-layer 3D TLC NAND paired with the latest firmware refinements allows for the data needing to be written to complete in a power loss situation without the need of external capacitors.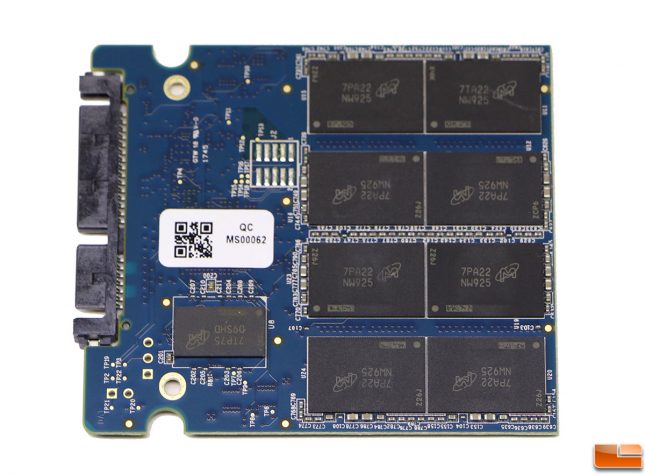 Other than that you can see the MX500 1TB drive shown has 16 NAND packages that are 64GB in capacity each that are based on Micron's latest 64-layer 3D TLC NAND technology. You also have two Micron DRAM chips that make up this drives 1GB of cache and then of course the Silicon Motion 2258 controller.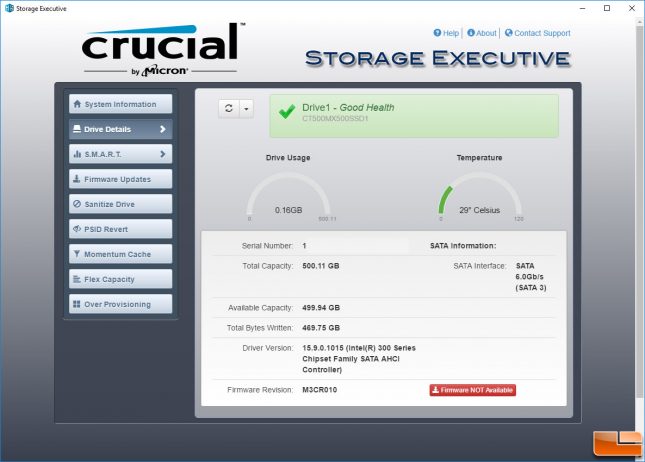 The Crucial MX300 series is fully compatible with the Crucial Storage Executive Tool for easy drive maintenance. This utility will allow you to monitor the drive, check the S.M.A.R.T. attributes, secure erase the drive, update the firmware as well as enabling advanced features like over provisioning, FlexCap, or momentum cache (only use if you have a battery backup).
Let's take a look at some benchmarks of this drive!