Crucial MX500 500GB and 1TB SATA SSD Reviews
By
Final Thoughts & Conclusions
Crucial has two consumer SATA SSD series that you have to pick from. You have the entry-level BX series and then the mainstream MX series and both have been revamped in recent months. Both series feature the same exact Silicon Motion SM2285 controller, but differ in the capacities that they are available in and use totally different NAND Flash memory. The entry-level BX300 series is only available in 120GB, 240GB and 480GB capacities whereas the mainstream MX500 is available in 250GB, 500GB, 1TB and 2TB capacities. That alone right there should narrow down what series you need to purchase.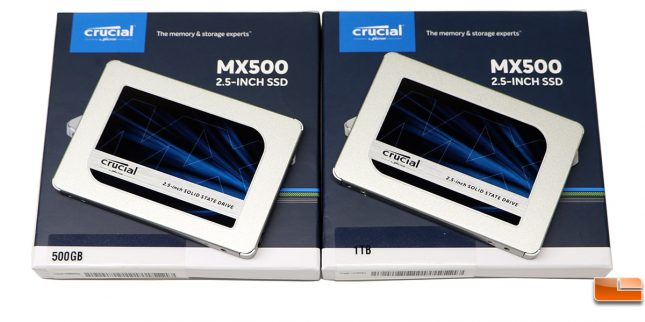 The mainstream MX series that we looked at here today utilizes 64-layer 3D TLC NAND with a 5-year warranty and full hardware data encryption. The Crucial BX300 series does not offer data encryption and has a shorter 3-year warranty, so that might be a deal breaker for some. The Crucial BX300 series features 32-layer 3D MLC NAND Flash though and that might be appealing to some, but the performance numbers are better on the MX500 series with 63-layer 3D TLC NAND.
Things get really interesting when you look at pricing as the MX500 500GB drive costs about $10 less than the BX300 480GB drive. The Crucial MX500 series is priced lower and has better performance, a longer warranty, higher endurance ratings and the ability to do full hardware encryption.
Crucial BX300 3D NAND SATA SSD Pricing
Crucial MX500 2.5-inch SATA SSD Pricing
Compared to the older Crucial MX300 series, the new Crucial MX500 is easily be better choice between the two. That said, those with a MX300 series drive that are might be looking to upgrade to the equivalent MX500 series drive will notice that the capacities are different. This is because the MX300 series used 384Gbit dies and the new MX500 series uses 256Gbit dies. Not a bit deal unless you are trying to clone or migrate full drives. Some might be forced to shrink volumes to get them to fit on the newer drives, which can be done at the expense of more time.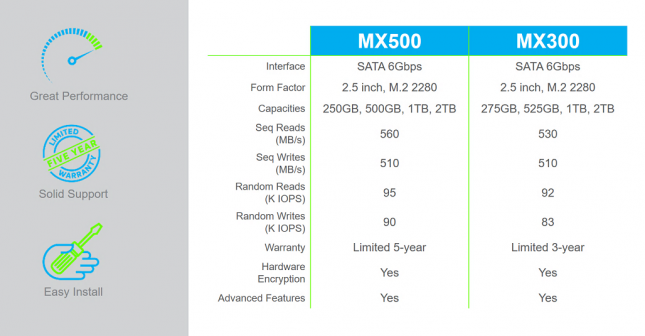 The Crucial MX500 series is a solid product offering for 2018 and handles itself just fine against rival drives. We can safely recommend this drive to those looking for a solid mainstream product with robust features.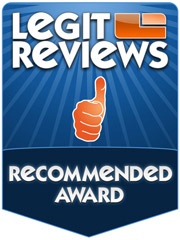 Legit Bottom Line: The WD Blue 3D NAND and SanDisk Ultra 3D SSD don't suffer performance degradation with long file writes and are priced right!