Crucial MX300 1TB SSD Review
By
Crucial MX300 SSDs Now Available in Five Capacities
Three months ago Crucial announced the MX300 750GB 'Limited Edition' SSD to celebrate their brand new Micron 3D TLC NAND Flash memory technology. We reviewed the MX300 750GB drive and found that the Micron 3D TLC NAND along with the Marvell 88SS1074 controller and Crucial custom firmware proved to be a winning combination. Crucial has since released 275GB, 525GB, and 1050GB (1TB) and 2TB versions to join the existing MX300 750GB model, so there are now five different capacities to pick from if you want a Crucial MX300 series SSD in the 2.5-inch SATA III form factor. The unusual capacities are due to the Micron's 3D TLC being 384Gbit when most other NAND companies are using 256Gbit technology.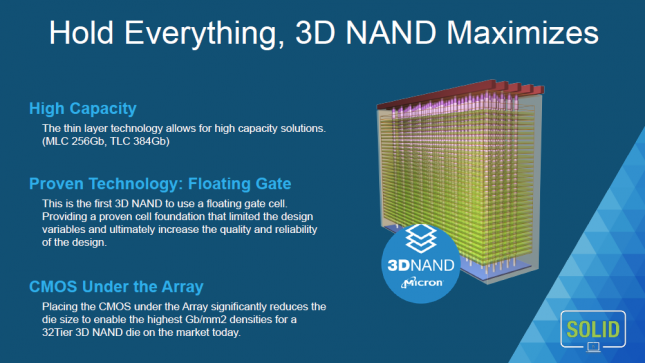 The Crucial MX series and targeted to mainstream consumers and the BX series targeted at value focused consumers, so the Crucial MX300 should have some pretty solid performance numbers. The Micron 3D TLC 384Gbit NAND along with the Marvell 88SS1074 controller have helped the Crucial MX300 series be able to reach sequential transfer speeds of up to 530 / 510 MB/s for reads/writes and random 4K performance of up to 92,000 / 83,000 IOPS for reads/writes. This drive also supports AES 256-bit hardware encryption and is exceeds Microsoft eDrive, TCG Opal 2.0, and IEEE-1667 industry standards, which is a big deal for those looking to meet HIPPA compliance or needing drives where keeping data private is key.
Crucial also has a new feature called Dynamic Write Acceleration (DWA) that treats some of the 3D TLC NAND as SLC NAND Flash for enhanced performance. Crucial informed us that up to 1/3 of the drive can be assigned as SLC, but in writes that go larger than 30GB or so, writes will transition temporarily to TLC while data is moved from the SLC to TLC space and things are cleaned up for the next operation.
Crucial MX300 SSD Performance, Endurance & Pricing:
| | | | | |
| --- | --- | --- | --- | --- |
| Model | CT275MX300SSD1 | CT525MX300SSD1 | CT1050MX300SSD1 | CT2050MX300SSD1 |
| Capacity | 275GB | 525GB | 1TB | 2TB |
| Max Sequential Read | 530MB/sec | 530MB/sec | 530MB/sec | 530MB/sec |
| Max Sequential Write | 500MB/sec | 510MB/sec | 510MB/sec | 510MB/sec |
| Max Random Read (4K QD32) | 55,000 IOPS | 92,000 IOPS | 92,000 IOPS | 92,000 IOPS |
| Max Random Write (4K QD32) | 83,000 IOPS | 83,000 IOPS | 83,000 IOPS | 83,000 IOPS |
| TBW | 80 TB | 160 TB | 360 TB | 400 TB |
| Daily Usage (5-Year Period) | 43 GB/day | 87 GB/day | 197 GB/day | 219 GB/day |
| MSRP in USD | $69.98 | $119.99 | $249.99 | $549.99 |
Performance varies between the smallest 275GB capacity drive and the others, so be sure to keep that in mind when shopping for a drive. Crucial uses a new features called Redundant Array of Independent NAND or RAIN on the MX300 series drives. RAIN technology works similar to a traditional RAID 5 Array where data is stored in multiple locations on the drive for increased data security. RAIN is enabled by default and helps get the MX300 drives endurance rating up to 400TB Total Bytes Written (TBW) or 219GB per day for a period of 5-years. Not bad, but Crucial is only placing a 3-year limited warranty on this SSD despite highlighting the endurance over a 5-year period and other mainstream TLC V-NAND drives like the Samsung SSD 850 EVO series offering a 5-year warranty period. Keep in mind that the endurance rating varies on each drive and all are backed by 3-year warranties despite the endurance rating used by Crucial is given over a 5-year period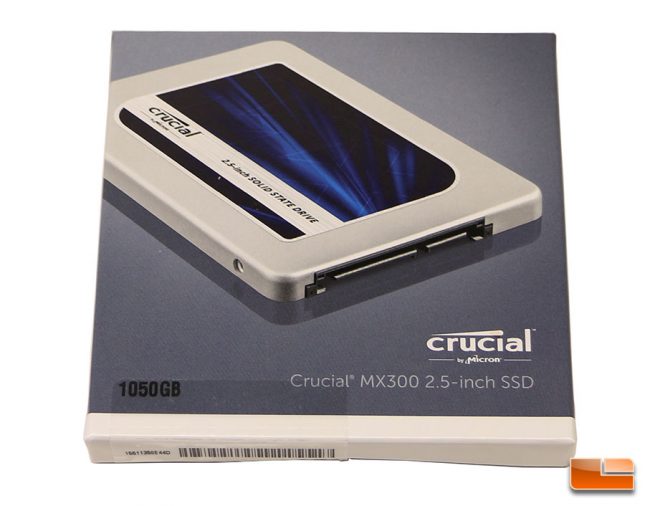 The drive that we'll be looking at today in-depth is the Crucial MX300 1050GB or 1TB model that is sold under part number CT1050MX300SSD1 for $249.99 shipped at Amazon. At $0.24 per GB this is a very price competitive 1TB SSD. There are lower cost 1TB drives on the market, but most have lower performance, endurance ratings and lack hardware encryption. For example the OCZ Trion 150 960GB drive is $209.97 or $0.22 per GB, but has a a 240TB TBW rating and no encryption.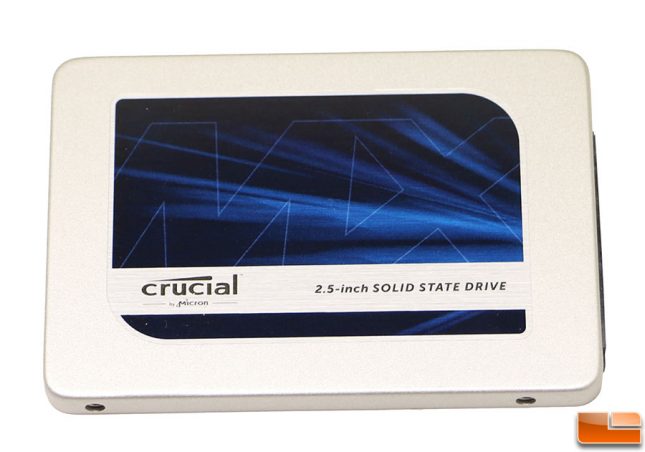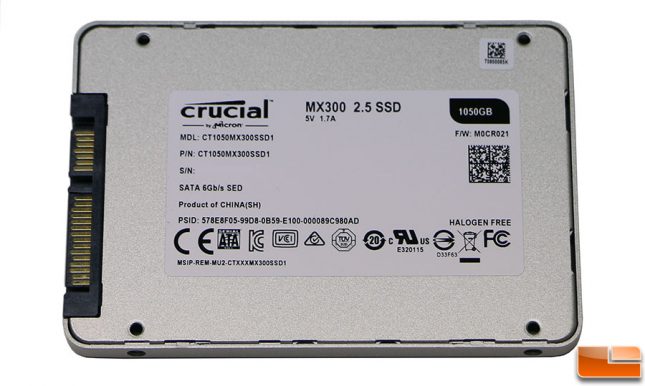 The Crucial MX300 2.5″ drives come in a silver metal enclosure and feature a standard SATA III interface. Crucial includes a software key for Acronis True Image HD software for those that might need cloning software to move from their old hard drive or SSD to this new model and a spacer bracket to help the 7mm thick drive fit securely in notebooks that originally came with 9.5mm thick hard drives.
Let's move along and take a look at the test system and then the benchmark numbers!