BIOSTAR TPower X79 Motherboard Review
By
Futuremark 3DMark11 Synthetic Gaming Benchmark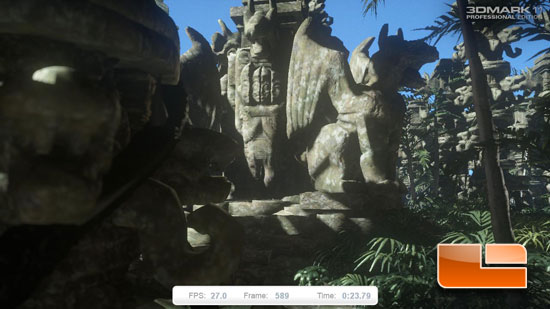 3DMark 11 is the latest version of the worlds most popular benchmark for measuring the 3D graphics performance of gaming PCs. 3DMark 11 uses a native DirectX 11 engine designed to make extensive use of all the new features in DirectX 11, including tessellation, compute shaders and multi-threading.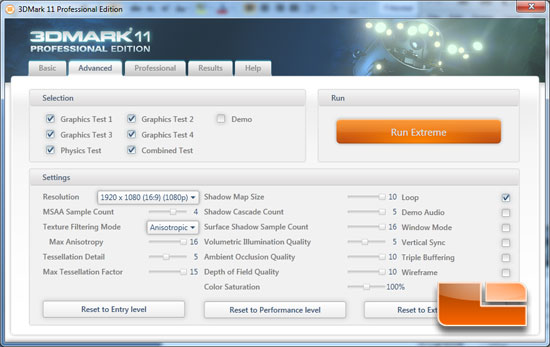 Since Futuremark is releasing 3DMark11 today we decided to run the benchmark at both performance and extreme presets to see how our hardware will run.
BIOSTAR TPower X79 Motherboard 3DMark11 Extreme Preset Benchmark Results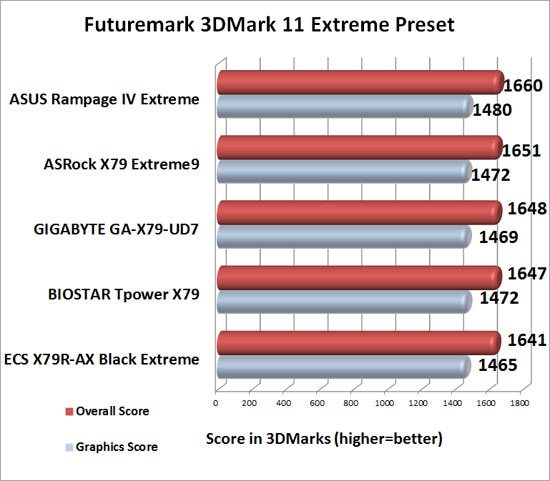 BIOSTAR TPower X79 Motherboard 3DMark11 Performance Preset Benchmark Results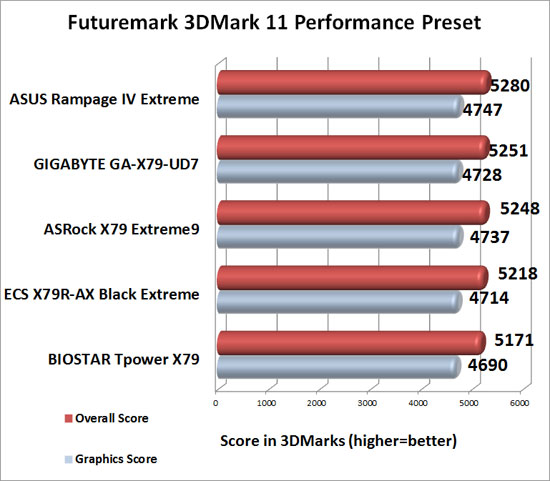 Benchmark results: Looking first at the BIOSTAR TPower X79 motherboard performance in the Extreme preset of Futuremark 3DMark 11 we can see that it isn't the top performer. The overall score for the BIOSTAR TPower X79 is 1647 3DMarks and the graphics score is 1472. It is only 8 3DMarks above the slowest board and 13 3DMarks below the top performing ASUS Rampage IV Extreme. That being said there is only 19 3DMarks between all of our boards or a difference of 1.2%. Taking a look at the performance preset, the BIOSTAR TPower X79 fell to the bottom of the charts with an overall score of 5171 3DMarks. That's 47 3DMarks below the ECS X79R-AX Black Extreme which was the slowest board. 47 3DMarks looks like a hefty difference, but in reality it is less than 1%. If we compare it the the ASUS Rampage IV Extreme there is a 109 3DMark difference or a margin of 2.1%.