BIOSTAR TPower X79 Motherboard Review
By
BIOSTAR TPower X79 Overclocking
Overclocking greatly varies due to what hardware is being used and who is doing the overclocking. Always remember that no two pieces of hardware will perform the same, so our results will differ from what you might be able to get.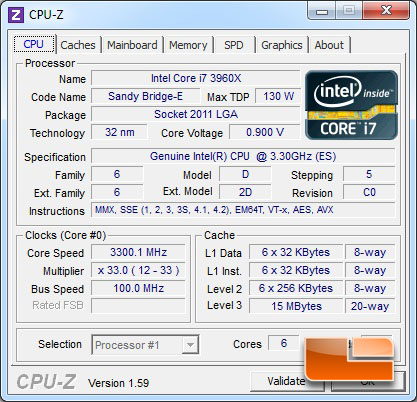 The Intel Core I7 3960X features a Bclk of 100MHz and uses a x33 multiplier to achieve the final processor speed of 3.3GHz. In the above CPUz 1.59 screen shot it also has a Turbo Mode. With all of the cores loaded it will increase the multiplier to 36 and all the way up to 39 depending on the system load. The Intel Core i7 3960X is the latest in a long line of Extreme Edition processors. Being an Extreme Edition processor means that the i7 3960X has an unlocked multiplier. Unlike the previous LGA1155 Sandy Bridge processors, LGA2011 processors can also be overclocked by increasing the Bclk. Though we will be sticking to overclocking by increasing the multiplier of the Intel Core i7 3960X Extreme Edition Processor.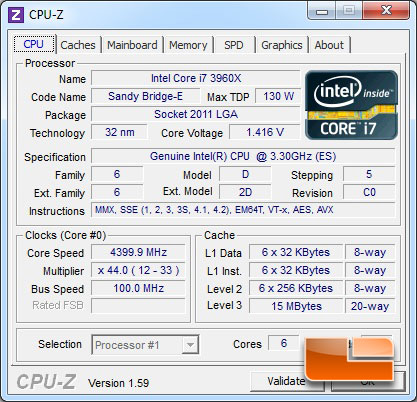 The BIOSTAR TPower X79 doesn't feature any automated overclocking options within the BIOS. We decided to see how far we could push the BIOSTAR TPower X79 and our Intel Core i7 3960X with all of the settings on auto. We started out at 4000MHz with a multiplier of x40 and increased the multiplier after each successful boot. We finally started experiencing boot failure at 4.6GHz, we backed the multiplier down to x45 and we were able to boot into Windows, but we weren't stable. We backed our multiplier back down to x44 and we were rock solid at 4400MHz!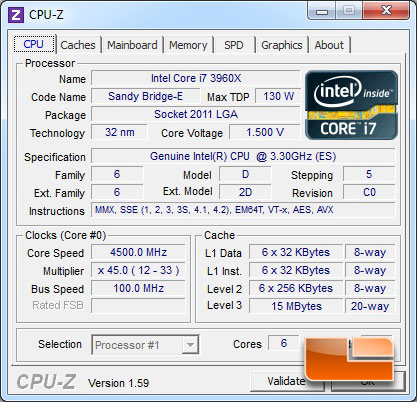 The BIOSTAR TPower X79 motherboard didn't overclock nearly as well as we had hoped it would. Even after pushing the voltage up to 1.5V we were only able to hit 4.5GHz stable. What I noticed when trying to overclock with the BIOSTAR TPower X79 was the lack of Loadline Calibration. Our particular processor does really well getting past 4.5-4.6GHz with LLC enabled. When we looked at the ASRock X79 Extreme9 last week, we weren't having any luck overclocking because I had the overclock settings for LLC backwards, level 5 was the least amount and level 1 was the greatest amound of VDroop control. Once we switched to level 1 overclocking was a breeze and we hit 4.8GHz. Today we don't have the option to enable LLC so we weren't able to get past 4.5GHz. Hopefully BIOSTAR will put LLC into a future revision of the BIOS and give us a bit more overclocking headroom.