ASUS Sabertooth Z170 S Motherboard Review
By
ASUS Sabertooth Z170 S Motherboard Review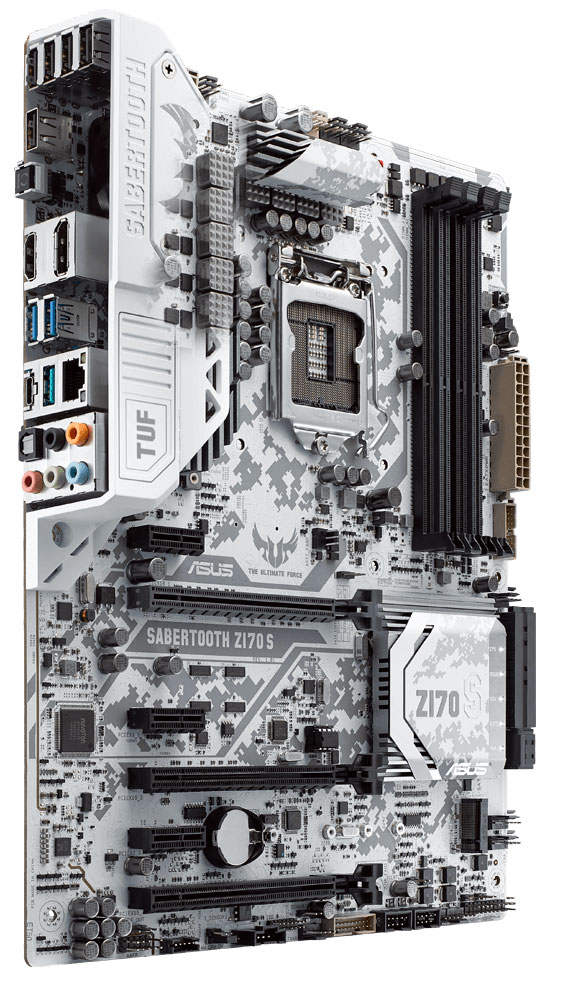 ASUS is one of the most recognizable names in the enthusiast community, with a product line that covers nearly every aspect of computer hardware, including motherboards, graphics cards, monitors, networking devices and many other product lines. One of their most well known product lines is their award winning motherboards. When a new chipset is released, they are ready with new motherboards, designed to fit almost any budget and user type. When the Intel Z170 chipset first came out, ASUS provided us the opportunity to take a look at one of their flagship motherboards the Maximus VIII Extreme. Which while one of the best motherboards available, it has a price tag to match. Now, we have a chance to take a look at one of their mid-tier motherboards, the Sabertooth Z170 S; with a price tag of $169.99 with free shipping, it is better priced to meet the budget of most enthusiasts.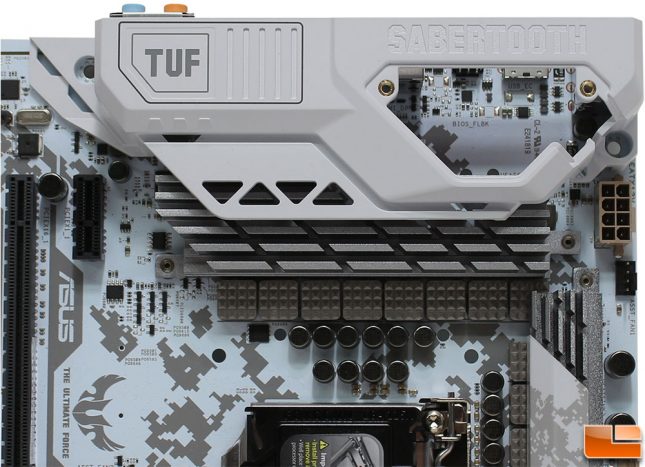 Being a part of the ASUS TUF series motherboards, the Sabertooth Z170 S has gone through heavy duty testing before it is packaged for the user. This testing includes subjecting them to high and low temperatures, bending, shocking and even dropping them. It is developed to military standards for durability, which includes military grade components to protect your system and to ensure 24/7 reliability. In fact, ASUS is so sure of their TUF motherboards, the Sabertooth Z170 S is covered by a 5 year warranty!
So what TUF components are included on the Sabertooth Z170 S? The TUF Allow Chokes, and 10K Ti-Caps, are designed to last longer and to have a better tolerance for temperatures. The MOSFETs are more power efficient, which in turn means less heat. The Intel Gigabit ethernet connection has the LANGuard system, to help protect your vital components from electric surges coming in over the ethernet connection. The other I/O ports on the back are also protected with advanced ESD protection.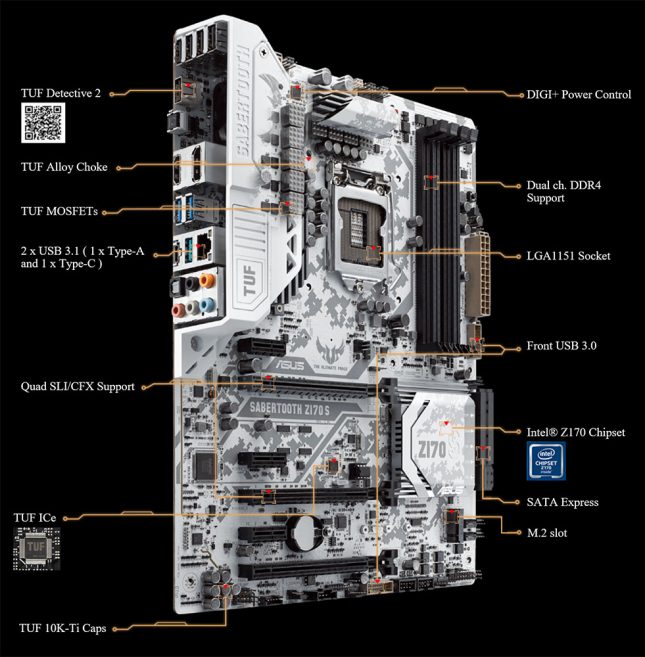 Let's take a quick look at the features and specifications of the Sabertooth Z170 S before taking a look at what else this motherboard has to offer.
Features and Specifications
Digital Arctic-Camo PCB and Q-LED indicators
USB 3.1 onboard: One Type-A port plus a reversible Type-C port
TUF Detective 2 system information at your fingertips
TUF ICe & Thermal Radar 2 Total cooling system
TUF Components [TUF 10K Ti-Caps, TUF Alloy Chokes & MOSFETs; Certified by Military-standard]
ASUS Sabertooth Z170 S Specifications
Form Factor
ATX 12in x 9.6in (30.5cm x 24.4cm)
CPU
Intel Socket 1151 6th Generation Core i7/i5/i5/Pentium/Celeron

Supports Intel 14nm CPU

Supports Intel Turbo Booth Technology 2.0

Chipset
Intel Z170
Memory
4x DIMM, Max 64GB, DDR4 2400/2133 MHz Non-ECC, Un-buffered Memory

Dual Channel Memory Architecture

Supports Intel Extreme Memory Profile (XMP)

Graphic
Integrated Graphics Processor – Intel HD Graphics support

Multi-VGA output support: HDMI/Display Ports

HDMI with max resolution 4096×[email protected] / 2560×[email protected]

DisplayPort with max resolution 4096×[email protected] / 3840×[email protected]

Maximum shared memory of 1024MB

Supports Intel InTru 3D, Quick Sync Video, Clear Video HD Technology, Insider

DP 1.2 Multi-Stream Transport compliant, supports DP 1.2 monitor daisy chain up to 3 displays

Multi-GPU Support
Supports NVIDIA Quad-GPU SlI

Supports NVIDIA 2-Way SLI

Supports AMD Quad-GPU CrossFireX

Supports AMD 3-Way CrossFireX

Expansion Slots
2x PCIe 3.0/2.0 x16 (x16 or dual x8)

1x PCIe 3.0/2.0 x16 (max at x4 mode)

3x PCIe 3.0/2.0 x1

Storage
Intel Z170 Chipset

2x SATA Express port, Compatible with 4x SATA 6.0Gb/s ports

1x M.2 x4 Socket 3, with M Key, type 2242/2260/2280/22110 support both SATA & PCIe mode

6x SATA 6Gb/s ports (grey)

Support RAID 0, 1, 5, 10

Intel Rapid Storage Technology support

Supports Intel Smart Response Technology

LAN
Intel i219V, 1x Gigabit LAN controller

Gigabit Intel LAN Connection – 802.3az Energy Efficient Ethernet (EEE) appliance

ASUS Turbo LAN Utility

Audio
Realtek ALC1150 8-Channel High Definition Audio CODEC

— Supports Multi-streaming, Front Panel MIC Jack retasking

— High quality 112dB SNR stereo playback output (line-out at rear) and 104dB SNR recording input (Line-in)

Audio Features:

Optical S/PDIF out ports at back panel
BD Audio Layer Content Protection
Audio Shielding: Ensures precision analog/digital separation and greatly reduced multi-lateral interference
Dedicated audio PCB layers: Separate layers for left and right channels to guard the quality of the sensitive audio signals
Audio amplifier: Provides the highest quality sound for headphone and speakers
Unique de-pop circuit: Reduces start-up popping noise to audio outputs
Top notch audio sensation delivers according to the audio configuration
Absolute Pitch 192khz/24bit true BD lossless sound

USB Ports
Intel Z170 Chipset

6x USB 3.0/2.0 ports(s): 2 at back panel (Blue), and 4 at mid-board
8x USB 2.0/1.1 port(s): 4 at back panel (Black), 4 at mid-board

ASMedia USB 3.1 Controller

1x Type-A USB 3.1/3.0/2.0 port at back panel (Teal)
1x Type-C USB 3.1/3.0/2.0 port at back panel (Reversible)

Back I/O Ports

1x DisplayPort
1x HDMI
1x LAN (RJ45)
1x USB 3.1 Type-A (Teal)
1x USB 3.1 Type-C
4x USB 2.0
2x USB 3.0 (Blue)
1x Optical S/PDIF out
5x Audio Jacks
1x USB BIOS Flashback Button
1x 8-channel Audio I/O
1x TUF Detective USB Port

Inernal I/O Ports

1x AAFP connector
2x USB 3.0 connector(s) support(s) additional 4 USB 3.0 port(s) (19-pin)
2x USB 2.0 connector(s) support(s) additional 4 USB 2.0 port(s)
2x SATA Express connector: , Compatible with 4 x SATA 6.0 Gb/s ports
1x M.2 Socket 3 with M Key design, type 2242/2260/2280/22110 storage devices support (Supports both SATA & PCIE SSD)
6x SATA 6Gb/s connector(s)
1x CPU Fan connector(s) (4 -pin)
1x CPU OPT Fan connector(s) (4 -pin)
6x Chassis Fan connector(s) (4 -pin)
2x Assistant Fan connector(s) (1 x 3 -pin, 1 x 4 -pin, [White])
1x S/PDIF out header(s)
1x Thunderbolt header(s)
1x 24-pin EATX Power connector(s)
1x 8-pin ATX 12V Power connector(s)
1x System panel(s) (Q-Connector)
1x 5-pin EXT_FAN(Extension Fan) connector
1x Chassis Intrusion connector(s)
1x DRCT header(s)
1x MemOK! button(s)
3x Thermal sensor connector(s)
1x CPU OV
1x Clear CMOS jumper(s)
1x Water Pump header (4-pin)
1x 14-1 pin TPM connector
Like any of the top tier motherboard manufacturers, ASUS does a great job at packaging their motherboards, even though most will probably purchase the motherboard online, not paying any attention to the packaging. If you do happen to find it in a retail setting, there is plenty of information on the box to know exactly what the Sabertooth Z170 S is capable of. I found it interesting, that ASUS designed the packaging around the motherboard, as the Sabertooth Z170 S is the Arctic Camouflage, the packaging is the same way. Just one of the added touches that shows ASUS cares about first impressions. The front of the box gives just a quick overview of the features, while the bulk of the information is left to the back of the box. Here you find the details for several of the key features as well as the motherboard specifications. Opening the box, we find the motherboard is packaged in an anti-static bag, placed inside another box. Beneath the motherboard box ASUS has loosely placed all the accessories.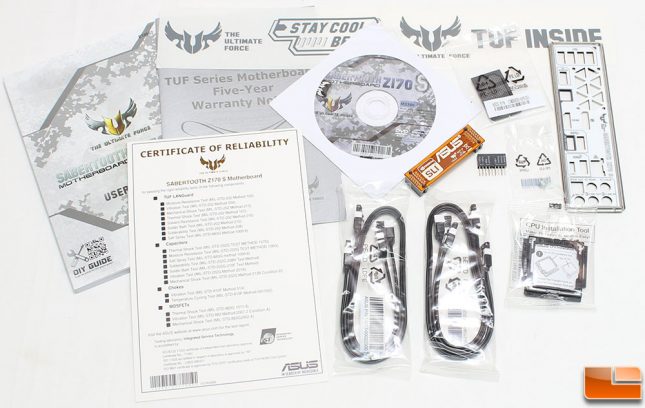 ASUS includes a number of accessories with the Sabertooth Z170 S. The usual documentation includes a Users Guide, detailed Warranty notice, software/driver disc and a Certificate of Reliability. Other required accessories include the rear I/O shield, four SATA cables, SLI bridge, ASUS front panel Q-Connector, CPU installation tool, an a small dust guard for the rear I/O ports.
Let's take a quick look at some of the major features of the ASUS Sabertooth Z170 S along with the test system components before starting it up for some tests.