ASUS Sabertooth Z170 S Motherboard Review
By
ASUS Value Added Software
On the included installation CD, ASUS includes all the drivers for the Sabertooth Z170 S motherboard, along with a wide range of software. Let's take a quick look at the installation process, and see what exactly ASUS is providing on their installation CD.
On the main installation screen for Drivers, ASUS shows all the drivers that are necessary for your motherboard. They show you the version that is on the installation CD vs what is already installed and whether a restart is necessary to initialize the driver. Allowing you to choose the drivers or utilities you want to install is a nice feature as sometimes you might prefer to use an older version. In addition, ASUS provides a couple additional pieces of software here, Google Chrome and Norton Security.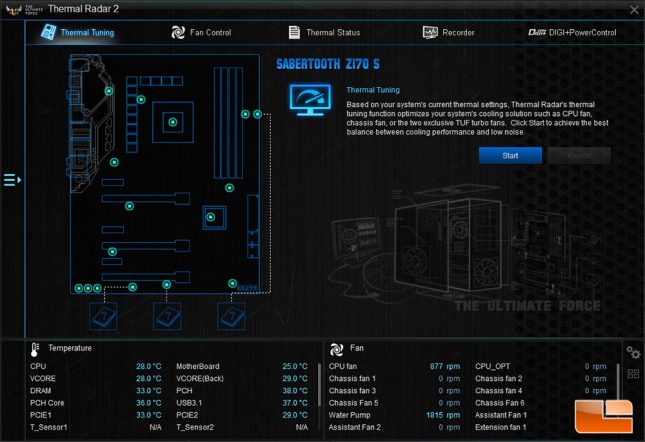 Once you have installed the AI Suite, it will auto-load and place an icon in the system tray. Here you can open it and begin doing some tuning to your system from within Windows. The first menu is Thermal Tuning, here you can see each of the various thermal sensors on the motherboard, and see what they are monitoring. ASUS also provides an auto-tune which allows you to select each fan and adjust them individually to optimize your cooling between high performance and noise level.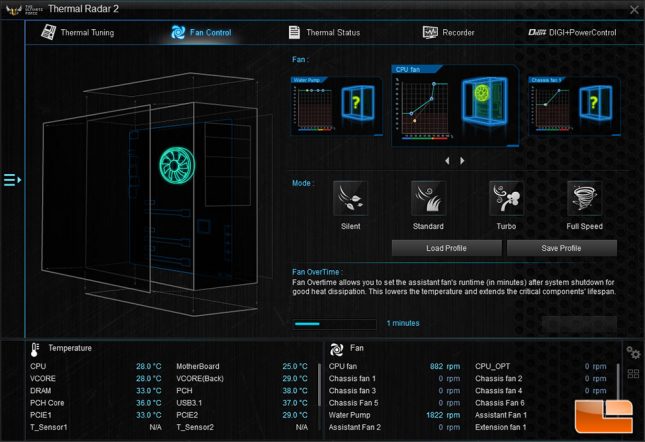 Fan Control is similar to the fan tuning in the Thermal Tuning, however here it is more about overall system usage. Adjusting the fan speeds to speed up when the system heats up, or to run in a specific fan profile (Silent, Standard, Turbo or Full Speed).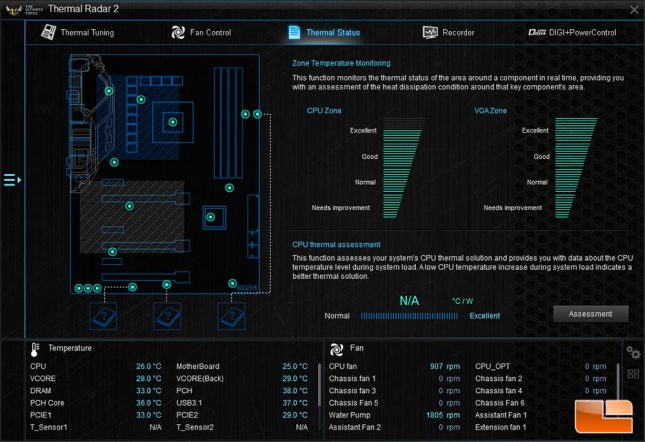 Thermal Status is ASUS's way of trying to provide additional assistance for cooling. Here they will evaluate your cooling, and provide you an idea of how they feel it rates.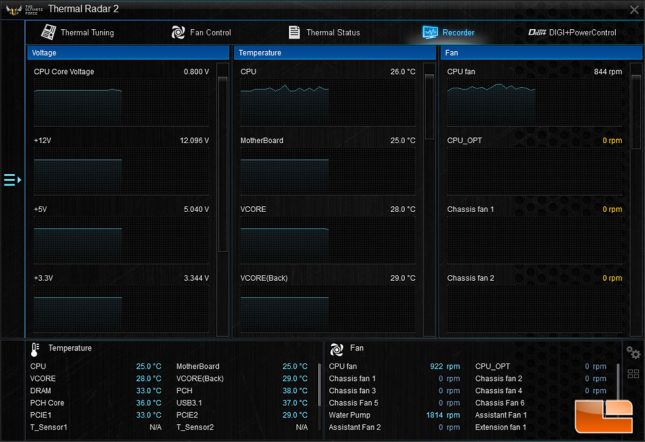 Of all the integrated tools, I found the Recorder option to be one of the most useful overall. It keeps track of the Voltage, Temperature and Fan speeds over a 2.5minute timeframe.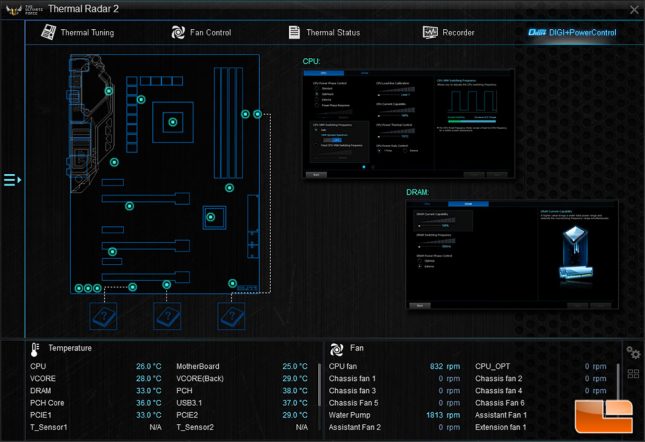 DIGI+ is ASUS's Dual Intelligent Processors, TPU (TurboV Processing Unit), and EPU (Energy Processing Unit) providing precise control over power to the CPU and DRAM. With one click you can enable an extreme performance mode providing the ability to use ASUS's knowledge of power control versus giving power control over to the CPU which will limit power usage to its default specifications.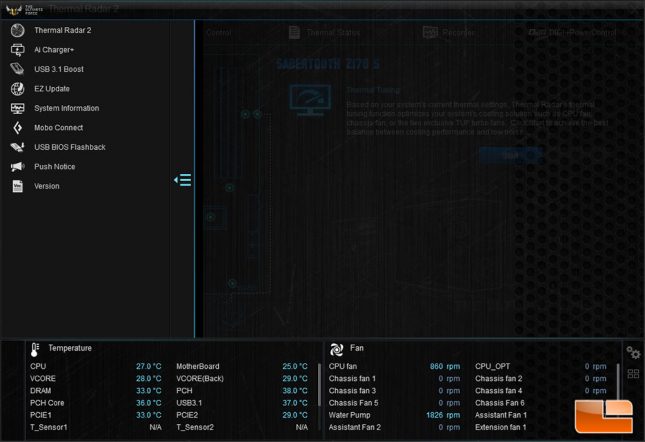 The main menu options aren't the only tools provided in the ASUS AI Suite, on the side menu there are additional tools that you might find useful. AI Charger+ for example enables the motherboard to charge USB devices using the BC 1.1 standard, which provides for around 1.5A of power to devices that are enabled for BC 1.1. USB 3.1 Boost, enables a USB Turbo Boost and USB UASP modes; in my testing USB Turbo Boost provided around 5 – 10MB/s on a USB 3.0 drive. EZ Update is ASUS way of making it easy to keep drivers and BIOS up to date. Mobo Connect, enabled mobile devices to use the keyboard/mouse and stream audio from the mobile device to the PC.
As always, while it is nice that ASUS has provided the drivers on the installation CD, it is always advisable to check the ASUS website for the latest drivers and software. Thankfully, ASUS makes this extremely simple, either using their website, or through their AI Suite tools. While many enthusiasts won't need the tools provided by ASUS it is always nice when a company makes it easy for the average users to get the most out of their system without working too hard.