ASUS ROG Zephyrus G14 Laptop Review – AMD Ryzen 9 4900HS
By
Zephyrus G14 Temperatures, Noise, Battery Life
When it comes to temperature performance the ASUS ROG Zephyrus G14's isn't going to win any awards, but you likely knew that since it has both a high-end CPU and discrete GPU inside. We ran Sid Meier's Civilization VI: Gathering Storm for just 15 minutes and noticed that the CPU temperature topped out at 97C. In fact, most games and heavy sustained CPU applications will put the CPU temperature of the G14 over 95C. The surface temperature along the top edge of the laptops where the hot air exhausts reaches over 110F and the keyboard itself was nearly 100F at the end of our testing. This temperature will make placing the G14 on your lap extremely uncomfortable, so be sure to place it on a table for heavy workloads or gaming sessions!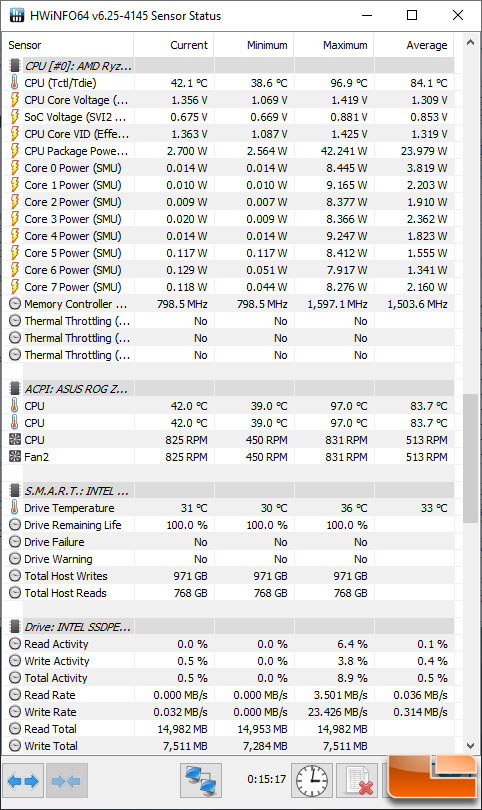 When it comes to noise levels the ASUS ROG Zephyrus G14 runs a bit loud as our digital sound level meter showed 51 dB from about six inches above the keyboard with default system settings.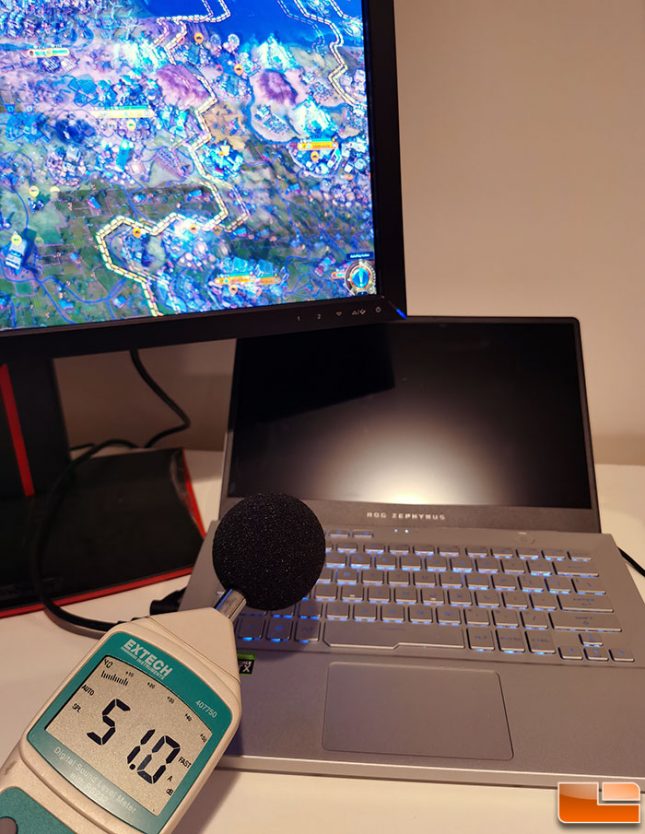 To look at battery life we turned to PCMark 10 Professional Edition and ran the Modern Office battery performance test with the display set to half brightness. The result here was phenomenal in a good way as it lasted 11.5 hours! That is the longest of any laptop that we have ever tested on this workload. The Zephyrus comes with a fairly large 76Wh battery and it is impressive. The AMD Ryzen 4000 series processor was optimized for battery life and it looks like AMD has made amazing improvements with this generation of CPUs.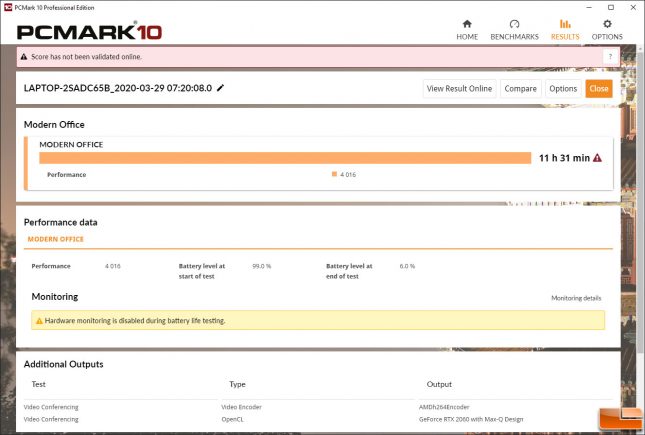 We know that this test might not mean much to gamers, so we charged up the battery and then yanked the cord again and played some PUBG with friends for nearly two hours before the battery died. Very, very impressive battery life!
Let's wrap this review up!