AMD Ryzen Threadripper 1950X and Threadripper 1920X Processor Review
By
Final Thoughts and Conclusions
The AMD Ryzen Threadripper 1950X and Threadripper 1920X are very impressive processors that did extremely well in content creation benchmarks that take advantage of having a 16-core, 32-thread processor in the system. The good news is a good number of applications on the market actually put the AMD Ryzen Threadripper 1950X 16-core processor at 100% load as seen in the screen capture below. We were running Agisoft PhotoScan Standard v1.3.2 in that screenshot and and for some workloads we were able to fully utilize this processor!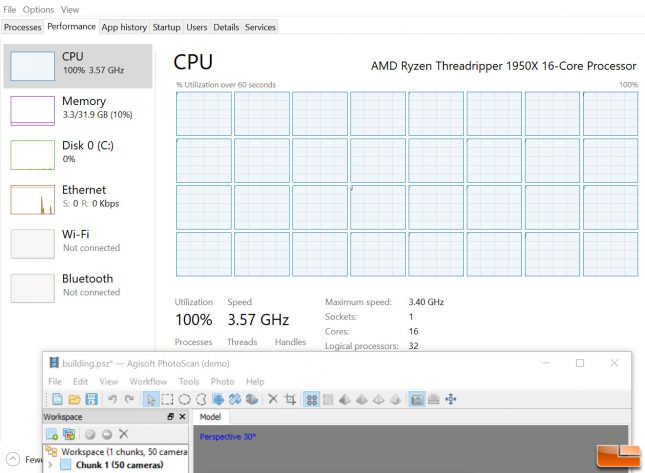 Content creators should really love the performance numbers from Ryzen Threadripper 1950X as the that processor topped the chart in Handbrake, Blender, Keyshot and X264. It has been years since we've seen AMD on top of a performance chart, so this is exciting.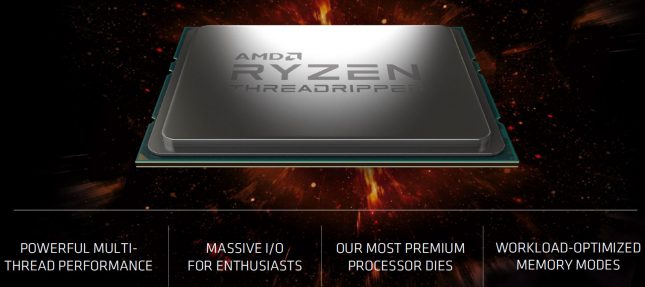 You can purchase the AMD Ryzen Threadripper 1950X 16-core processor for $999.99 shipped or the AMD Ryzen Threadripper 1920X for $799.99 shipped on Amazon. You'll need to pickup an AMD X399 motherboard ($350 to $550) to go along with that processor, but the prices are comparable to what Intel is asking for a Skylake-X processor and Intel X299 motherboard. The AMD Ryzen Threadripper 1920X and 1950X are 180W TDP processors, so make sure you have one of the 25 recommended CPU coolers!
AMD Ryzen Threadripper Liquid Coolers:
Corsair Hydro Series H115i / H100i v2 / H105 / H80iv2 $93+
NZXT Kraken X62 / X61 / X52 $150+
Thermaltake Riing 3.0 RGB 360 / RGB 240 / $129+
Thermaltake Water 3.0 Ultimate / 3.0 Extreme $91+
Cryorig A80 / A40 Ultimate / A40
Arctic Liquid Freezer 240 $89.99
EVGA Closed Loop CPU Cooler (CLC) 280 $122.10
AMD Ryzen Threadripper Air Coolers:
Arctic Freezer 33 $49.99
Coolermaster Hyper 212 EVO $29.99
Noctua NH-U14S TR4-SP3, NH-U12S TR4-SP3, NH-U9 TR4-SP3 $65+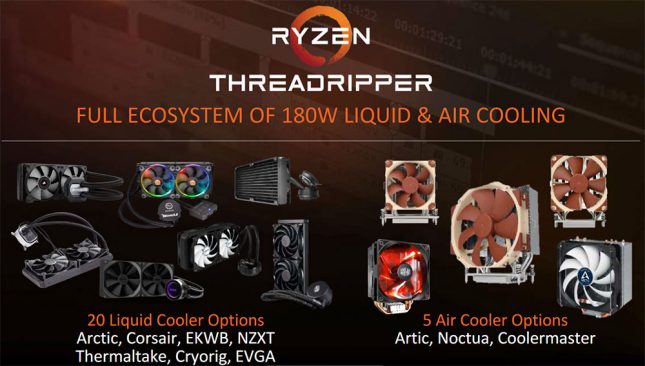 AMD is back! The AMD Ryzen Threadripper platform is finally here and the numbers are exciting. Intel is going to respond to Threadripper by releasing Intel Core i9 Skylake-X processors with more cores, but the prices will be going up to $1999. The AMD Ryzen Threadripper 1950X at $999 easily out performs the Intel Core i9-7900X 10-core processor that is also $999 as it has more cores. To get a 16-core processor from Intel you'll need to wait for the Intel Core i9-7960X and that will cost $1,699. Intel is charging $700 more for 16-threads, so it looks like AMD is going to be the price versus performance winner for some time to come.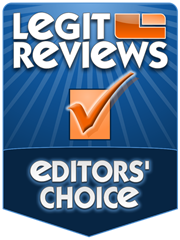 Legit Bottom Line: The AMD Ryzen Threadripper 1950X is the fastest processor for heavily multi-threaded applications that we have ever seen!