AMD Radeon RX 480 Video Card Review – Polaris Arrives
By
AMD Radeon RX 480 Overclocking
Radeon WattMan is AMD's new overclocking utility in Crimson 16.6.2 drivers that controls GPU voltage, engine clocks, memory clocks, fan speed and temperature. Radeon WattMan is based on Radeon Software features but offers multiple new ways of precise overclocking controls. With the new control over voltage and per state frequency curve for GPU clocks, comprehensive tuning control is now available to finely tune your overclock.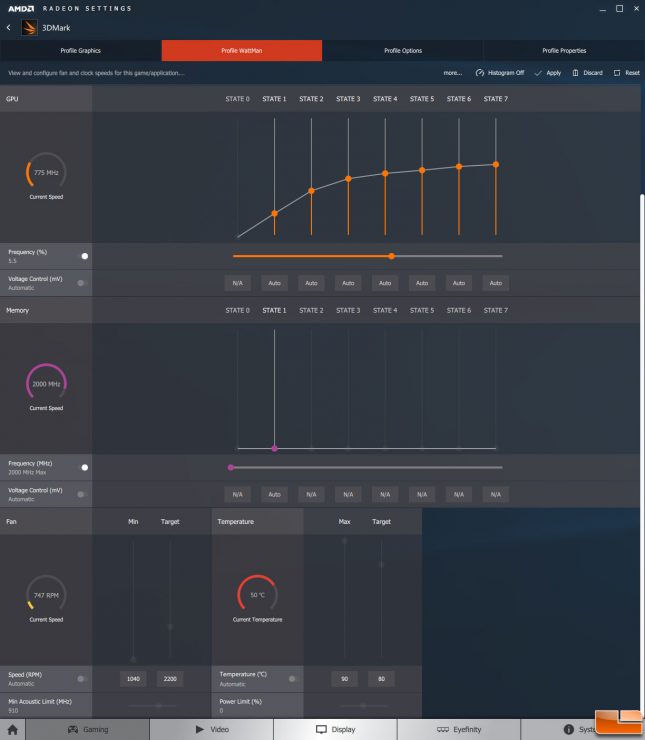 Using the new histogram which records and displays the GPU activity, clock speeds, temperature and fan speed, you can visualize and understand how the game/application runs in a single interface, and configure based on that captured data. You can save your overclocking settings globally or create an overclocking profile for each detected game title..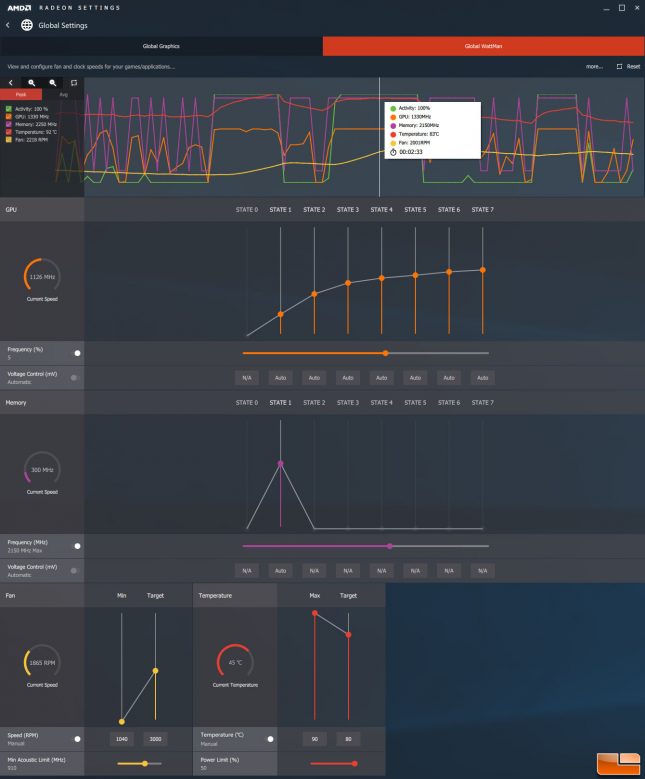 To adjust the GPU Clock speed the AMD engineers designed a curve as the generic optimal set for each GPU state, for the average experience expected for the GPU. You can then make adjustments to this curve by 0.5% intervals for a higher or lower clock speeds. GPU core and memory clocks can be adjusted per available Dynamic Power Management (DPM) state for greater control. This is also true with voltage control as you now have control at every available state and GPU and memory clocks are set independently.
Here is how AMD suggested to us to overclock the AMD Radeon RX 480:
Open and run 3DMark Fire Strike Benchmark to find base score.
Open Radeon Settings and navigate to Global WattMan page.
Toggle Temperature from Automatic to Manual. Increase the power limit slider to 50%, hit apply, and then run the benchmark to check stability.
Raise GPU Clock frequency % slider incrementally after power limit has been adjusted, hit apply, and re-run the benchmark to check stability (by default the frequency % slider is shown, if toggled, you will get into dynamic mode for further customization)
Raise Memory clock incrementally after GPU clock setting has been adjusted and hit apply.
Close Radeon Settings.
Open and run Fire Strike benchmark.
Compare OC benchmark score to base score.
At any point if hang occurs after hitting apply, reboot system. On reboot, Radeon WattMan settings will be automatically switched back to defaults, allowing the system to perform/run normally. We encountered this often with our card when we got close to the top overclock and it was annoying to manually set everything over again, but we learned that AMD is going to bring the ability to save a profile in a future driver release.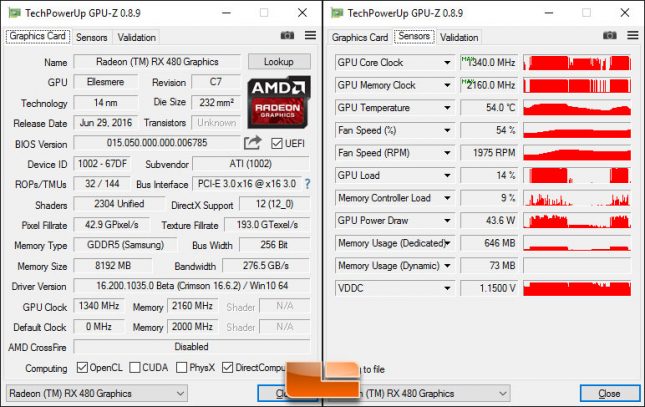 The best that we could do was a 6% increase in the GPU clock frequency that put us at 1340MHz instead of 1266MHz and an increase of 150MHz on the memory. We also manually set the power limit of the card to 50% and also set the target speed of the fan to a higher level for better cooling performance as we weren't too worried about the fan noise.
AMD Radeon RX 480 8GB Stock: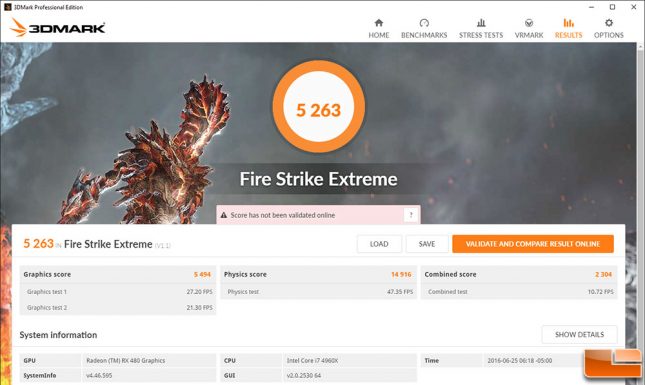 AMD Radeon RX 480 8GB Raised Power Limit (Stock Clocks w/ Power Limited Raised 50%):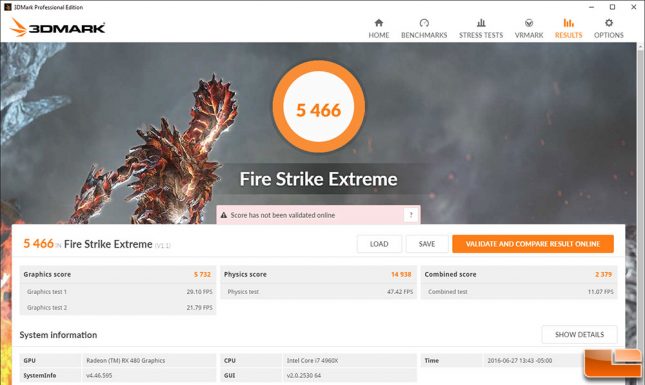 AMD Radeon RX 480 8GB Overclocked (50% Power Limit with +6% GPU and +150MHz Memory):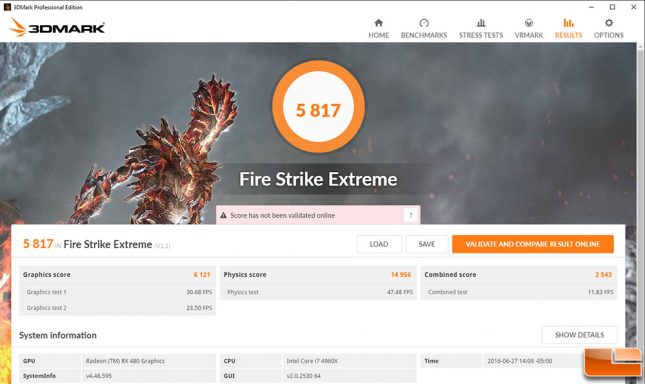 By overclocking the AMD Radeon RX 480 8GB graphics card we were able to take the score of 5,263 on 3DMark Fire Strike Extreme and raise it up to 5,817. This is a 554 point increase in our overall 3DMark score, which represents a performance gain of 10.5 percent. It should be noted that by raising just the power limit that we saw a performance uplift of nearly 3.8% with over a 200 point increase. This is because by raising the power limit the GPU ran at the default clock of 1266MHz longer and didn't drop down when power limited. Some pretty decent performance gains can be had form the AMD Radeon RX 480.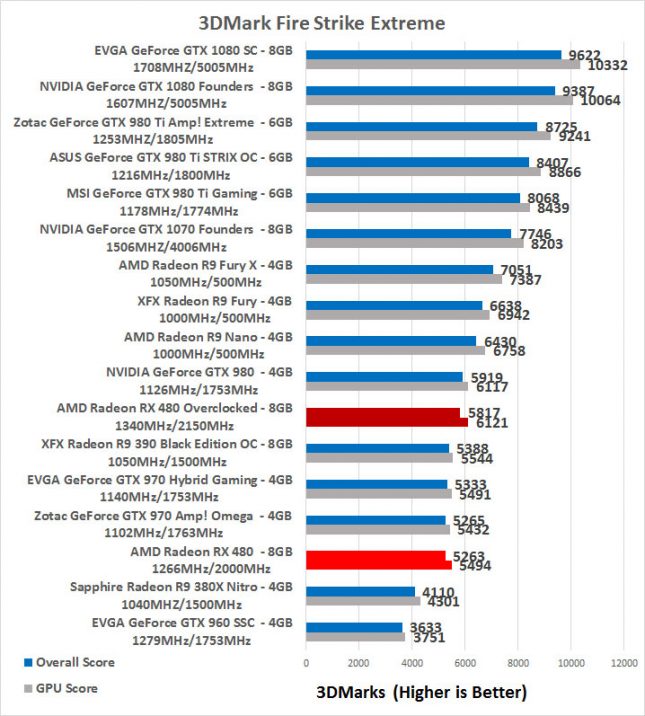 With the overclock the GPU score in 3DMark Fire Strike Extreme was higher than that of the NVIDIA GeForce GTX 980. Pretty impressive considering the NVIDIA GeForce GTX 980 launched in 2014 for $549 and now you can get that level of performance for less than half that price!
Let's wrap this review up!