AMD Radeon R9 Nano Versus NVIDIA GeForce GTX 980
By
Meet Radeon R9 Nano – The Newest $499 Video Card Around
When the AMD Radeon R9 Nano graphics card received a price cut yesterday we were excited about it as the third card based on AMD's Flagship Fiji GPU core was frankly overpriced and AMD was hoping that people were willing to pay a premium to have a small card. The problem is that gamers care more about performance than anything and at $649 they could get either the Radeon R9 Nano or the GeForce GTX 980 Ti. The NVIDIA GeForce GTX 980 Ti beats every card in the Fiji lineup, so the Radeon R9 Nano never really stood much of a chance on the performance front. So, after being on the market for four months the folks at AMD finally decided to slash the price by $150 and that brings the MSRP of the Nano down to $499. With the AMD Radeon R9 Nano priced at $499 that means it is now in the same price category as most NVIDIA GeForce GTX 980 video cards. That is not so good news for those that already bought one, but it is a great opportunity for those that have not to get possibly the best performing graphics card at the $499 price point.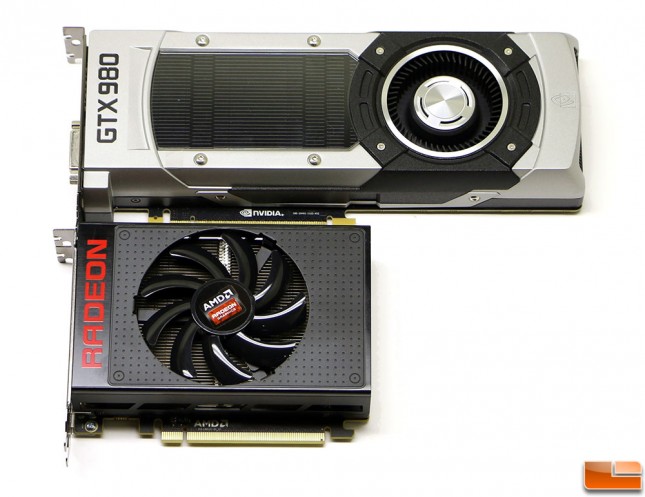 We've spent the past couple days benchmark the AMD Radeon R9 Nano with the latest AMD Radeon Software Crimson Edition 16.1 drivers against the NVIDIA GeForce GTX 980 with Geforce 361.43 drivers to see how the cards perform with the latest video card drivers. We've already published in-depth launch articles covering the Radeon R9 Nano and the GeForce GTX 980, so be sure to reference those if you would like a deeper look at the cards themselves!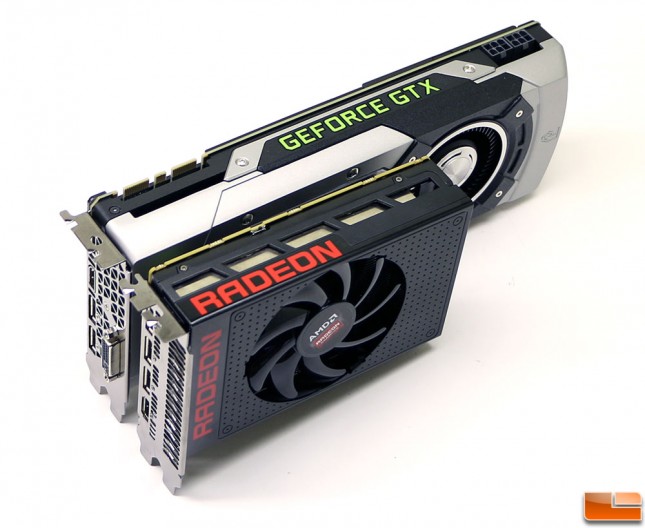 The AMD Radeon R9 Nano is a small graphics card (just shy of 6-inches) that has a compact air cooler on it. It almost looks like a toy video card sitting next to the NVIDIA GeForce GTX 980 reference card that is 10.5-inches in length! The AMD Radeon R9 Nano needs just one 8-pin PCIe power connector and the NVIDIA GeForce GTX 980 needs two 6-pin PCIe power connectors.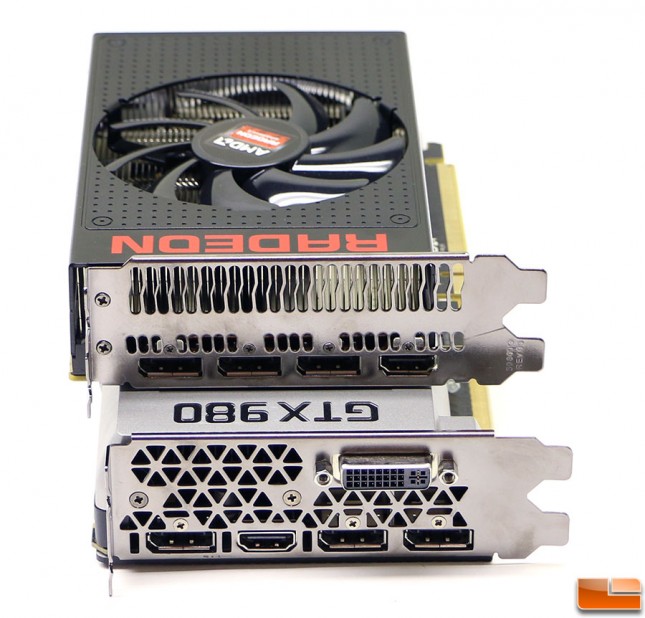 When it comes to video connectors the GeForce GTX 980 wins with a Dual Link DVI-I, HDMI 2.0 and three DisplayPort 1.2 video outputs. The AMD Radeon R9 Nano features one HDMI 1.4 port and three DisplayPort 1.2 video outputs. This means that the AMD Radeon R9 Nano is limited to 30Hz for Ultra HD display owners that need to use HDMI. The fact that the GeForce GTX 980 came out in 2014 and can drive 4Kp60 TVs with ease is pretty impressive!
| | | |
| --- | --- | --- |
| | NVIDIA GeForce GTX 980 | AMD Radeon R9 Nano |
| GPU Architecture | 28nm Maxwell | 28nm Fiji |
| CUDA/Shader Cores | 2048 | 4096 |
| GPU boost clock | 1216MHz | N/A |
| GPU base clock | 1126MHz | 1000MHz |
| Texture Units | 128 | 256 |
| Texture Fillrate | 144.3 GTexel/s | 256.0 GTexel/s |
| Memory | 4GB GDDR5 | 4GB HBM1 |
| Memory clock | 1753MHz (7012MHz) | 500MHz (1000MHz) |
| Memory interface | 256-bit | 4096-bit |
| Memory Bandwidth | 224.4 GB/s | 512.0 GB/s |
| 0dB Fanless Idle | No | No |
| Length | 10.5-inches | 5.98-inches |
| Recommended PSU | 500 Watts | 550 Watts |
| Power Connectors | 2 x 6-pin PCIe | 1 x 8-pin PCIe |
| Street Price | $479.99 | $499.99 |
When you compare some of the main specifications of the GeForce GTX 980 and the Radeon R9 Nano it looks like it should be an easy win for the AMD Radeon R9 Nano, but let's take a look at what the benchmarks have so say.
On to the benchmarks!