AMD Radeon R9 Nano 4GB Video Card Review
By
AMD Radeon R9 Nano – Best Mini-ITX Card Ever?
AMD today released the tiny six inch long Radeon R9 Nano into the market. The AMD Radeon R9 Nano is a very interesting graphics card since it features a fully enabled AMD Fiji XT GPU that has a core clock of up to 1000 MHz and a TDP of just 175 Watts. The Radeon R9 Nano was paper launched back in August, so all of the specifications have already been published.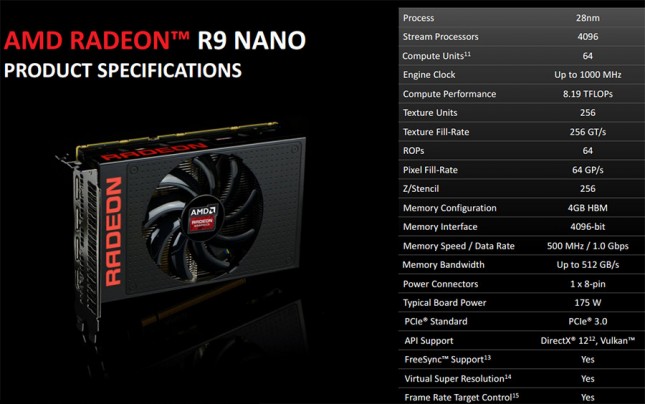 The Radeon R9 Nano features the full AMD Fiji GPU with 4096 Stream Processors and 64 Compute units running at 1000MHz. This is good for 8.19 TFLOPS of GPU compute performance or 1.365 TFLOPS per inch! The 4GB of HBM 1 memory running at 500MHz uses a 4096-bit bus and has 512 GB/s of memory bandwidth. When it comes to power the card is shown as using 175W under typical scenarios and has just one 8-pin PCIe power connector on the end of the card. The AMD Radeon R9 Fury X is a 275W card, so AMD will be lowering clock speeds and voltages to get the R9 Nano to fit in the power envelope that it is designed for. This means that it will likely be running in the 800-1000 MHz range and if the card hits 85C it will be thermally constrained by the cards software.
AMD went with a premium industrial design for the cards GPU cooler. This means you have a dual vapor chamber and heat-pipe copper block that helps transfer heat to the cooling fins. The Nano card also has a dedicated heat-pipe for Voltage Regulator cooling. The GPU cooler is topped off with a full metal shroud. AMD says that this cooler will prevent the Nano from being thermally constrained. We should make it clear that AMD is now allowing any of their board partners to build custom Nano boards, so of the AIB partners will be just adding stickers to this card to differentiate themselves from one another.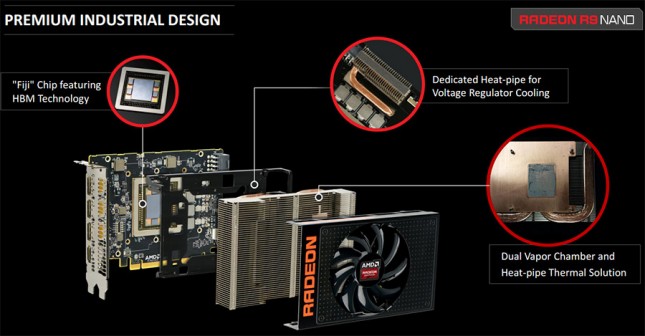 When it comes to performance the folks over at AMD believe that the AMD Radeon R9 Nano is the fastest Mini-ITX graphics card to ever be released. They included some 4K performance results against the NVIDIA GeForce GTX 970 Mini-ITX graphics card to show that this tiny card is superior and has enough horsepower to beat one of NVIDIAs flagship series cards.

The one big hurdle that the AMD Radeon R9 Nano has is its suggested retail price of $649 or 520 for our friends across the pond. AMD is hoping that the smaller form factor design will win over the hearts and minds of enthusiasts and make them willing to pay a premium. The Gigabyte GeForce GTX 970 Mini ITX Overclocked 4GB video card is priced at $304.99 shipped after rebate and the ASUS GeForce GTX 970 Mini-ITX 4GB card is priced at $334.99 shipped after rebate, so the AMD Radeon R9 Nano is $314 to $344 more expensive than competing cards from NVIDIA's board partners.
Today we'll be taking a look at the AMD Radeon R9 Nano ($649) and will be comparing it to the ASUS GeForce GTX 970 Mini-ITX card to see who has the fastest graphics card for those looking for something really tiny!