AMD Kaveri A8-7600 and A10-7800 APU Review
By
AMD Introduces The A10-7800 and A8-7600 Kaveri APUs
AMD today introduced the new AMD A10-7800 and A8-7600 Accelerated Processing Units (APU) to the component channel. These processors are part of AMD's 4th Generation of APU's that are code named Kaveri. Kaveri is AMD's first processor that utilizes the Heterogeneous System Architecture (HSA) and is aimed at the system builder and Do-It-Yourself (DIY) PC market.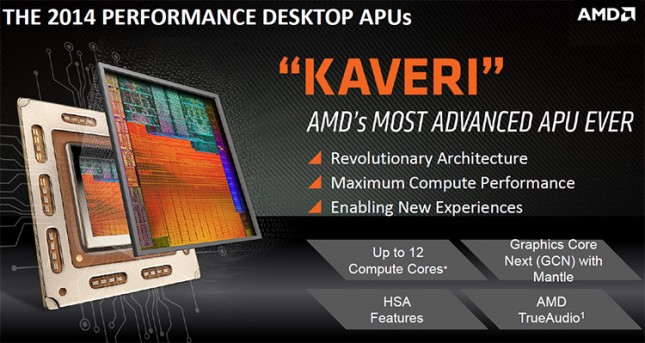 Kaveri APUs feature up to 12 Compute Cores (4 CPU + 8 GPU) and the number of CPUs and GPUs will vary depending on which A-Series APU you are looking at getting. The four CPU cores use the AMD Steamroller microarchitecture and the 8 GPU cores feature Graphics Core Next (GNC) technology with Mantle and TruseAudio functionality. Being designed with HSA from the get go allows the CPU and GPU to work together in harmony by quickly dividing and directing tasks to the appropriate cores for new levels of performance and efficiency for desktop and notebook PCs, enabling a new era of compute capabilities with compute cores So, you have the latest latest technology features that AMD has to offer inside a desktop processor for AMD FM2+ platforms (AMD A88X, A78 and A58 Chipset based motherboards).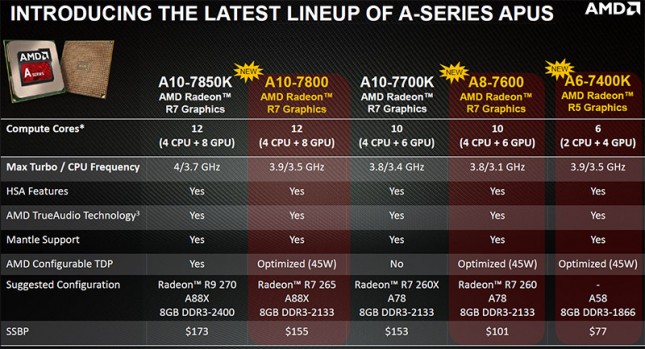 Today, AMD is refreshing its line of Kaveri APUs with the launch of three new versions; the A10-7800 ($155), A8-7600 ($101) and A6-7400K ($77). Thi will lower the entry price point to the widely-available FM2 platform for those wanting a Kaveri processor from $153 to $77, which is a substantial price decrease. The Intel Pentium G3258 processor is priced at $69.99 shipped, so the AMD A6-7400 will be priced about $10 higher than an unlocked dual-core Haswell processor from the Intel Pentium series. The flagship APU is still the AMD A10-7850K that has a suggested price of $173, but can be found online for $169.97 shipped. AMD A58 based motherboards like the Gigabyte GA-F@A58M-DS2 start at just $46.99 shipped after rebate, so you can pick up a board and a processor for under $125!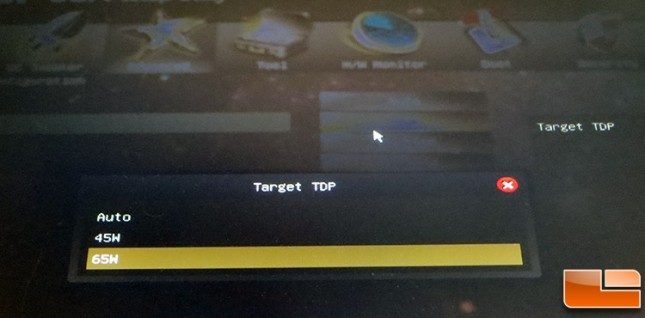 It should be noted that the AMD A10-7850K and AMD A10-7700K are both 95W TDP parts and that the three new 28nm Kaveri processors are all 65W and 45W TDP parts. How can they be both? AMD has allowed the processors to have a UEFI/BIOS configurable TDP, so you can adjust the TDP depending on what your specific build needs are (see the image above). This impacts the clock speeds of the processor though, so the overall performance of the processor will be different depending on if you choose the 45W or 65W TDP operating mode.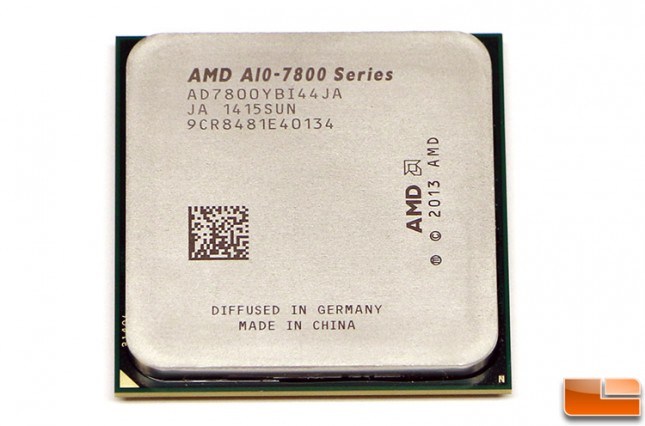 Here is a look at the AMD A10-7800 Kaveri APU. On the Integrated Heat Spreader (IHS) you'll find the model model number, manufacturer date, batch number and where it was made. This particular AMD A10-7800 APU was made on week 15 of 2014 in China.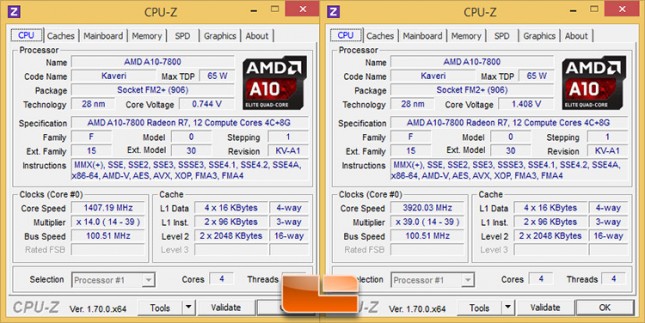 This AMD A10-7800 APU has four CPU cores and eight active GPU cores (512 stream processors since each GPU has 64 shaders), which make this a fully enabled processor, albeit with locked multipliers. The A10-7800 APU has a base CPU frequency of 3.5GHz and max Turbo Core frequency of 3.9GHz, when configured for a 65w TDP. When configured for a 45w TDP, the CPU cores are clocked at 3.3GHz base and 3.8GHz turbo. The GPU is clocked at 720MHz regardless of the TDP power target.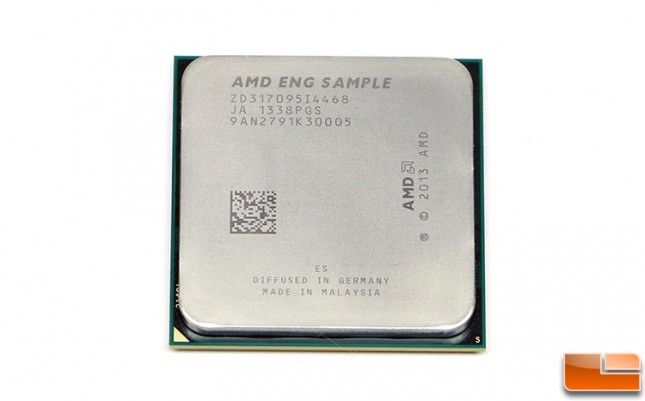 We also received the AMD A8-7600 APU to test, but this processor was an early engineering sample processor that was made back on week 38 of 2013 in Malaysia.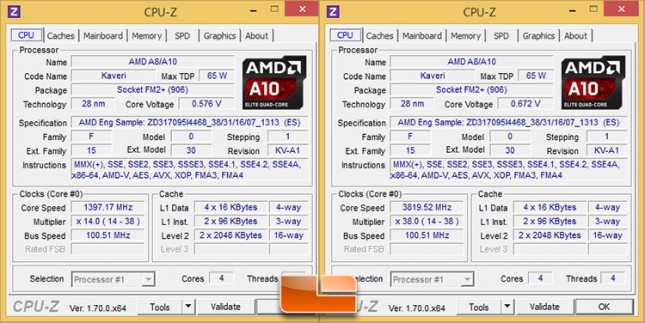 This AMD A8-7600 APU also has four CPU cores, but has only 6 active GPU cores (384 stream processors). The A8-7600 APU has a base CPU frequency of 3.3GHz and max Turbo Core frequency of 3.8GHz, when configured for a 65w TDP. When configured for a 45w TDP, the CPU cores are clocked at 3.1GHz base and 3.3GHz turbo. The GPU is clocked at 720MHz regardless of the TDP power target just like on the AMD A10-7800.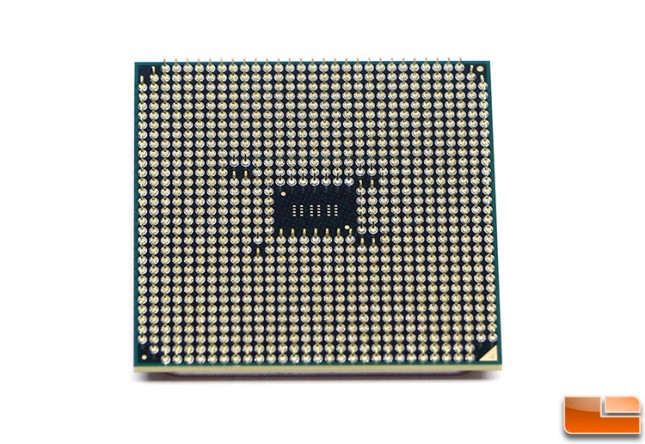 Flipping the processors over you can see that the pins that make up this FM2+ socketed processor. There are 904 pins on a FM2+ socket for those that are curious.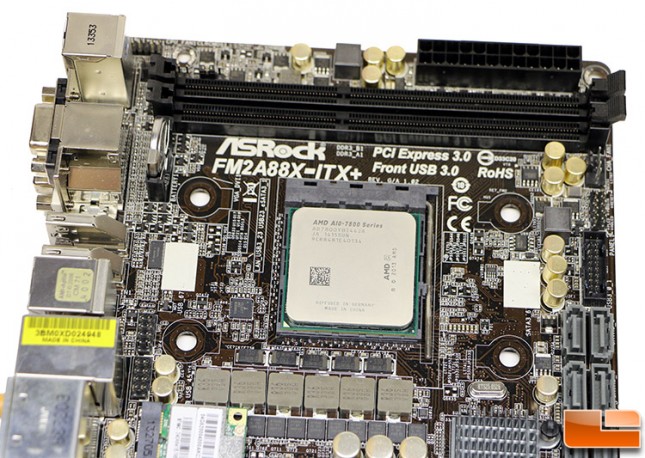 Let's take a look at how the AMD A10-7800 and the A8-7600 APUs both perform in our AMD A88X test platform!