AMD A8-5600K Trinity Desktop APU Review
By
AMD A8-5600K Trinity APU
Earlier this month AMD launched new Accelerated Processing Units (APUs) based on the Trinity architecture along with the socket FM2 motherboards that are needed to for the new processors. AMD has a number of APUs that are based on the Trinity APU architecture, but we have only reviewed the A10-5800K. The AMD A10-5800K is the flagship APU and thus, it is also the most expensive at $129.99 shipped. We found this processor to perform well, but it left us wondering what could be had for less money. Not everyone wants to buy the most expensive processor in a series, so if you are looking something that is in the middle of the pack you are in luck!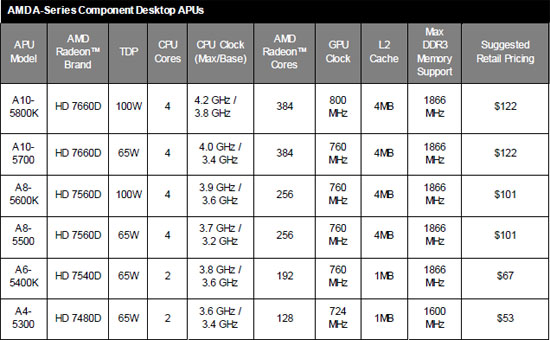 Today, we are going to be looking at the AMD A8-5600K APU (model number AD560KWOHJBOX) that can be bought today at Newegg for $99.99 shipped after using coupon code "EMCYTZT2363". The AMD A8-5600K is an unlocked quad-core processor that has a base clock of 3.6 GHz with a Turbo allowance up to 3.9 GHz. The A8-5600K APU is rated at 100W TDP and has a 4MB L2 cache. So, you have a processor with a 200MHz lower base clock and the same amount of cache for $30 or roughly 30% less money.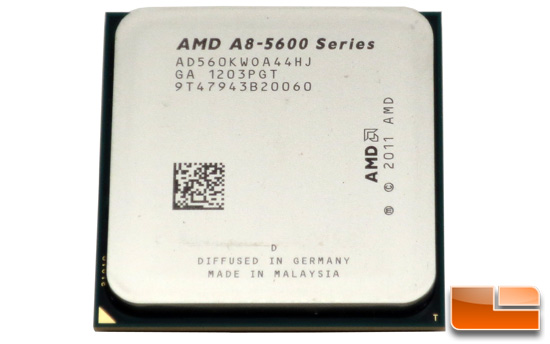 Where the AMD A8-5600K APU is significantly different is the DirectX 11 graphics processor. The AMD A8-5600K uses the less powerful AMD Radeon HD 7560D graphics processor. This GPU solution has 256 Radeon (shader) cores running at 760 MHz, which means it has 33% fewer GPU cores and to make matters worse they are clocked lower as well. That means that the AMD A8-5600K graphics will be significantly slower than the AMD A10-5800K. The question that we have to ask is by how much in the games. Regaurdless, the AMD A8-5600K should still be better than Intel HD 4000 Graphics offered by Intel's latest third-generation Core processors, codenamed Ivy Bridge. We've never seen for a 3.6GHz quad-core CPU for under $100 shipped before, so this processor sounds good on paper.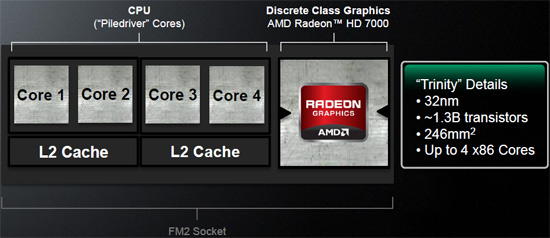 AMDs new 'Trinity' APU arel manufactured by GlobalFoundries' on the 32 nm SOI process process, using the newer Piledriver x86 architecture. This is the same architecture that is used on high-end Bulldozer processors, so we are finally seeing this technology available on mainstream processors. The Trinity APU has roughly 1.3 billion transistors and is 246mm2.
AMD A8-5600K 'Trinity' APU CPU-Z 1.61.3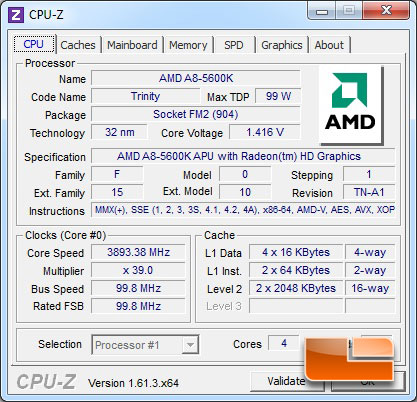 Taking a quick look at CPU-Z 1.61.3 above, we can see our AMD A8-5600K 'Trinity' APU has a Bclk of 100MHz, though the GIGABYTE GA-F2A85X-UP4 picks it up at 99.8MHz. The base multiplier sits at 36x and ramps up to 3.9GHz when the AMD Turbo Core is enabled as we can see above.
AMD A8-5600K 'Trinity' APU Radeon HD 7560D GPUz 0.6.5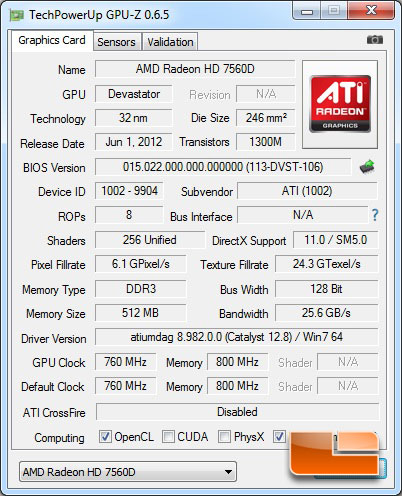 Taking a look at the latest release of GPUz 0.6.5, we can see the details mentioned above. The AMD Radeon HD 7560D has 256 AMD Radeon Cores running at 760MHz. At default settings in the BIOS on the GIGABYTE GA-F2A85X-UP4 dedicates 512MB of the 8GB installed to the graphics processor. From within the GIGABYTE UEFI BIOS we can manually set the frame buffer size up to 2Gb.
Enough with the small talk, lets move on to the testing!