480GB HyperX Predator M.2 PCIe SSD Review
By
HyperX Predator M.2 PCIe G2 x4 SSD
HyperX today released the HyperX Predator PCIe SSD! This highly anticipated drive was supposed to ship in February 2015, but was delayed a number of weeks in order to give Kingston time to perfect the firmware on their new highest-end SSD. Getting the HyperX Predator PCIe SSD firmware dialed in was important to everyone at Kingston as not only is this their flagship SSD in the HyperX lineup, but it is also Kingston Technology's very first M.2 PCI Express drive! For some time now enthusiasts have found that new SSDs using the SATA III interface being speed restricted by the 6.0Gb/s theoretical bandwidth limit. The HyperX Predator PCIe SSD uses the PCI Express Gen 2.0 x 4 interface to deliver up to 1400MB/s read and 1000MB/s write for an ultra-responsive system! You are talking about sequential read speeds that are up to 2.5x faster, so one of these M.2 PCIe G2 x4 SSDs is like running a pair of older SSDs in RAID 0 and that is just the beginning of where PCI Express based storage drives will be heading.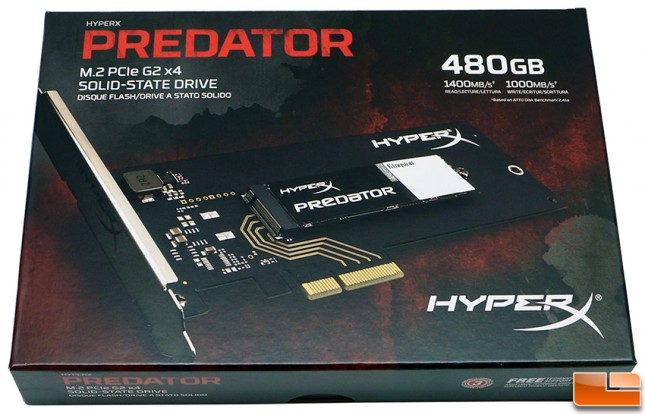 The HyperX Predator PCIe SSD is available now in 240GB and 480GB capacities with a monster 960GB version coming hopefully in Q3 2015 if all goes as planned. The HyperX division will be offering this drive in a M.2 form factor or paired with an optional half-height, half-length (HHHL) adapter for use on desktop motherboards without a built-in M.2 socket.
HyperX Predator PCIe SSD Drives
Part Number
Capacity and Features
Sequential (R/W)
Max 4K IOPS (R/W)
MSRP
Price
SHPM2280P2/240G
M.2 Form Factor 240GB
1400/600 MB/s
160k/119k IOPS
$382.00
$230.74
SHPM2280P2/480G
M.2 Form Factor 480GB
1400/1000 MB/s
130k/118K IOPS
$764.00
$458.74
SHPM2280P2H/240G
HHHL Form Factor 240GB
1400/600 MB/s
160k/119k IOPS
$400.00
$241.74
SHPM2280P2H/480G
HHHL Form Factor 480GB
1400/1000 MB/s
130k/118K IOPS
$782.00
$469.74
SHPM2280P2H/960G
HHHL Form Factor 960GB
unknown
unknown
Q3 2015
The HyperX Predator 480GB M.2 PCIe SSD is the drive that we'll be looking at today and it features read speeds of up to 1.4GB/s and write speeds of up to 1GB/s. When looking at maximum random 4k Read/Write IOPS, you can expect to see up to 130,000 Read and 118,000 Write on the 480GB model. The performance numbers on the HyperX 240GB are different from the larger 480GB drive to due the amount of flash that is available and how it connects to the the drives Marvell 88SS9293 controller. The HyperX Predator PCIe 240GB drive has sequential read speeds of 1.4GB/s Read and 600MB/s Write and peak random 4K IOPS of 160,000 Read and 119,000 Write. The amount of NAND Flash memory on the drive also impacts the total bytes written (TBW) rating for the drives. The 240GB model can write 415TB (1.6 Drive Writes Per Day) and the 480GB model sports a 882TB rating (1.7 Drive Writes Per Day).
While the drives might differ in the baseline performance numbers they are identical with regards to many of the other features for this series of drives. For example both have a life expectancy of 1 million hours (MTBF), support TRIM, have a 3-year warranty with free tech support and have a safe operating temperature range of 0C to 70C. Kingston didn't break down the power numbers by capacity, but stated that the HyperX Predator PCIe SSD drive has an idle power consumption of 1.38W and then will hit at most 1.99W during Read operations and then 8.25W in heavy Write situations. These are fairly high power numbers and while the HyperX Predator PCIe SSD series can work in both notebooks and desktop PCs, it is obviously best suited for desktop scenarios and not inside devices that are battery powered where battery life is a concern!
When it comes to pricing the MSRP on the bare M.2 drives by Kingston are $382 for the 240GB drive and $764 for the larger 480GB drive. This means you are looking at $1.59 per GB no matter what capacity drive you are looking for. The good news that online pricing on launch day was $230.74 for the 240GB model and $458.74 on the 480GB PCIe SSD. This brings the price down to $0.96 per GB for both of the drives, which is much lower than we were expecting. The Plextor M6e series that we reviewed last year comes with the previous generation Marvell controller and actually costs more (runs $253.99 shipped)! The prices on these drives are very aggressive!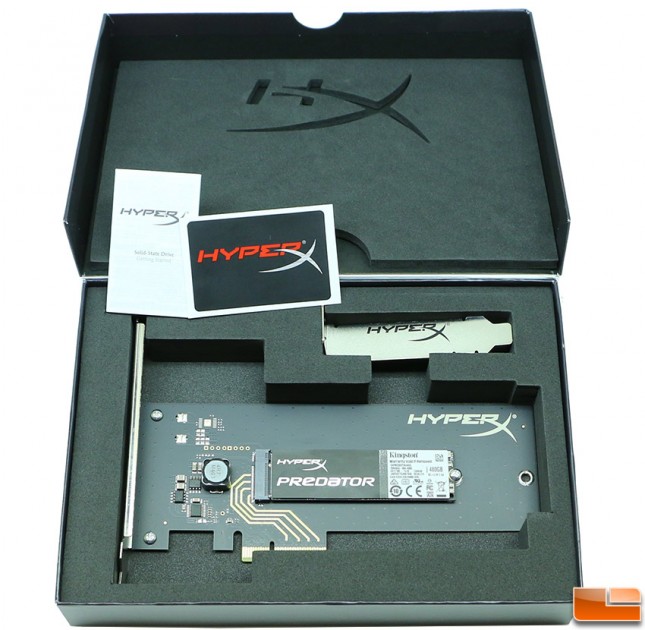 Inside the retail packaging for the HyperX Predator PCIe SSD we found the M.2 drive already attached to the HHHL adapter. If your system features a slim desktop chassis fear not as Kingston included a low-profile bracket in the accessory bundle for you to switch to. You also get a HyperX sticker, SSD setup guide and a hard drive cloning software coupon key that you can use online to download the software if you needed it.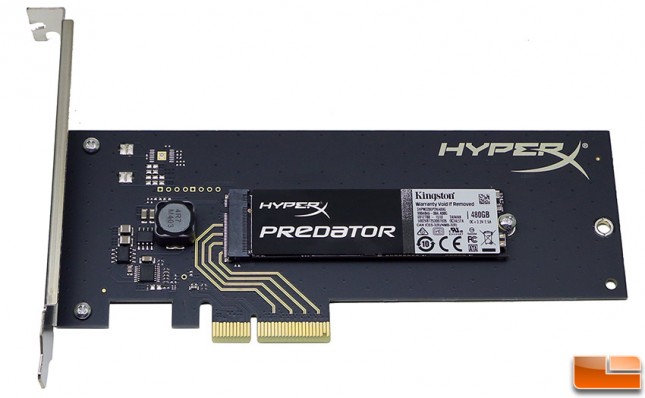 The HyperX Predator PCIe SSD is aimed at enthusiasts and gamers, so we are glad to see that Kingston went with black PCBs for both the PCIe adapter card and the M.2 SSD itself. The M.2 drive is a standard 2280 SSD card that is held to the PCIe adapter with a single Philips screw. You can quickly remove the M.2 drive from the adapter and use it in another product that has an M.2 slot that supports cards with the M key connector. When we installed the HyperX Predator in our test system for the very first time we noticed that there are no LED lights whatsoever! When we reviewed the Plextor M6e and M6e Black PCIe SSDs we found up to five LEDs that were multiple colors that were flashing and constantly lit. It can be annoying to some people to have lights constantly on without any control over them, so if that sounds like you the HyperX Predator PCIe SSD should already be off to a good start.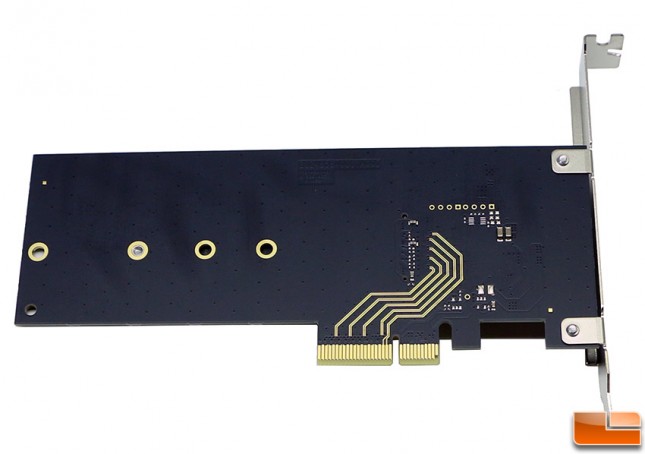 Besides a couple resistors on the back of the PCB there is nothing significant to note!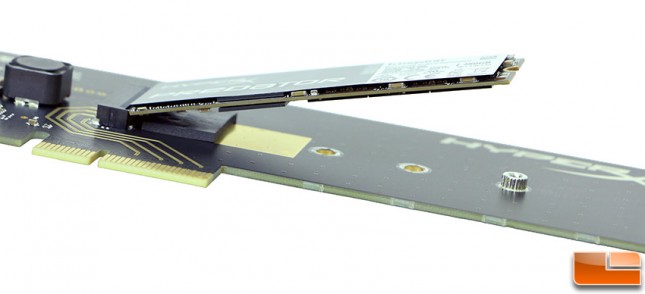 When we took the M.2 card off the PCIe adapter we noticed that it didn't pop right up and that is because Kingston placed a small thermal pad under the power circuitry of the card to help dissipate heat into the adapter card itself.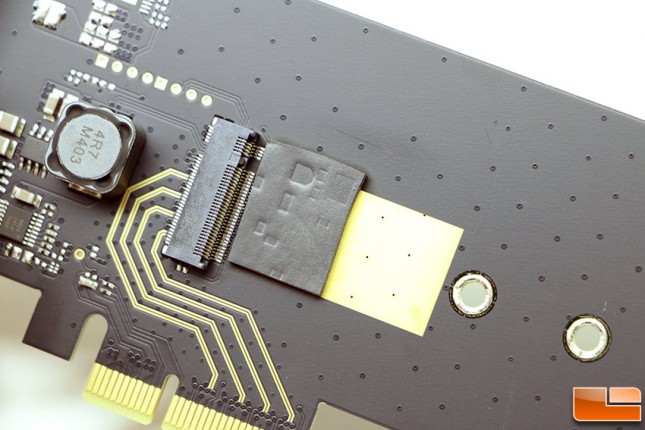 Here you can see the M.2 socket along with impressions from the various components that the thermal pad is helping to transfer heat away from. This thermal pad wasn't an afterthought as Kingston left one of the copper layers of their PCB exposed to improve the heat transfer.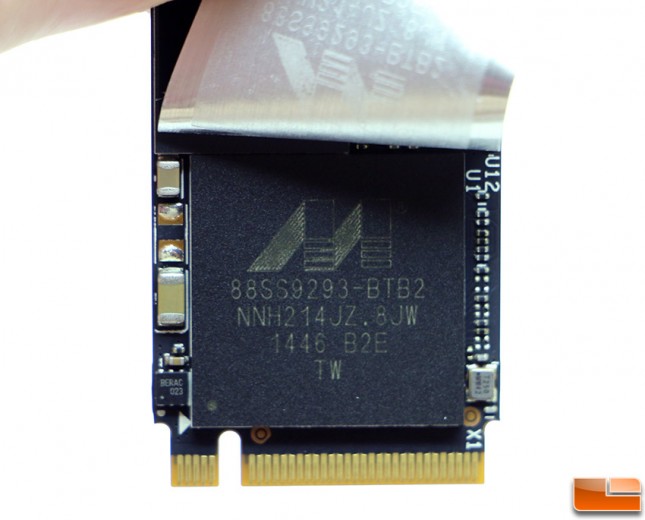 Kingston is using the Marvell 88SS9293 Altaplus PCIe 2.0 x4 SSD Controller on this drive series, which is the latest controller that Marvell has to offer. The Plextor M7e uses the same controller, but Plextor appears to be months away from launching that competing product. This controller is not capable of supporting NVM Express (NVMe) so there will not be a firmware update that adds support of this feature down the road. Kingston will allow end-user firmware updates on the HyperX Predator PCIe SSD if there should ever be a need for a firmware update to be released.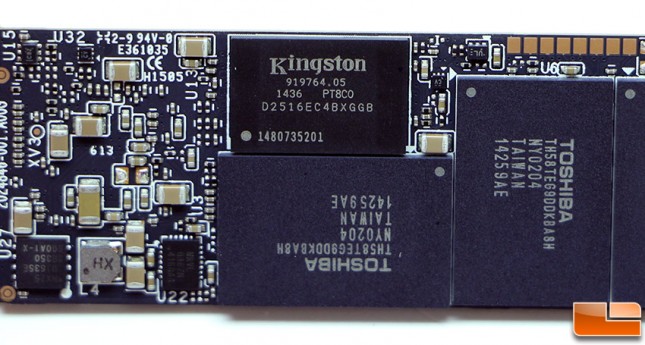 The controller has 1GB of DDR3 memory at its disposal for caching purposes. Kingston when with some 1600MHz DDR3 ICs that they packaged in-house and there is one 512MB package on each side of the drive.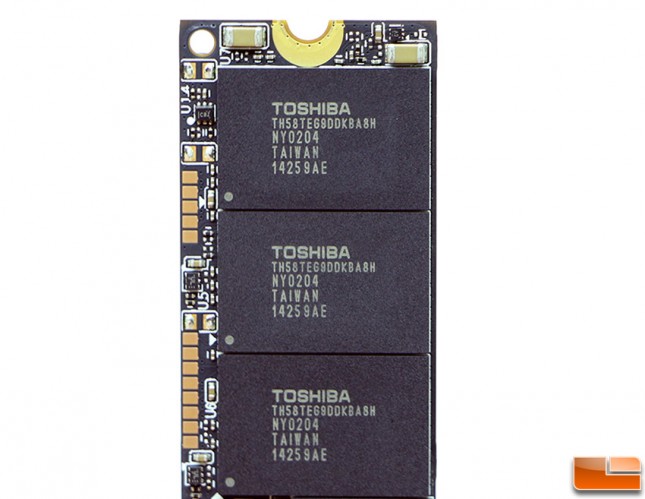 Kingston went with Toshiba A19 Toggle NAND that feature part number TH58TEG8DDKBA8H. There are four of these 64GB NAND packages on each side of the M.2 module for a total of 512GB of storage space. By the time some of that capacity is used for over-provisioning and the drive is formatted there is 447GB of usable storage space that shows up in Windows.