480GB HyperX Predator M.2 PCIe SSD Review
By
ATTO & AS-SSD Benchmarks
ATTO v2.47
ATTO is one of the oldest drive benchmarks still being used today and is still very relevant in the SSD world. ATTO measures transfers across a specific volume length. It measures raw transfer rates for both reads and writes and places the data into graphs that can be very easily interpreted. The test was run with the default runs of 0.5KB through 8192KB transfer sizes with the total length being 256MB.
HyperX Predator PCIe SSD 480GB: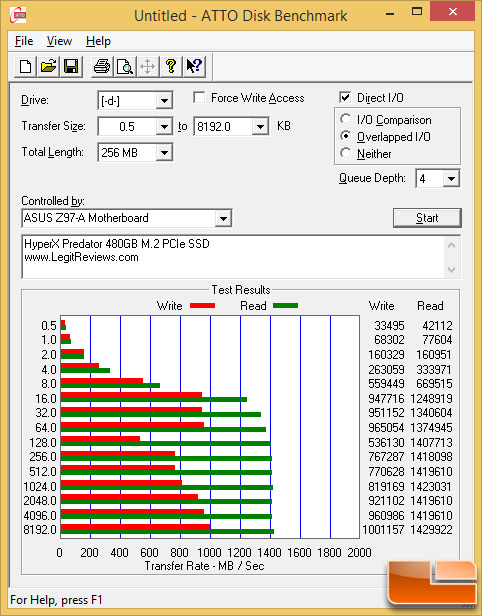 Plextor M6e Black Edition 256GB:
Benchmark Results: ATTO showed the Plextor M6e 256GB M.2 SSD maxing out at 720 MB/s read and 579MB/s write in the standard overlapped I/O benchmark. The HyperX Predator Black 480GB PCIe SSD drive crushed those numbers and topped out at 1429 MB/s read and 1001MB/s with the peak scores on the largest file size tested. The Plextor M6e/M6e Black 256GB drives are rated 770MB/s read and 580MB/s write and the HyperX Predator Black 480GB is rated for 1400MB/s read and 1000MB/s write. The HyperX Predator PCIe SSD appears to have a performance dip when it comes to write speeds on 128kb file sizes, but the 536MB/s write speed at on that particular isn't too far off from the Plextor M6e Black and its write score of 570MB/s for that specific block size.