480GB HyperX Predator M.2 PCIe SSD Review
By
AS SSD Benchmark & PCMark 8
AS-SSD (1.7.4739.38088) Benchmark:
We have been running the AS-SSD Benchmark app for over some time now and found that it gives a broad result set. The programmer has worked very hard on this software and continues to make updates often so if you use it, show him some love and send him a donation. There are now three tests that are found within the tool and we'll show the results from all three of them.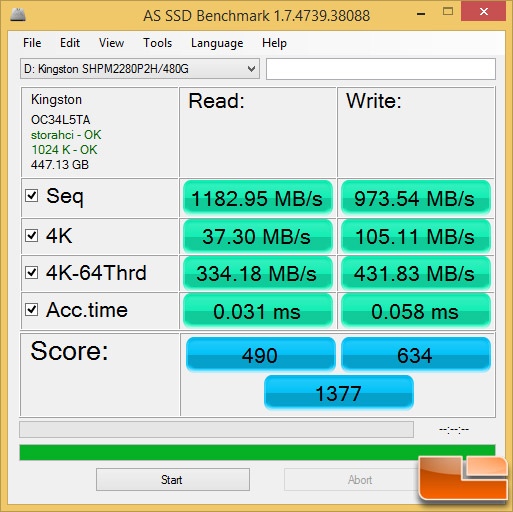 Benchmark Results: AS SSD showed the HyperX Predator 480GB M.2 PCIe SSD hitting 1183 MB/s read and 974 MB/s write in the sequential benchmark with the overall score being 1377 points. 4K performance was observed at 37MB/s read and 105MB/s write. The AS SSD Copy-Benchmark showed ISO speeds of 781MB/s and the game test hit 450MB/s!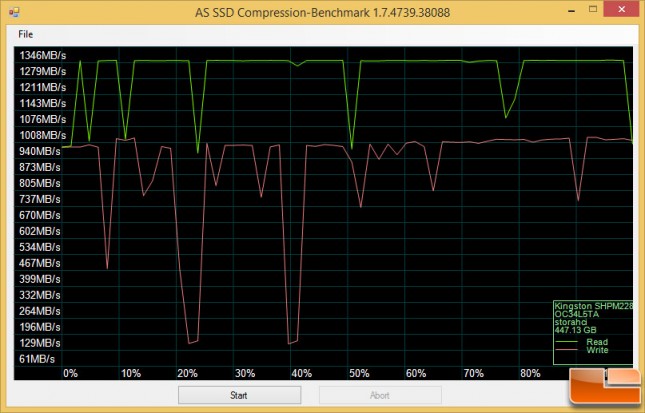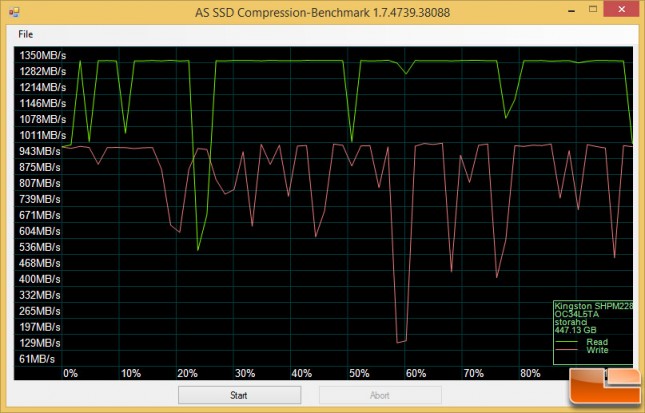 Benchmark Results: For this benchmark chart you would ideally want to see a straight line as you don't want any compression performance loss as the test goes from 0% compressible to 100% compressible data during the benchmark test period. The HyperX Predator M.2 PCIe SSD performance has a number of unexplained performance dips in both the read and write test scenarios. We ran the test a number of times and at times we saw the read performance go from roughly 1350MB/s to 536MB/s and the write performance go from 943MB/s to 129MB/s, so some of the performance dips are rather extreme. What happens if you Secure Erase the drive and then run the AS SSD Compression-Benchmark immediately after the Secure Erase was completed?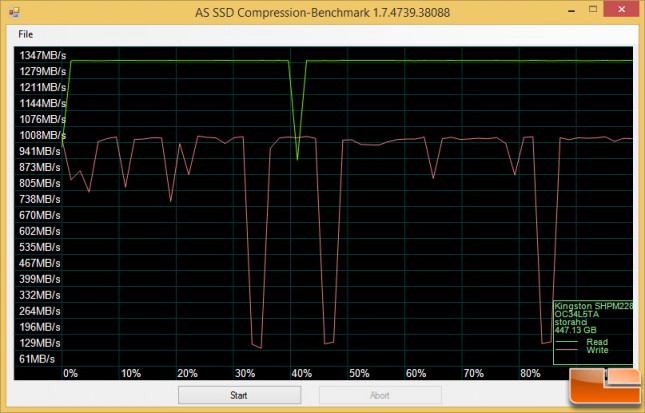 Pretty much the same thing with regards to the write speeds, but the read speeds are much more stable.
PCMark 8 Storage Test
PCMark 8 is the latest version in Futuremark's series of industry standard PC benchmarking tools. With PCMark 8 you can test the performance of all types of PC, from tablets to desktops. With five separate benchmark tests plus battery life testing, PCMark 8 helps you find the devices that offer the perfect combination of efficiency and performance. PCMark 8 is the complete PC benchmark for home and business. We ran the storage benchmark test suite on the HyperX Predator PCIe SSD.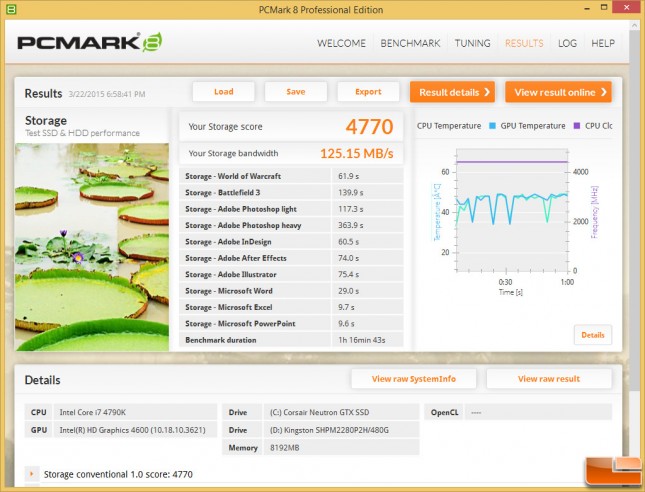 Benchmark Results: When it comes to PCMark 8 performance you are looking at an overall score of 4770, which is slightly lower than Kingston's reported PCMark 8 Storage Score of 5017. The difference is under 5% though (4.9% to be exact), so we aren't too worried about the discrepancy. That said, we used PCMark 8 version 2.3.293 with SystemInfo version 4.35.507.0 for testing and Kingston used an earlier version of the software on a different platform for testing (Intel X99). We also ran this drive on our Intel X99 test platform and got an overall PCMark 8 storage score of 5018 and a storage bandwidth of 337MB/s. This is right where Kingston said it should be, so it looks like there is a slight performance difference that may be seen between various platforms.