Plextor M6e 256GB M.2 PCIe SSD Review
By
M.2 PCI Express x2 SSDs Finally Arrive
Storage drives have long been the Achilles' heel for computers and when the SATA III 6Gb/s interface emerged in 2009, enthusiasts were able to satisfy their speed cravings with a wide selection of SSDs that made rotational drives look archaic. In recent years the SSD controllers and NAND Flash have gotten so good that we have managed to saturate the SATA III 6Gb/s interface and enthusiasts have found themselves hitting the theoretical max wall at 550MB/s read and write. If you have bought an SSD in the past year you'll know this as there are literally hundreds of SSDs with ratings close to 550MB/s when it comes to read speeds at least and many that are over 500MB/s on write speeds. Are you wanting to get beyond 550MB/s without having to do a RAID setup? Are you willing to try a new interface? Meet the Plextor M6e Series of PCI Express SSDs!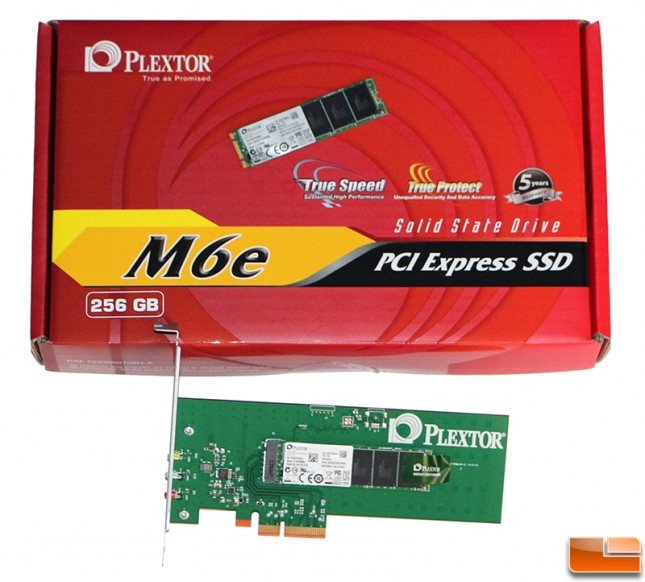 Plextor is leading the charge for native PCIe SSDs and has come up with the first readily-available M.2 PCIe SSD on the consumer market. Other drives like the Samsung XP941 series have been around much longer, but they are OEM only and aren't really meant for end users. Plextor has stepped up to the plate with a drive that had end user firmware updates, an impressive 5-year warranty and mouth watering speeds. How fast are we talking? How does sequential read/write speeds of up to 770/625 MB/s and Random Read/Write 4k IOPS of 105,000/100,000 sound? Not bad for a tiny drive that just pops in your motherboards M.2 slot and doesn't even need a power or data cable like a traditional 2.5-inch hard drive. It is a very good sign that the first M.2 PCI Express drive to market raises the bar when it comes to performance! Get ready to see enthusiasts shift away from SATA III and over to PCIe now that Intel has released the 9 series of chipsets. The M.2 interface is rated at 16Gbps (1GB/s), so it is time to break the SATA III 6Gb/s bottleneck!
The Plextor M6e series is available in 128GB, 256GB, and 512GB capacities. On top of capacity you also get to choose what PCIe slot that you like to use. Plextor offers the M6e PCIe Gen2 x2 SSD as a stand alone drive with a part number that starts with PX-G or with an adapter for a PCIe Gen 2.0 x4 slot (M6e HHHL PCIe) for a little more money under part numbers that start with PX-AG. The PCI Express interface used is different, but the M6e M.2 drive itself is identical on both products as is the performance.
Plextor M6e M.2 SSD Series Models and Specifications
| | | | |
| --- | --- | --- | --- |
| Model Number | PX-G128M6e | PX-G256M6e | PX-G512M6e |
| Form Factor | M.2 2280 | M.2 2280 | M.2 2280 |
| Capacity | 128 GB | 256 GB | 512 GB |
| Price | $128.43 | $236.25 | $449.99 |
| Price Per GB | $1.00 | $0.92 | $0.88 |
| Controller | Marvell 88SS9183 | Marvell 88SS9183 | Marvell 88SS9183 |
| NAND | 19nm Toshiba Toggle Mode MLC | 19nm Toshiba Toggle Mode MLC | 19nm Toshiba Toggle Mode MLC |
| Sequential Reads | 770 MB/s | 770 MB/s | 770 MB/s |
| Sequential Writes | 335 MB/s | 580 MB/s | 625 MB/s |
| 4K Random Read | 96,000 IOPS | 105,000 IOPS | 105,000 IOPS |
| 4K Random Write | 83,000 IOPS | 100,000 IOPS | 100,000 IOPS |
| Interface | PCIe 2.0 x2 | PCIe 2.0 x2 | PCIe 2.0 x2 |
| Voltage (Min-Max) | 3.135-3.465V | 3.135-3.465V | 3.135-3.465V |
| Warranty | 5 Years | 5 Years | 5 Years |
Not all M6e PCIe Gen2 x2 SSDs are created equally though. The read performance is 770MB/s on all of the different capacities, but the write performance greatly varies between capacities due to the amount of NAND and the number of lanes available on the controller to connect to the NAND. The Plextor M6e 128GB features sequential reads of just 335MB/s that figure jumps up to 580MB/s at 256GB and ultimately 625MB/s on the 512GB drive. So, if you spend the extra $108 (46% more) and move up to the 256GB drive you'll double your storage capacity and get a drive with a 73% higher sequential write speed rating. If you are after having the best performance possible it looks like the clear choices are either the 256GB or 512GB SSDs. Today we will be looking specifically at the PX-G256M6e, which is the 256GB model.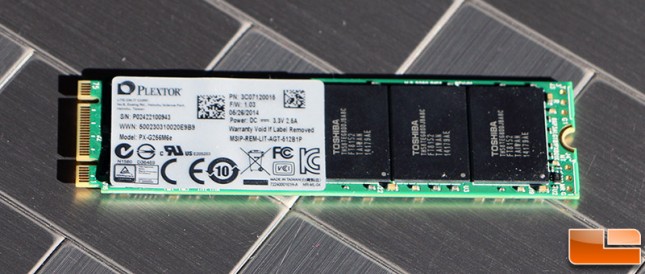 The Plextor M6e series uses the Marvell 88SS9183-BNP2 native PCIe 2.0 controller that uses custom firmware that was designed by Plextor themselves. The Marvell 88SS9183 controller supports two Gen 2 PCIe lanes and the firmware has been optimized for AHCI mode. A single NANYA branded 512MB DDR3 memory chip is located under the product label and handles the drive caching.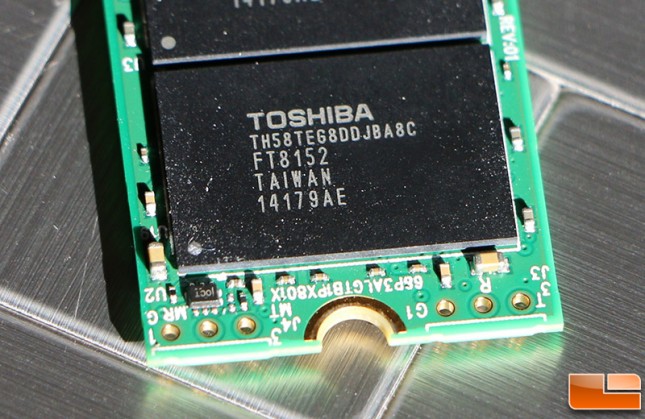 Plextor is using eight 32GB Toshiba TH58TEG8DDJBA8C 19nm Toggle Mode MLC NAND chips on the 256GB Plextor M6e M.2 SSD. You'll find only 240GB of space available in Windows though as Plextor reserved about 7% of the storage space for over-provisioning. Plextor also relyies on the TRIM command and garbage collection algorithms to keep performance up to the rated speeds.
Plextor M6e M.2 2280 256GB M.2 PCI Express x2 Solid-State Drive Specifications:
Mfr Part Number: PX-G256M6E
Capacity: 256 GB
Form Factor: M.2 2280-D5-B-M
Interface: PCI-Express Gen 2 x2
DRAM Cache: 512MB DDR3
Performance:

Sequential Read Rate: Up to 770 MB/s
Sequential Write Rate: Up to 580 MB/s
Random Read Rate (IOPS 4KB): Up to 105,000 IOPS
Random White Rate (IOPS 4KB): Up to 100,000 IOPS

Non-Operating Shock: 1500G @ 1ms half-sine
Vibration: 7 ~ 800Hz, 16.3Grms (Non-operation)
MTBF: >2,400,000 Hours
Connectors:

Power: Voltage – 3.3V, Current – 2.5A
Data: M.2 connector

Operating System Supported: Microsoft Windows 8/ 7 (x86/x64)/ Server 2012/ Server 2008, Linux Series, Fedora, SUSE, Ubuntu, Red Hat 6.5
Certifications: BSMI, UL, TUV, C-Tick, CE, KCC, VCCI, FCC, RoHS, CB
Thickness: 3.8 mm
Dimensions (WxLxH): 22.0 x 80.0 x 3.8 mm
Weight: 13.0 g (Max)
Warranty: 5 Years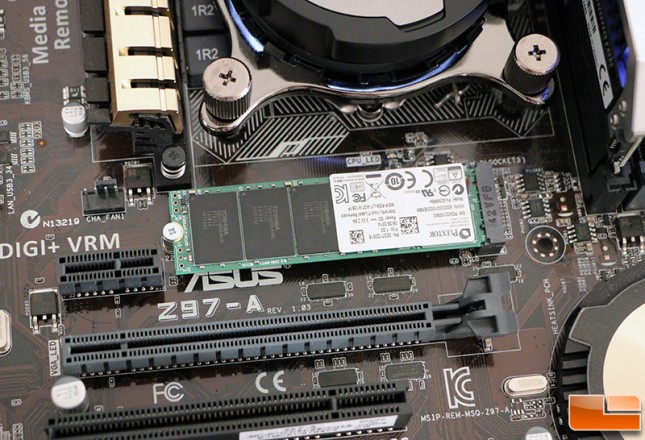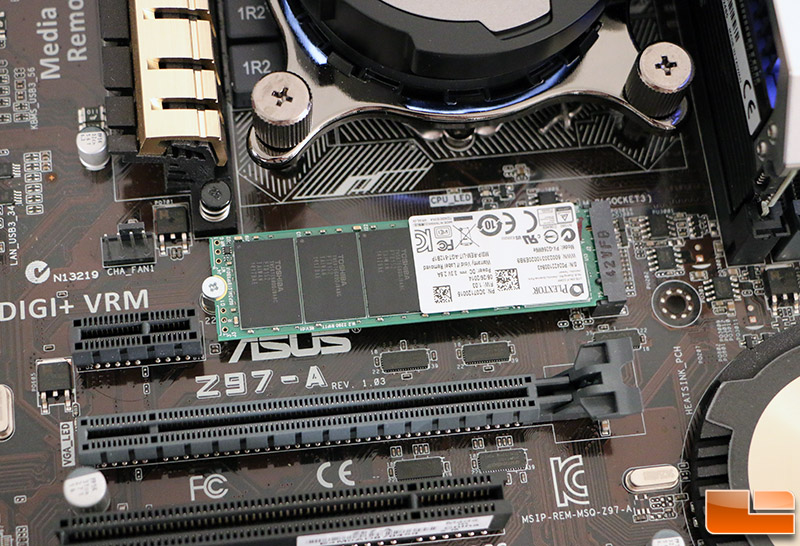 The Plextor PX-G256M6e M.2 SSD that we have is rated with sequential read/write speeds of up to 770/580 MB/s. The Random Read/Write 4k IOPS are 105,000/100,000. In order to get that kind of performance you need to install the drive. That means you need to install it into an M.2 slot. Most Intel Z97 motherboards have one M.2 slot on them, so if you are looking to build a new system you are in luck. Those with older systems that want to get the performance benefits from an M.2 PCIe SSD will need to get an adapter card. Plextor sells this exact card with the PCIe slot adapter under part number PX-AG256M6e for $294.40. If you do the math, it means you are paying about $60 for the adapter. The ASUS Z97-A motherboard we are using today is rather affordable at $143.99 shipped, so the adapter is about half the price of a new board. So, before you plop down $60 on an adapter you might want to look at Intel Z97 boards as many are below $145 and feature M.2 PCIe slots.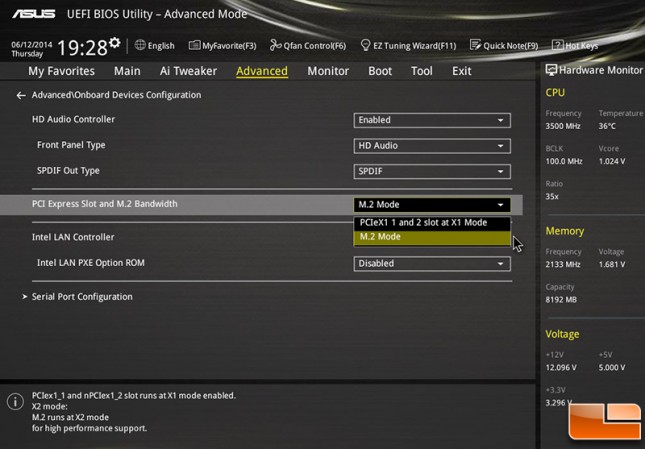 After installing the Plextor M6e Series 256GB M.2 PCIe SSD into the ASUS Z97-A motherboard we fired up Windows 8.1 and found that the drive wasn't detected. We jumped into the UEFI BIOS Utility and couldn't find the drive either. It turns out that you need to manually enable the M.2 slot in the UEFI. Every motherboard is slightly different, but on the ASUS Z97-A it meant that we needed to go to the Advanced tab and then into the onboard devices configurations. There is a drop down menu for PCI Express Slot and M.2 Bandwidth that needs to be changed. The default settings of this board has the two PCIe X1 slots enabled. To run the M.2 PCIe SSD we need to disable those slots and divert the lanes to the M.2 slot. By doing this you are basically re-routing the PCI Gen 2 x2 lanes to the M.2 slot.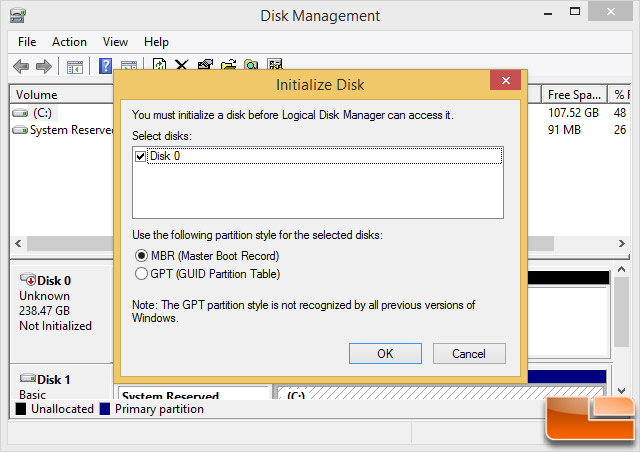 Once you do this you can go into Windows 8.1 Disk Management and initialize the disk to use it as secondary drive or go back into the UEFI and change the boot order to boot off the M.2 slot.
Now that you know the basics of the Plextor M6e series, let's move along to the test system and some of the benchmarks!