AMD Radeon R9 290X 4GB Video Card Review
By
AMD's Radeon R9 290X GPU is Ready To Battle NVIDIA
The AMD Radeon HD 7970 is nearly two years old and if you calculate that in gamer years it would be easily considered past its prime. Video cards dont get better as they age, so you would think that this card would be obsolete by now. The funny thing is that the Radeon HD 7970 is still a very competitive graphics card and was just re-branded this month as the lower cost Radeon R9 280X at $299. The AMD Radeon HD 7950/7970 and even some of the Radeon HD 7870 cards were powered by the 28nm Tahiti GPU that had 2048 stream processors and 3GB of GDDR5 memory in its full form. The AMD Radeon HD 7970 was designed in a time period where the largest resolution monitor available was 2560×1600, but now we have massive 4K Ultra HD monitors at 3840×2160 readily available and falling in price. In order to get more performance, AMD had to tape out an entirely new GPU called Hawaii for the Radeon R9 290X at the $549 price point.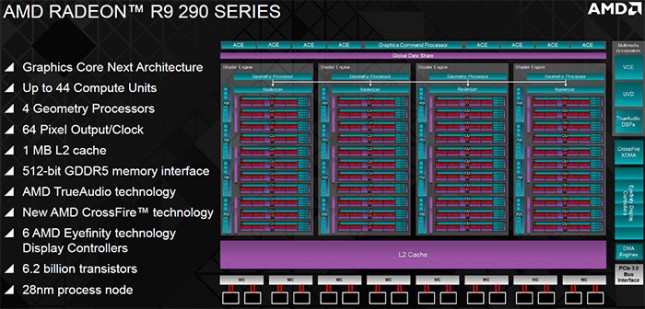 AMD did not go back to the drawing board for a complete, ground up architecture change, so this GPU is based on the Graphics Core Next Architecture and manufactured on the same 28nm process technology used by the existing GPUs. AMD essentially took their high-end Tahiti GPU design and beefed up pretty much everything they could, in some cases like with Render Backends (ROPS) they were doubled! AMD tried to improve everything they could in order to help push the larger displays that high-end gamers are gravitating towards. AMD also changed the way CrossFire video cards communicate and added AMD TrueAudio technology. Basically this means that there is no more CrossFire ribbon cable needed for high-end CrossFire setups and the GPU has a DSP for programmable audio.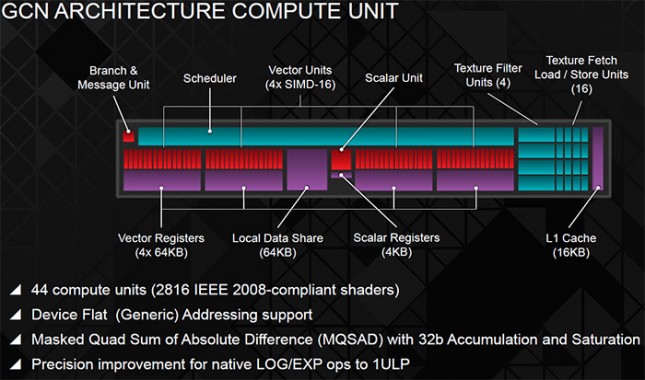 The Hawaii GPU contains ~6.2 billion transistors in a die area of 438mm2. The AMD Radeon HD 7970 has 4.3 billion transistors in a die area of 352mm2. This is a die area increase of 1.24x, so the GPU has gotten bigger since the process node remains at 28nm. The Hawaii GPU used on the Radeon R9 290X has up to 44 compute units for a maximum possible 2816 shaders.
| | Radeon R9 290X | Radeon R9 280X | Radeon HD 7970 |
| --- | --- | --- | --- |
| Release Date | October 2013 | October 2013 | December 2011 |
| Original SRP | $549 | $299 | $549 |
| GPU | Hawaii | Tahiti | Tahiti |
| Process | 28nm | 28nm | 28nm |
| Transistors | 6.2 billion | 4.31 billion | 4.31 billion |
| Stream Processors | 2816 | 2048 | 2048 |
| Clock Speed | 1000 MHz | 1000 MHz | 925 MHz |
| Frame Buffer | 4GB | 3GB | 3GB |
| Memory Width | 512-bit | 384-bit | 384-bit |
| Memory Clock | 1250 MHz | 1500 MHz | 1375 MHz |
| Memory Bandwidth | 320.0 GB/s | 288.0 GB/s | 264.0 GB/s |
| Compute Performance | 5.6 TFLOPS | 4.1 TFLOPS | 3.79 TFLOPS |
| Texture Units | 256 | 128 | 128 |
| ROPs | 64 | 32 | 32 |
| Typical Board Power | ~250W | ~250W | 250W |
The AMD Radeon R9 290X has a a core clock speed of up to 1000MHz with the 4GB of GDDR5 memory running at 1250MHz (5GHz effective) on a massive 512-bit bus. This gives the R9 290X up to 320GB/s of memory bandwidth and 5.6 TFLOPS of compute performance!
It should be noted that the AMD R9 290 series will be made up of the flagship R9 290X comes with the Hawaii GPU fully enabled, but there will also be a Radeon R9 290 coming out down the road with lesser specs. AMD did not sample Legit Reviews with a Radeon R9 290 or a second Radeon R9 290X. This means that we will be unable to check out the new CrossFire interconnect solution and the lower-cost Radeon R9 290. The Radeon R9 290 will be coming out at a later date.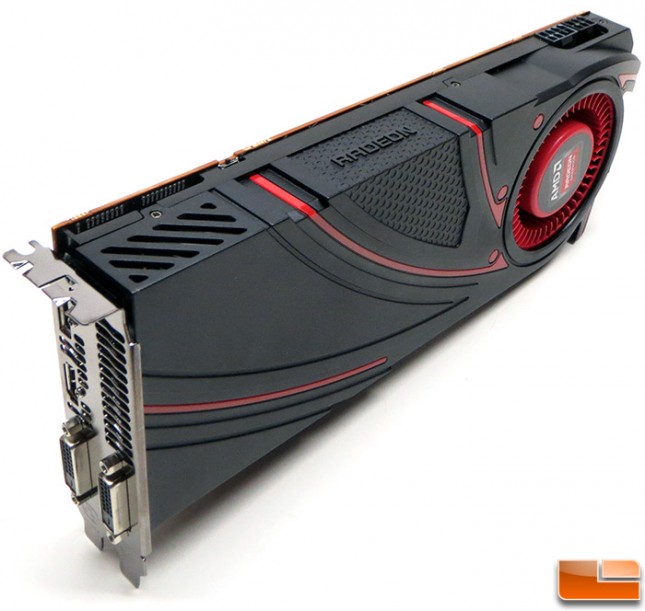 The Radeon R9 290X is a dual-slot video card that still has the red and black color scheme that has been around since the good old ATI Technologies days. The 290X PCB measures 10.5-inches in length, but the GPU cooler extends past the PCB pushing the length to nearly 11-inches.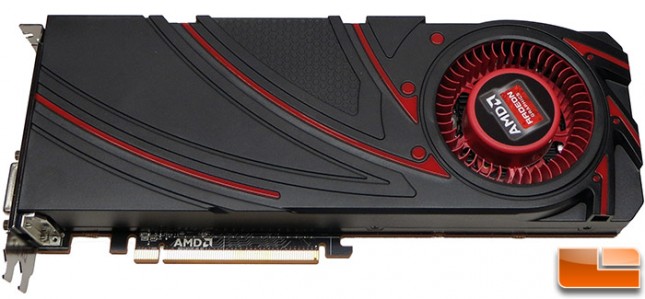 AMD is using a single "blower" or "squirrel cage fan" (because it looks like a hamster wheel) on the 290X. AMD is fond of centrifugal fans and has used this style for a number of years, so there isn't too much 'new' here.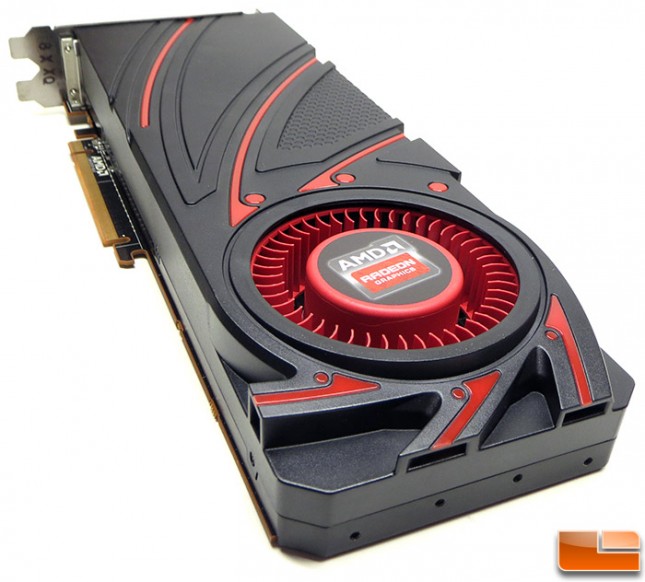 The AMD Radeon R-200 series cards all feature wicked looking fan shrouds over the GPU cooler, but it should be noted that no air actually comes out the holes at the end of the card. AMD blocked them off internally, so they are purely for aesthetics.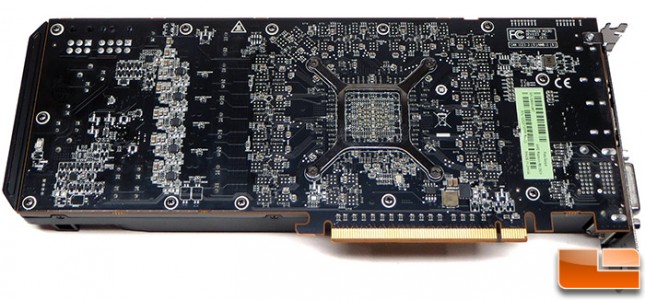 You might have noticed by now that the AMD Radeon R9 290X video card doesnt not have any CrossFire interconnects along the top edge of the card. The AMD Radeon R9 290X still supports AMD CrossFire Technology , but no longer uses the CrossFire data ribbon as the data now moves through the PCI Express 3.0 lanes.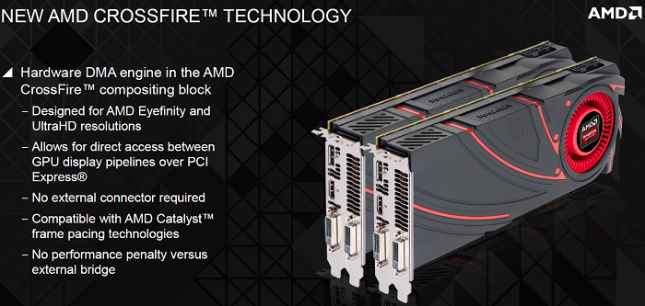 AMD claims that the quality and performance is unchanged, but some are criticizing the fact that they are relying on the PCI Express interface to do this. The vast majority of motherboards sold today are Intel based, so what if Intel does something to affect performance. AMD also makes motherboards, but many dont support the PCI Express 3.0 standard.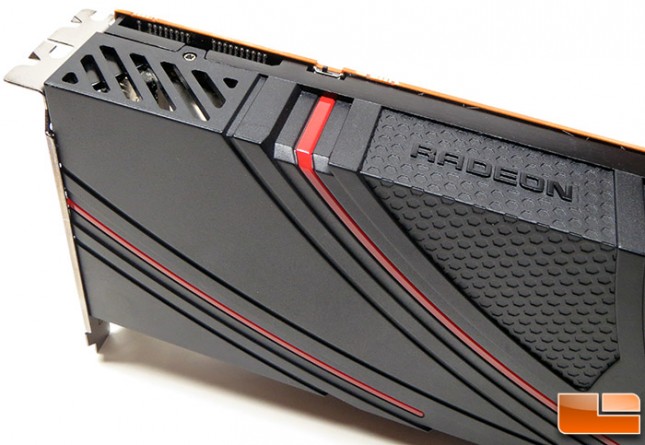 The AMD Radeon R9 290X comes flashed with two different BIOS versions and you get to select the one that you want to use. Along the top edge of the 290X there is a small black switch located that allows you to manually change between the BIOS versions. If you're looking for the switch, it is located just above the red line that is to the left of the Radeon name. Changing the BIOS isnt something that you can do on the fly, so you must reboot your PC after toggling the switch for the changes to take effect.
The switches modes are as follows:
Quiet Mode Bios position one. Switch is in position closest to where you plug in your displays
This mode is designed to optimally suit a gamer that wants to keep a tight lid on acoustics. If you do not play with headphones, you do not have a high end gaming chassis, or your rooms ambient noise level is extremely low this may be the mode for you.
Uber Mode Bios position two. Switch is in position furthest away to where you plug in your displays
This mode is designed to perform optimally under all performance and game testing. This includes crossfire.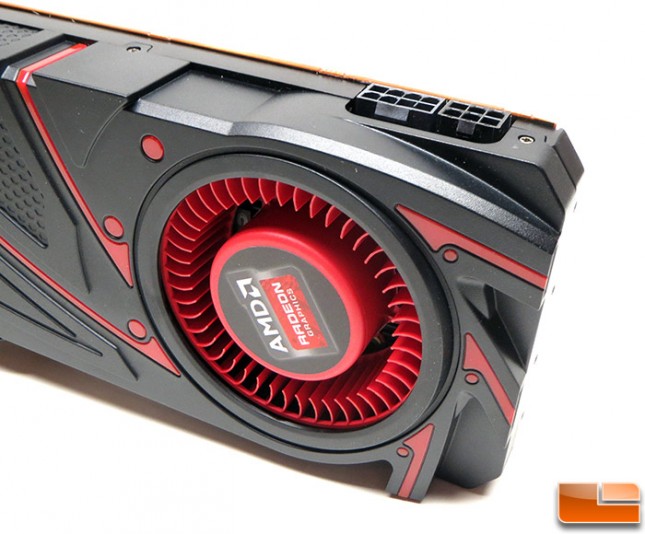 The AMD Radeon R9 290X requires both an 8-pin and a 6-pin PCI Express power connectors for proper operation. For some reason AMD decided not to mention typical board power numbers on any of their press briefing materials, but we asked and was told it was around 250 Watts. Usually when a company omits such a number it means that it doesnt look good for them, so we will be paying close attention to both acoustics and the power numbers.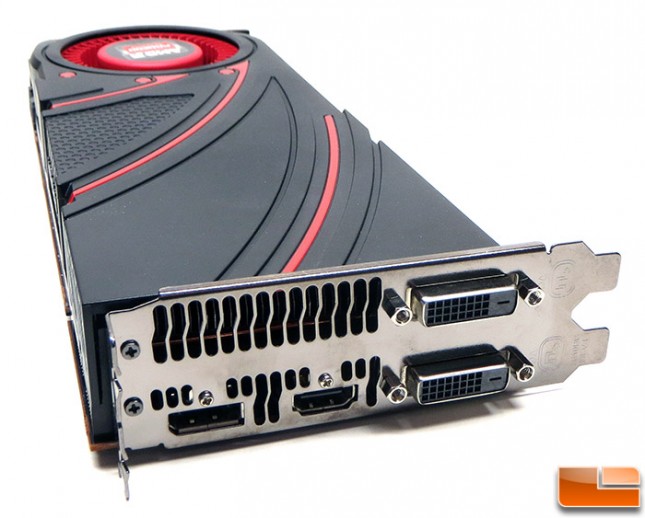 The AMD Radeon R9 290X and Radeon R9 290 support up to six displays off a single card. All of the video outputs are full sized and you have DisplayPort 1.2 with Multi-Stream Transport, HDMI 1.4b and a pair of Dual-Link DVI outputs.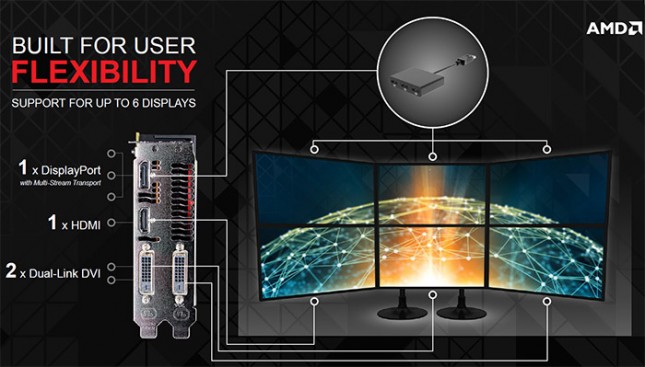 The AMD Radeon R9 290 series is ready for Ultra HD displays and even supports single stream operation at 60Hz. AMD says that they are ready for pixel rates up to 600 MHz, but there are not any monitors available on the market that go up that high.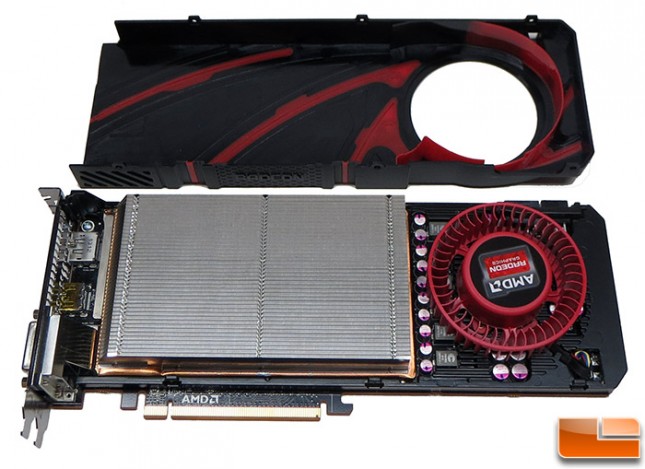 With the fan shroud removed you can better see what is going on when it comes to the GPU cooler. The blower style fan sits at the end of the Radeon R9 290X and pushes air across the GPU cooler and then out the exhaust bracket and other end of the card. The GPU cooler that consists of a large copper vapor chamber heat sink on the bottom and then an array of aluminum fins sits on top of that.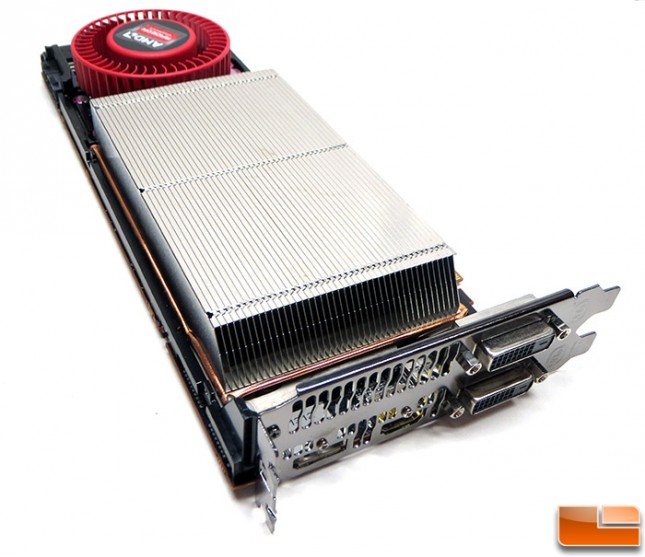 This shot gives you a different view and better shows how the heatsink is angled on the exhaust side. This is to help reduce air noise as right angles often cause humming and buzzing noises due to the airflow characteristics.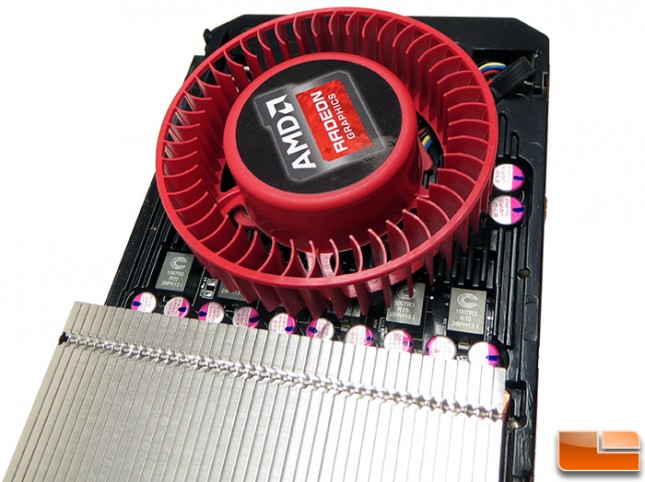 With just the fan shroud removed you can see that the Radeon R9 290X uses a 5+1 power phase arrangement. It appears that AMD went with CPL-made chokes (1007R3, R15) and IR-made DirectFETS and VRM controller.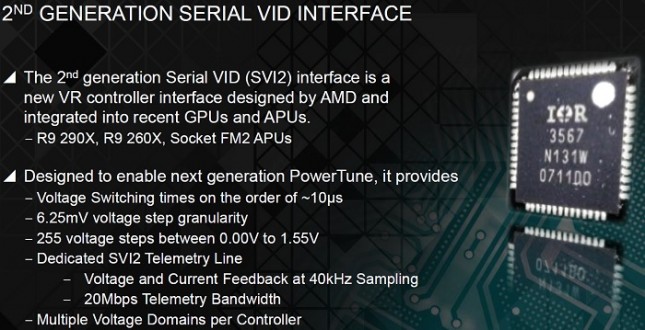 The use of the International Rectifier (IR) 3567B is a pretty big deal. For starters it is a dual-loop digital multi-phase buck controller designed for CPU voltage regulation and is fully compliant with AMD SVI1 & SVI2 with dual OCP and Intel VR12 specifications. This new controller is found on just AMD Radeon R9 290X and R7 260X desktop graphics cards.
Now that you know the basics about the card, we can jump straight to testing. We'll be testing the Radeon R9 290X at 1920×1080, 2560×1600 and 5760×1080!