XFX Radeon R9 290 Double Dissipation Video Card Review
By
Final Thoughts and Conclusions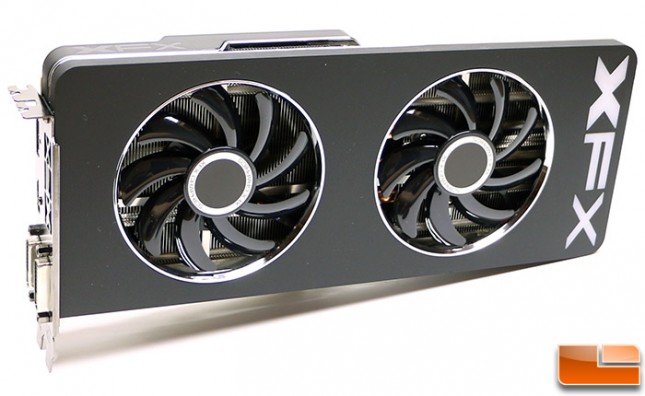 The XFX Double Dissipation R9 290 graphics card left us with mixed feelings. The card had one of the quietest GPU coolers that we have ever see on a Radeon R9 290 series card, but it also had very high VRM temperatures. On our open air test system in a room that was 66F we encountered stuttering when gaming due to the VRM overheating and the cards core clock speed was dropped from 947MHz to 300MHz to cool down the GPU. This is the first time we have encountered VRM overheating on a custom cooled Add-In-Board partner card! By improving the airflow behind our card we were able to drop the VRM temperature enough to keep that from happening, but it showed that the airflow from the fans on this card might not be enough for everyone. When we bumped up the fan speed from 45% to 100% we dropped the GPU temperature by 32C and VRM1 by 59C! Those are massive temperature decreases and since this card runs so quiet, we feel that XFX could easily bump up the maximum fan speed to better cool this card. You wouldn't want to run the fans at 100% speed at all times, but you can use an overclocking utility and create your own custom fan profile to dial this card in to find the right settings for you.
We cranked up the fan speed to overclock this card and easily reached 1100MHz on the core with no GPU voltage increase. This overclock on the XFX DD R9 290 helped improve gaming performance by roughly 10% across the board and that meant that this card was able to perform like a reference AMD Radeon R9 290X for far less money. The XFX Double Dissipation R9 290 4GB did okay on our 4K Ultra HD monitor at 3840×2160 and should run like a champ at 2560×1440, 1920×1080 or on most any AMD Eyefinity setups. The AMD Hawaii GPU with GCN is a very powerful GPU and will do great when put to the task of gaming or mining litecoins.
XFX's Radeon R9 290 graphics card with the Double Dissipation cooler is sold under part number R9290AEDFD for $439.99 shipped with a Limited Lifetime Warranty if you register within 30 days of purchase. This card is by no means cheap, but it looks great and offers a great bang for the buck. We won't be giving this cards any awards due to the high VRM temperatures, but if you have a case with good airflow it shouldn't be an issue. If you stick this card in a small form factor chassis with poor airflow we would suspect that the VRM temperatures will be over 100C and that you might get some stuttering in game titles like we did on our open air test bench system.
Legit Bottom Line: The XFX double Dissipation R9 290 4GB graphics card looks great and is super duper quiet, but had pretty high VRM temperatures and that gave us some reservations.