The Killer NIC and Killer K1 Gaming Network Cards
By
The Killer NIC and Killer K1 Reviewed By Peers
Bigfoot Networks makes wired network cards that are specifically aimed at hardcore gamers. To a hardcore gamer having the best of everything is critical to having the best online gaming experience and in a world where ping times makes the differnce between having the best record and where price is not a concern. Basically the Killer NIC and Killer K1 are designed to lower ping times and increase the frame rate (frames per second) for those that play online games by offloading the work to the add-in card by Bigfoot Networks.

Last year Legit Reviews was the first site to publish real pictures of the Killer NIC (at the time photoshop images was all that were available) and even took the time to highlight CEO Harlan Beverley in the same story. Now that we have a little background on what we will be looking at today, let's take a peak at the two network cards!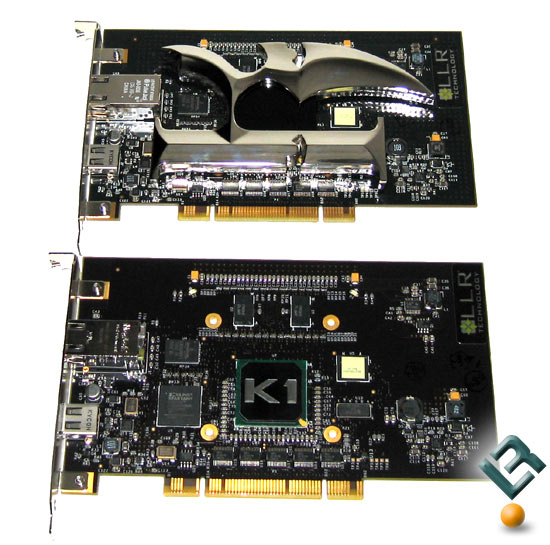 The two cards look nearly the same as they are pretty much identical, but have a few differences other than the price alone.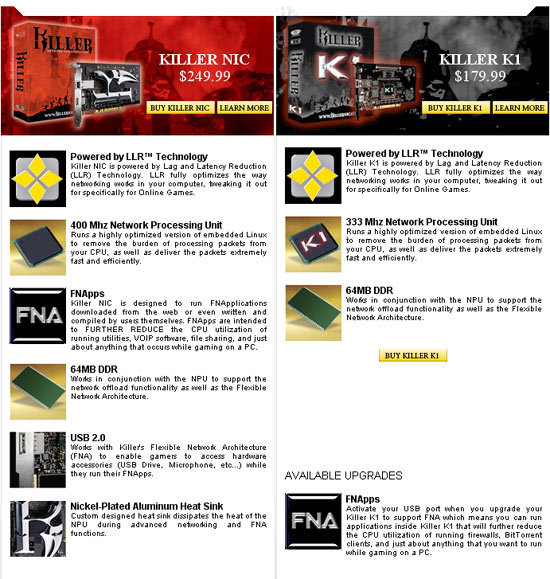 The original Killer NIC has all the bells and whistles that Bigfoot Networks offers and the Killer K1 is the 'lite' version that strips it down for a lower price. The Freescale processor runs at 333MHz instead of 400MHz and the Aluminum heat sink has been removed on the K1. The Killer K1 also has the USB drive and the Flexible Network Architecture features disabled, which means that it can't use FNA-based BitTorrent clients, firewalls, and other FNA applications that run directly on the Killer NIC itself. However, Killer K1 owners can upgrade online to add the feature for $30, which would bring the price of the card up to $209.99 compared to the $249.99 Killer NIC. For a limited time Bigfoot Networks is including FNA with all Killer K1s sold for a limited time. So, anybody who buys a K1 right now gets FNA included.
This is an interesting move as instead of removing features the have 'locked' them and the only signifcant change is the lower clock frequency on the Freescale processor. The lower clock frequency is said to lower the performance level on the Killer K1 slightly during game play than Killer NIC. Users should not be able to tell the difference between the Killer K1 and Killer NIC during game play though as the difference is so minor. This is because the different speeds mainly affect FNA. People who have the Killer NIC will have more horsepower for their FNApps, but right now the only applications available for the Killer series of cards are FN Firewall and FN Torrent, which don't need gobs of power to run.