The Intel X25-M 80GB Solid State Drive Review
By
Crysis Benchmarking
Last month when I was at the Intel developer forum, I watched Falcon Northwest General Manager Bradd Berdelman inform those attending the show that he saw Crysis performance double when using the Intel Solid State Drives versus using a pair of Western Digital VelociRaptors in Raid 0. He flipped the numbers in the chart, so don't look at that too close! He gave a live demo and explained that during the games built-in benchmark that the disk access times are so important that the performance goes up by a significant margin. I figured why not give it a shot since I am using the same drives for testing that he did!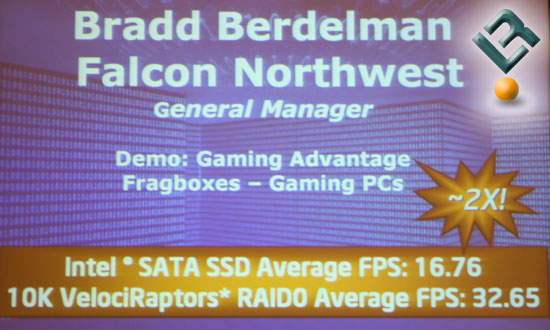 Crysis v1.21: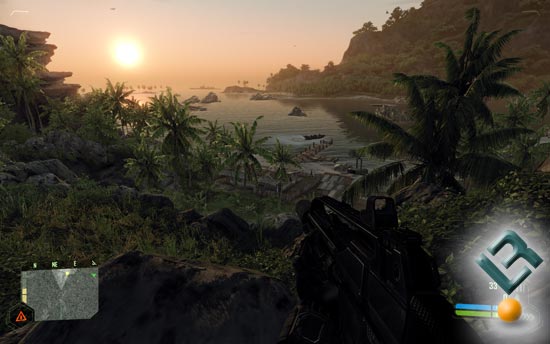 I loaded up the full retail version of the game Crysis with patch 1.21 for benchmarking and fired up the game at 1920×1200 resolution with all the graphics quality options set to medium.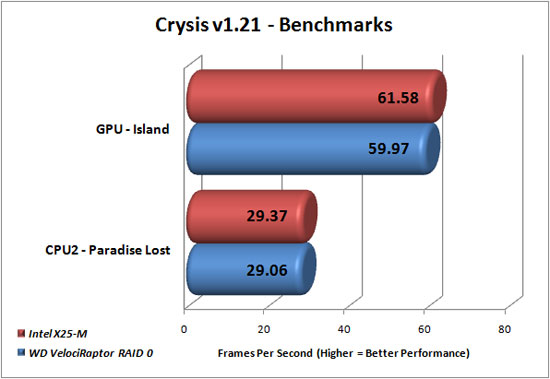 Results: Taking a look at the benchmark numbers using the built-in benchmark showed us no where near the results that Bradd Berdelman showed off at IDF, but the performance was slightly better on the Intel X25-M solid state drives when I averaged the benchmarks from six runs.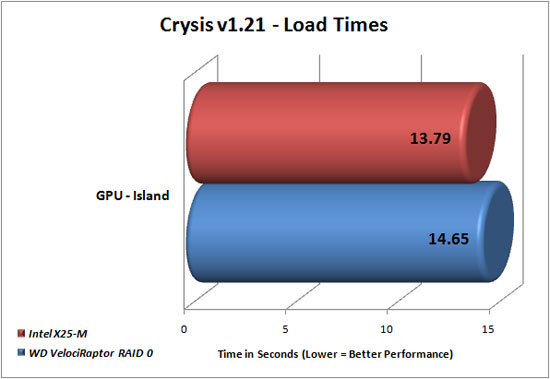 Results: Crysis has a built in timer that is used to calculate the amount of time it takes to load a level, which is perfect for testing the differences between these two hard drives. A difference was noted when we loaded the level eight times and took the average of the time it took to load at a point we saved at random. The decrease in load times was found to be 6%.