Sapphire Radeon R9 380X Nitro Video Card Review
By
Sapphire R9 380X Nitro Video Card Design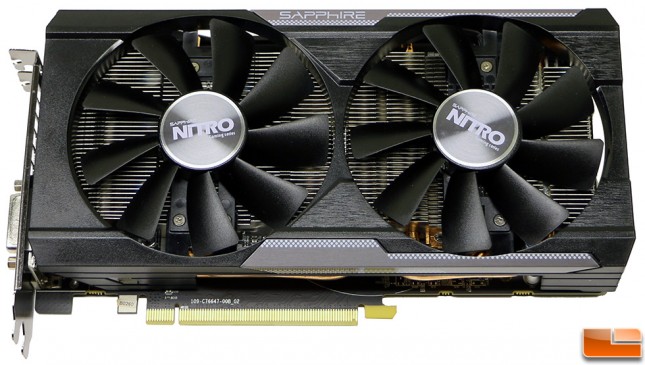 The Sapphire Radeon R9 380X Nitro OC 4GB video card features the usual black design with platinum accents and measures in at 237.5 x 126.5 x 41 mm in dimension. This makes the R9 380X Nitro just 9.35-inches in length, so you shouldn't have any issues fitting inside the vast majority of PC cases on the market now or in yesteryear.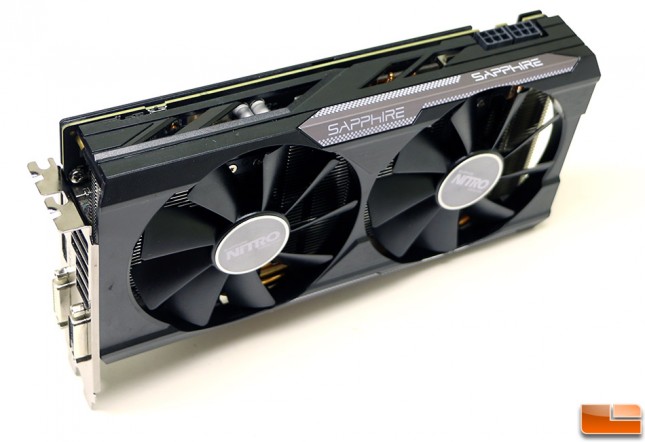 The Sapphire Dual-X GPU cooler has twin ball-bearing 10cm fans that are designed to stop spinning in light load scenarios for silent operation. On our open air test system the card wasn't cool enough for the fans to not spin once the system was on for a handful of minutes and the heatsink warmed up.

Along the top edge of the R9 380X you'll find two 6-pin PCIe power connectors. Sapphire recommends at least a 500W power supply for their R9 380X video card for proper operation.

From this angle you can see the four copper heat pipes that make up the Dual-X GPU cooler. These heat pipes don't make direct contact with the GPU, but we are hopeful that it cools well as the aluminum fin array is large and there are four heat pipes tucked under the fan shroud on this card!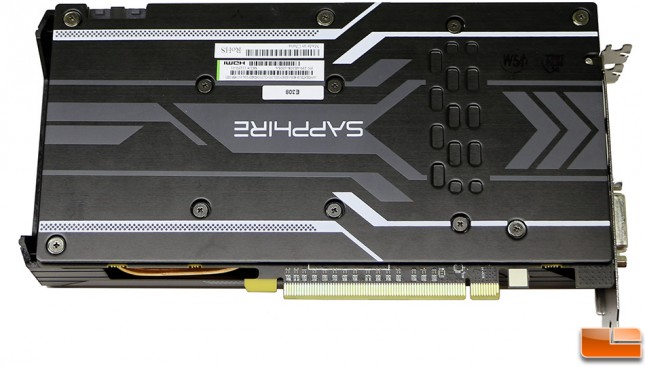 The Sapphire Radeon R9 380X comes with black back plate as production costs have come down enough for it to be included on the Nitro series. When we were first told about the Nitro series we were told it would be a budget minded card aimed at gamers and features like the backplate would be removed due to cost reasons. We are glad that Sapphire is able to include a backplate for this series without increasing the price.
Sapphire went with one DisplayPort 1.2 output (max 4096×2160) as well as single HDMI 1.4 (max 2160P) and a pair of Dual-Link DVI ports (max 2560×1600) when it comes to video outputs. Sapphire includes a DVI to VGA adapter in the accessory bundle, so the R9 380X Nitro OC video card should be able to connect to pretty much any monitor that you own. This card can't do 4K60 through the HDMI 1.4 port though, so it does have some display limitations since it lacks HDMI 2.0.
Now that we have a good understanding of what the Sapphire Radeon R9 380X Nitro OC card is we can take a look at the test system and get straight into testing!