Sapphire Radeon R9 380X Nitro Video Card Review
By
Sapphire R9 380X Nitro Retail Box and Bundle
The card that we are looking at today is the Sapphire Radeon R9 380X Nitro OC 4GB, which is sold under part number 299-4E308-100SA. This is custom, factory overclocked card that carries an MSRP of $239.99. For that price you end up with a card that is said to be ~7% faster than AMD's R9 380X reference card thanks to the 1040MHz core clock and 1500MHz memory clock. The AMD Radeon R9 380X reference design has a base clock of 970 MHz and a memory clock of 1425MHz. This is also a Sapphire Nitro series card, which means you get Dual-X GPU cooling with ball bearing fans and copper heatpipes, black diamond chokes and for the very first time in the Nitro series a backplate!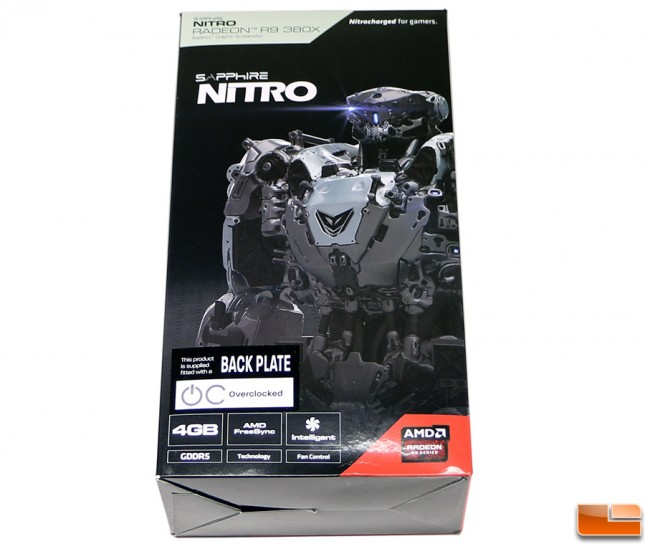 The retail box for the Sapphire Radeopn R9 380X Nitro card is pretty eye catching and lists some of the key features on the front of the box. The back of the box highlights more features and says that the Sapphire Nitro Radeon R9 380X has a SPI rating of 3 and offers 1080P gaming in high detail levels in most games, resulting in powerful gaming performance.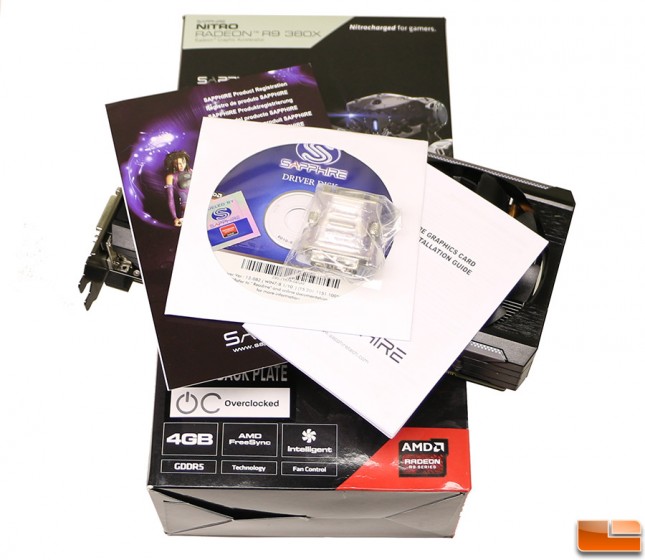 Inside the Sapphire R9 380X Nitro OC packaging, the card is securely packed inside the box. The included accessories include the installation guide, driver and utility disc, Sapphire case sticker, DVI-to-VGA adapter and of course the R9 380X Nitro OC card!